AllAround It's A Wonderful Life RN HT AX AXJ OF BCAT ACT1 TKN - "Bailey"
Although Bailey was the smallest in the litter, she has always made up for it with a ton of spunk! Bailey is now living large in Texas. She, and her mom Jill, are an incredible team and have quickly excelled in agility and Rally obedience. I am so excited to watch them grow together and can't wait to watch what their future holds!
July 2, 2022 - It cracks me up that 8 years later, Bailey is still sleeping on the coffee table! The girl knows what she likes and she likes to keep cool!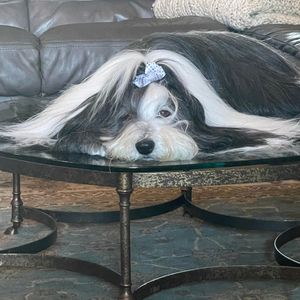 June 22, 2022 - Jill (Bailey), Suzanne (Penny) and Darleen (Daisy) all went to the 2022 Beardie Camp and had a blast! I didn't get to go this year but I love the stories and photos I got from them! Here are Bailey's photos: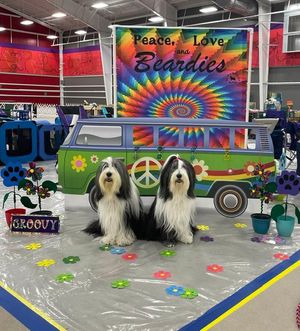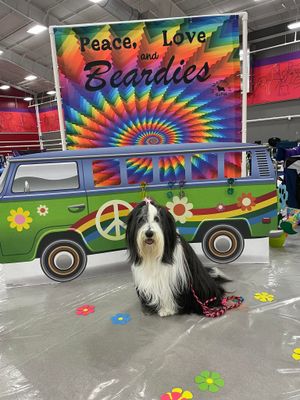 January 4, 2021: Bailey earned her Open FAST agility title! She now has her Excellent Standard title, her Open Jumpers title and her Open FAST title. I'm so impressed with everything that Jill and Bailey have accomplished together!
December 29, 2020: Jill and Bailey earned their Trick Dog Novice title! I'm so porud of them!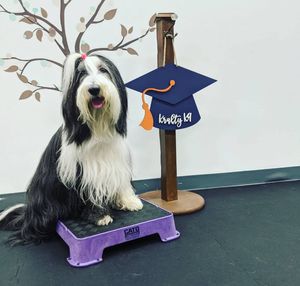 December 29, 2020: Jill and Bailey earned their Rally Novice title with a 99 out of 100! What a team!
October 31, 2020: Such a cute halloween photo of Bailey!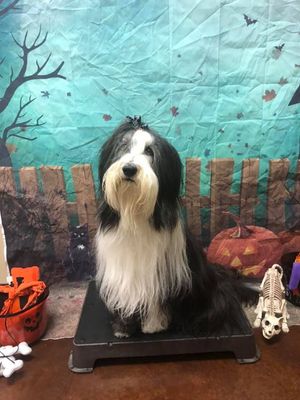 July 2, 2020: I love this birthday photo of Bailey!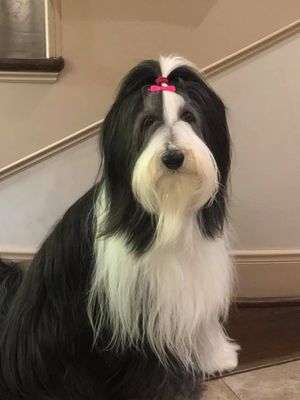 May 12, 2020: Bailey isn't phased at all by all this COVID stuff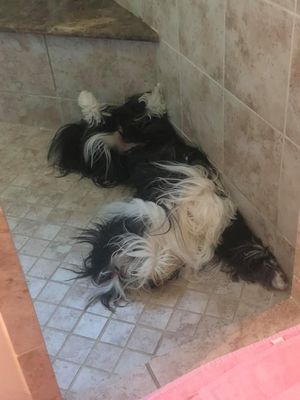 December 25, 2019: Jill posted this adorable Christmas photo of Bailey with Santa!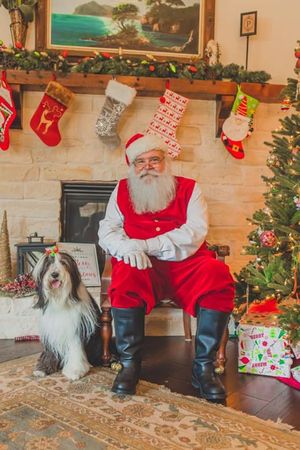 September 20, 2019: Jill and Bailey came to the 2019 BCCA National Specialty and they were awesome!!! They earned their Open Agility (OA) title with a  first place run. They moved up to Excellent and did great. They competed in Novice A Rally and got a 2nd place. They even competed in, and won, in Novice A Obedience with a 191/200! They were amazing!!!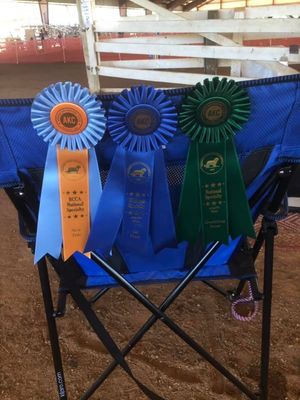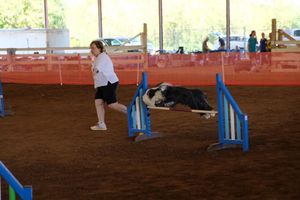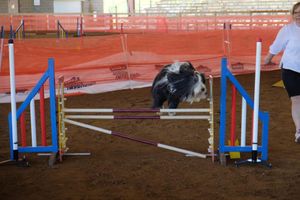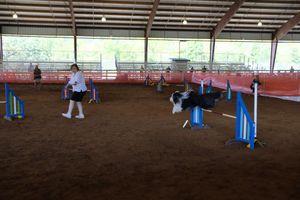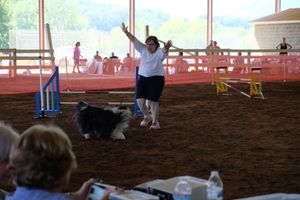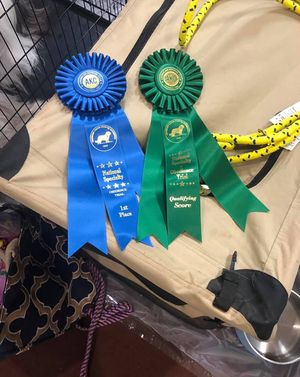 June 7, 2019: Today Jill and Bailey earned their Open Jumpers With Weaves (OAJ) title! I truly could NOT be more proud of them!
February 14, 2019:This is such a cute photo! She is such a pretty girl!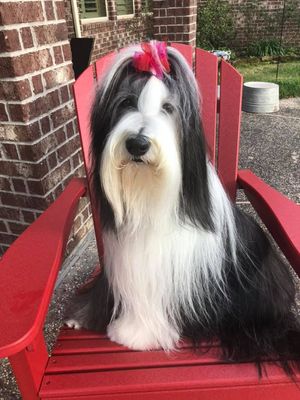 January 19, 2019: Jill and Bailey for their Novice FAST (NF) title! I am so extremely proud of them!
December 25, 2018: Jill posted this beautiful photo of Bailey in front of their Christmas tree. I love it!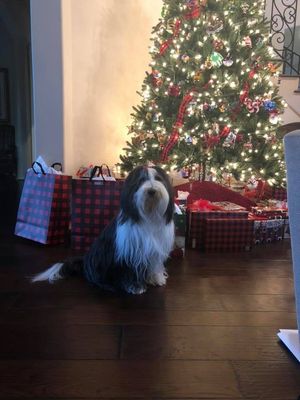 June 11, 2018: Jill and Bailey attended Beardie Camp and had a blast! They got to do some agility, herding, and other fun classes. Bailey even earned her Herding Tested (HT) title! I'm so proud of them!!!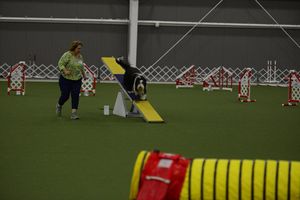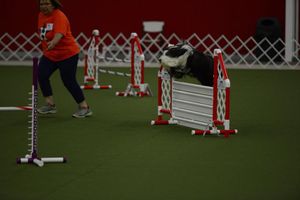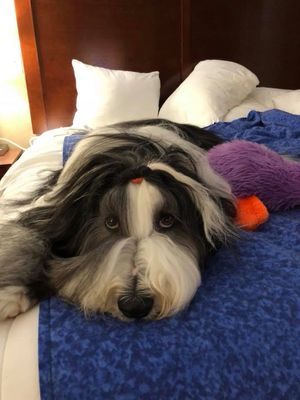 April 4, 2018: It's Blue Bonnet Season!!!!! I LOVE these photos of Jill and Bailey so much!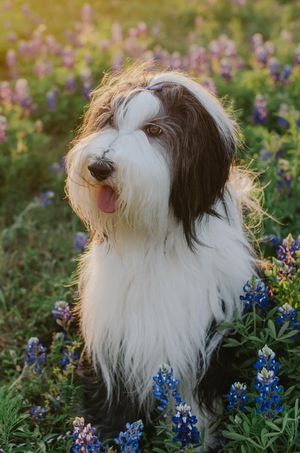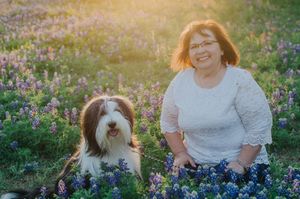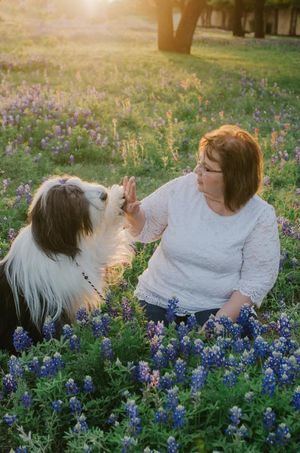 October 6, 2017: Jill & Bailey had an incredible week at the 2017 BCCA National Specialty! She earned both her Novice Agility (NA) and Novice Jumpers (NAJ) titles, either won or came in second in all of her agility runs and even earned the prestigious High Combined Novice A award in agility! She then went on to win her Rally class with a score of 99! I knew this team had potential but they really blew me away this week. I am so very proud of them!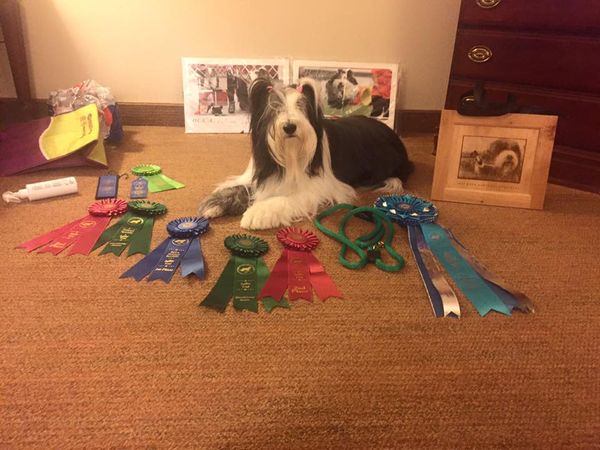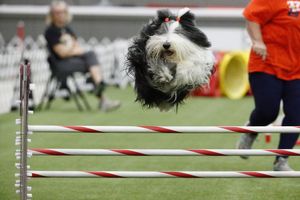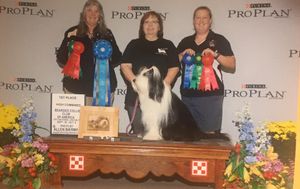 July 10, 2016: Bailey got to play in the show ring today! She looked beautiful!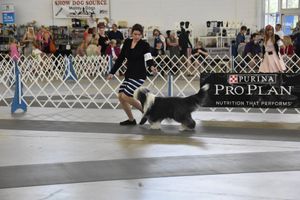 June 15, 2016: Bailey earned her CGC title today! What a good girl!!!
March 6, 2016: Bailey patiently waiting her turn at herding practice: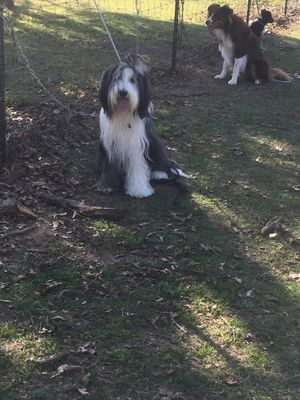 October 15, 2015: Bailey has had an exciting month! Not only is she still training in agility and herding, Bailey got to try Barn Hunt and she found the rat! What a good girl! She celebrated with a romp on the beach.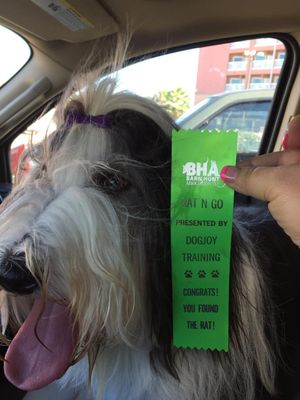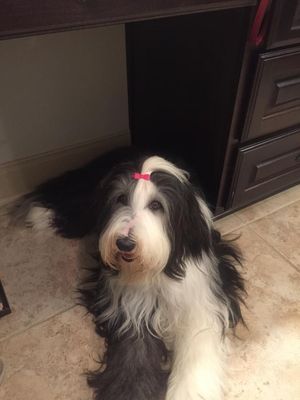 May 10, 2015: Bailey was able to join us for the Perry dog show and we had a blast! While she didn't get any points (she was showing against adults), she showed beautifully and I couldn't be more proud of her. She had a wonderful time playing with all of her brothers and sisters. I'm so thrilled that we were able to get everyone together again. She's a beautiful girl with tons or drive and enthusiasm!

April 8, 2015:  Bailey is still loving agility and ha now added come conformation to her resume. Jill posted this beautiful photo of her in the flowers.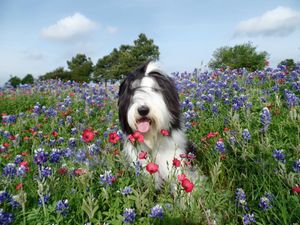 January 23, 2015:  I'm so excited that Bailey is now taking agility lessons and loving them!!! She's turning in to such a pretty girl!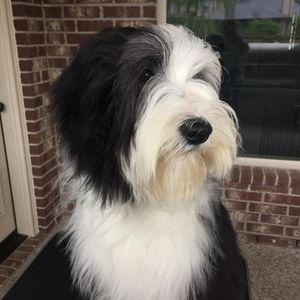 December 1, 2014: Bailey had her 3rd herding lesson today. She's apparently doing quite well and has already moved to the larger pen. I hope to get a video soon!

November 20, 2014: I'm so thrilled to announce that Jill and Bailey have signed up for agility classes!!! Jill and Bailey traveled to Texas recently to meet their extended Beardie family. She even got to meet her half-brother, Mowgli. Those two were cut from the same cloth and had a blast together!