MACH4 O'Duinnin Blacker N Coal NF, PT, RA, DS, THDA, MV - "Colby"
June 16, 2005 - October 24, 2017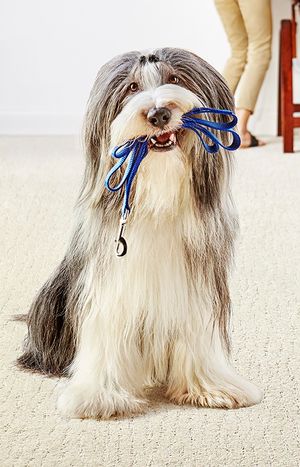 As soon as I graduated from college, I was ready for my first dog. I had been competing in agility with my parent's Beardie, Barkley, for years so I knew I wanted a Beardie with agility drive. After my first puppy died, I was devestated. But I was soon ready to start the puppy search again. I met Eileen Dinneen at the 2003 National Specialty. When she told me of her plans to breed her spunky girl Carbon to handsome versatile Biff, I knew I wanted a puppy! Colby and I have spent almost every waking moment together ever since.

Colby is an amazing dog. He excels at everything we do! Colby has even earned the highest recognition of versatility awarded by the Bearded Collie Club of America - Master of Versatility! This is a huge accomplishment and I am so proud of everything that he has accomplished. He has multiple titles in agility, herding, Rally, therapy, and dock diving. In addition, he's a very talented actor/model and has starred in many commercials, movies, tv shows and print ads.
 
He's everything I think a Beardie should be - handsome, talented, funny and incredibly loving. As far as dogs go, he's the love of my life!

Click here for Colby's agility stats.
October 24, 2017: I'm so sorry to say that I had to let my best friend go today. As most of you know, Colby had a severe back injury on June 1st, leaving him completely paralyzed from mid-back down. He and I both gave everything we had towards his recovery, but over the last couple of months, it became clear that he was never going to recover. Over the last few weeks, his back (and all of his other joints) had been hurting him more and more. He was at the point where he cried out in pain any time he tried to change positions. I'm a big believer in "quality of life" and with his level of pain and his inability to get up or move around, I just felt like it wasn't fair to him anymore. I feel blessed to have been able to spend the last few months with him, trying to make him as happy as possible. So many people have helped us so much over the last few months and I will forever be in your debt. Colby was such a special boy. He was truly a once in a lifetime dog. Run free, sweet boy.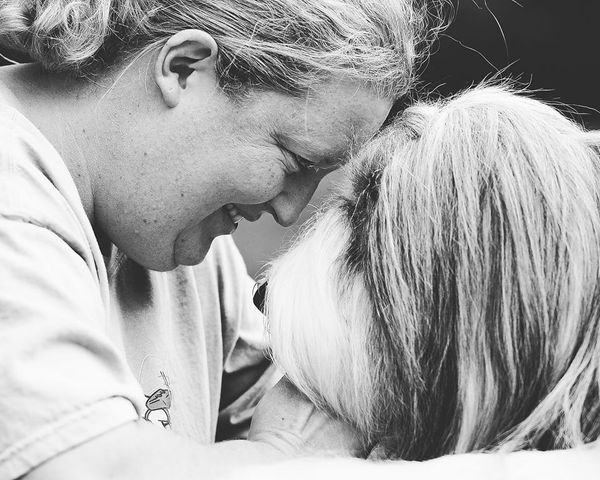 October 6, 2017: I decided to bring Colby with me to the BCCA Specialty so that he could participate in the parade of titleholders. I knew this would be our last outing and as much as I thought I was prepared, it was very emotional. Colby has been quite an ambassador for our breed and it's amazing how many people from accross the country know of him and love him. He got a standing ovation at the parade of titleholders and there wasn't a dry eye to be seen. It was pretty amazing to see him react to the crowd's applause because he was prancing around that ring! I love this boy more than I could ever put into words.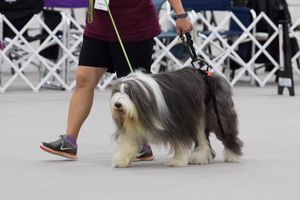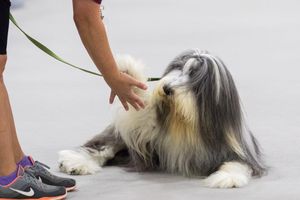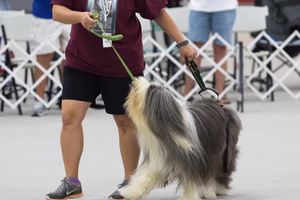 June 16, 2017: Colby spent his 12th birthday doing what he loves most in life - swimming! Swimming is one of the few things he can do with his injured back  / paralysis. He's improving every day but I don't know how much longer he can go on. We're doing all that we can.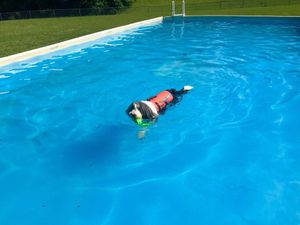 June 1, 2017: Colby had a traumatic back injury leaving him completely paralyzed in his back legs. His future is unclear but we're doing everything we can to save him - swimming, acupuncture, chiropractic, physical therapy, etc. 
April 19, 2017: Colby has earned the highest recognition of versatility awarded by the Bearded Collie Club of America - Master of Versatility! This is a huge accomplishment and I am so proud of everything that he has accomplished. He has multiple titles in agility, herding, Rally, therapy, and dock diving. We will be receiving a beautiful engraved crystal trophy honoring his achievements.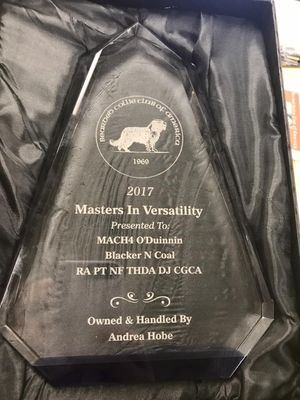 March 15, 2017: My father and Colby have earned their Advanced Therapy Dog title with over 100 hours of service/visits! They go to hospitals, rehab facilities, nursing homes, schools and libraries together. One of his favorites is going to public libraries giving children an opportunity to work on their reading skills .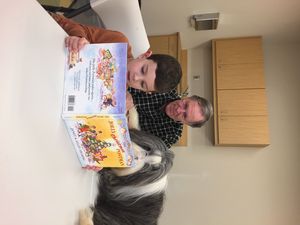 November 1, 2016: Colby has been doing quite a bit of acting & modeling lately. Here are some of my favorite shots from a recent carpet campaign: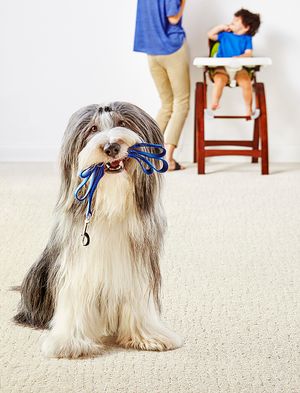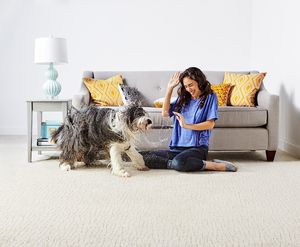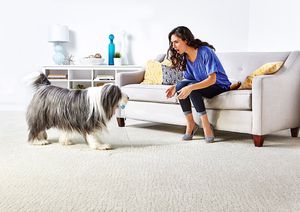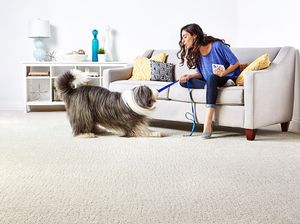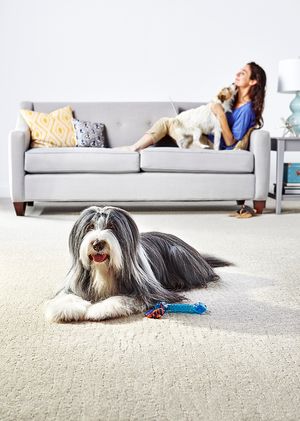 October 28, 2015: Colby is really enjoying his retirement! He and my father have been doing tons of therapy visits at local hospitals, nursing homes, schools, etc. In one year, they have logged almost 50 hours!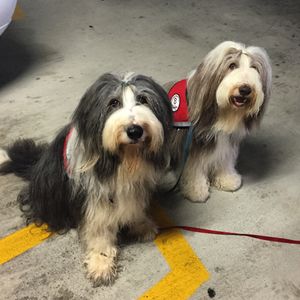 July 26, 2015: Colby became the first Bearded Collie with an AKC Dock Diving title! Colby got 5 jumps in the 15'-20' category earning him a Dock Senior title.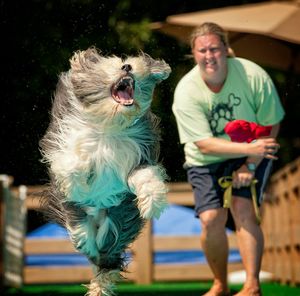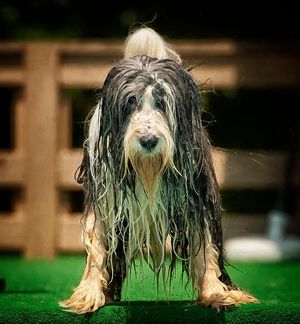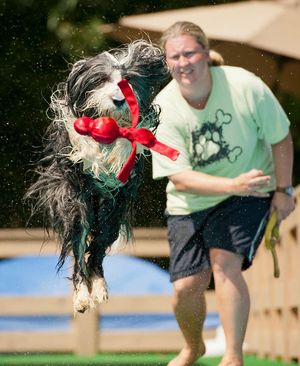 Above Photos by T&C Photography
March 8, 2015
: Colby got his 80th Double-Q earning him MACH 4!!! He'll be 10 years old soon, so I've decided to retire him. This has been an amazing journey and I've been so blessed to be his teammate.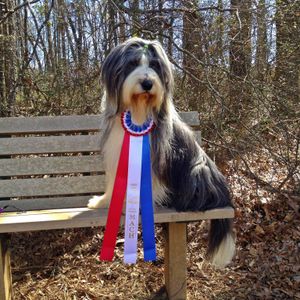 December 10, 2014:
 Colby earned enough points and QQs to qualify for the 2015 National Agility Championship again this year. He's been slowing down a little but still loves competing. Since agility has been winding down, Colby has been spending lots of his time doing therapy work. He visits hospitals and medical facilities to cheer up patients, listen to children read, or play games as part of their rehabilitation plan. I'm so proud of everything he has accomplished!
October 1, 2014
: Colby did great at the 2014 BCCA National Specialty agility trial. He came in 1st in FAST and 4th in Masters JWW (behind Brie). He also competed in and won the annual BAD Relay with teammates Jenny & Sawyer and John & Razzles. He took the rest of the week off to just enjoy his vacation.
August 15, 2014
: Colby has added a new job - therapy dog! He and my father travel all over Atlanta with Happy Tails Pet Therapy visiting hospitals, nursery homes, etc. While it's not as exciting to him as his other jobs, he still takes it very seriously and is a wonderful therapy dog.
April 5, 2014
: Colby and I competed in the Purina ProPlan Incredible Dog Challenge: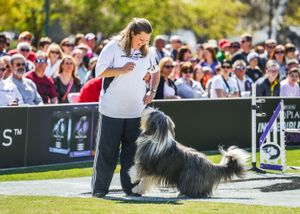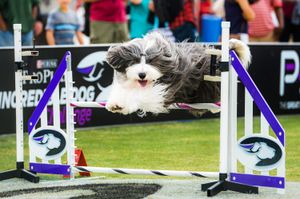 Video:
2015 MACH4 Title
2014 Purina Pro Plan Incredible Dog Challenge
2014 Qualified for AKC Agility Invitationals
2014 Qualified for AKC National Agility Championship
2013 MACH3 Title
2013 Qualified for AKC Agility Invitationals
2013 Qualified for AKC National Agility Championship
2012 Qualified for AKC Agility Invitationals
2012
Qualified for 
AKC National Agility Championship
2012 BCCA Versatility Excellent
2012 MACH2 Title
2011 AKC National Agility Championship
2011 MACH Title
2010 AKC National Agility Championship
2010 AKC Agility Invitationals
2010 BCCA Versatility
2009 Late Show with David Letterman Diving Dogs
2008 National Diving Dog Tour 
2008 - 2010 AFLAC Great Outdoor Games
2007 - 2010 Purina Incredible Dog Team