CH AllAround Southern Roots NA NAJ RE BCAT TKI CGC VX - "Sage"
Brooke (CH AllAround Swift Running Brooke AX, AXJ, RI, HT, DN, DJ, TKN, CGCA, VX)
&  Bean (GCHS Highlander MacBean at Burlesque HT RN)
Sage is from my August 9, 2019, litter of Brooke to Bean. There were only two puppies in the litter - both beautifully marked black and white females. I agonized over which puppy to keep but finally settled on Sage. Sage is a gorgeous girl with a fantastic temperament. She is extremely sweet and snuggly yet also spunky with a great sense of humor. She is extremely intelligent and picks up on things very quickly. She's everything I strive to breed for - intelligence, athleticism, and structure, all rolled into one sweet package. Not only is she gorgeous (she won Winners Batch at the Bearded Collie Club of America National Specialty - her first show!!!), she also is extremely driven competing in agility, rally, obedience, Fast CAT and other sporting venues. 
Health Clearances & Pedigree
February 14, 2023: Sage received an invitation to compete at the 2023 AKC Rally® National Championship!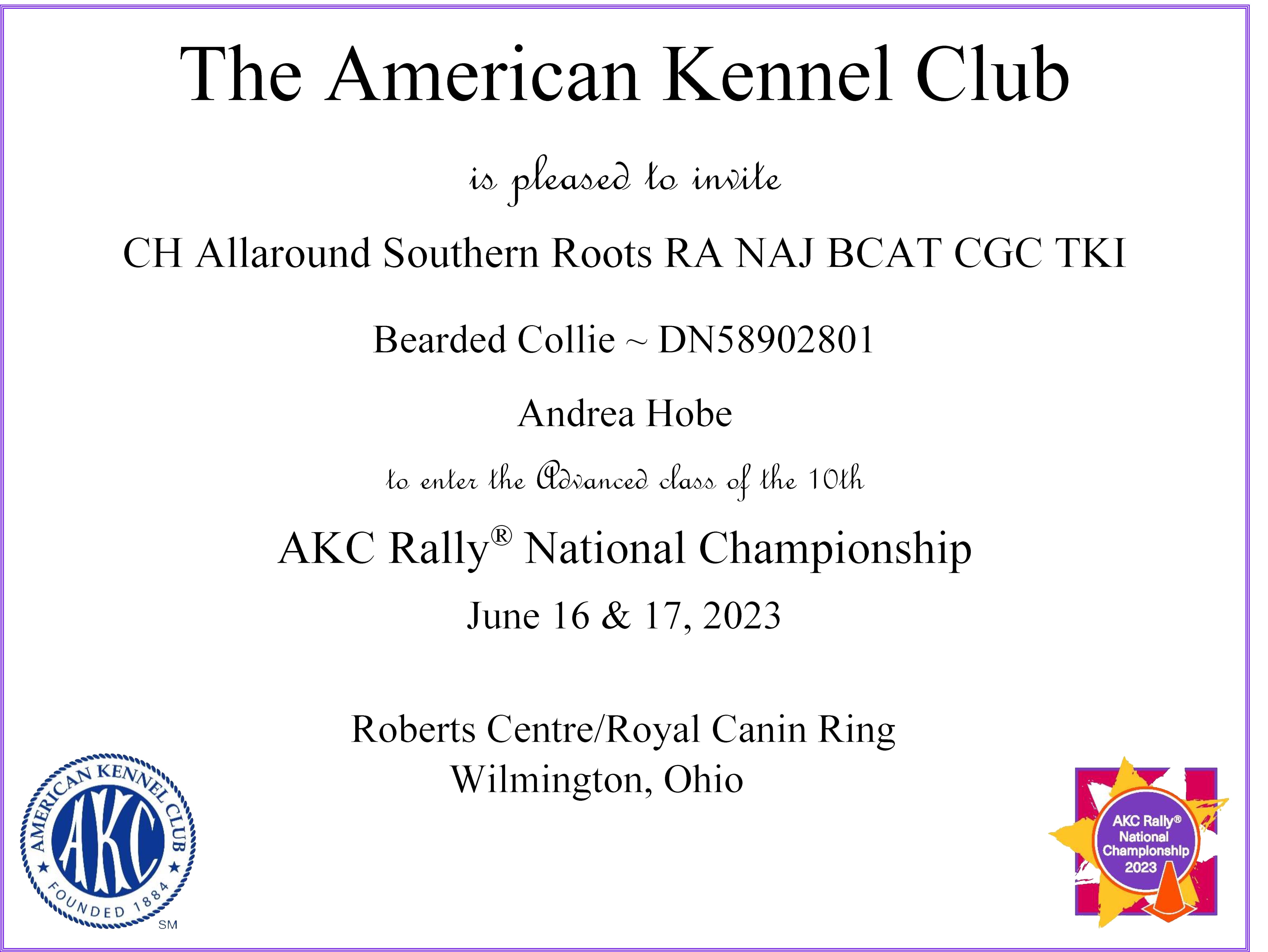 February 4, 2023: What a great day! Sage won her Rally Excellent class in the morning and an OH Group 2 in the afternoon! She is everything that I strive to breed for and I love her dearly!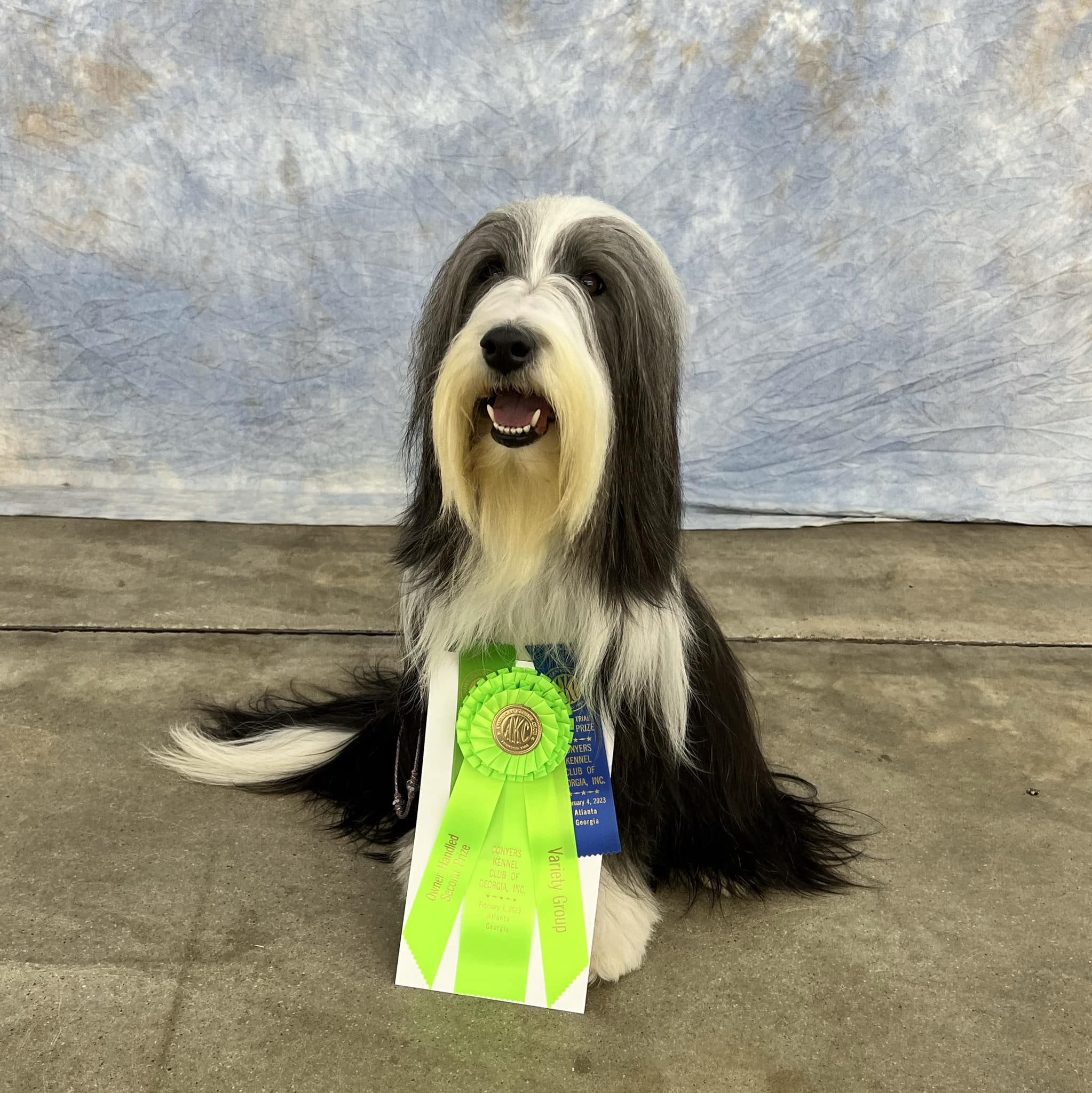 December 21, 2022: My sweet girl, Sage, is following the family tradition as a therapy dog. She was amazing and loved every minute of it. I love this girl!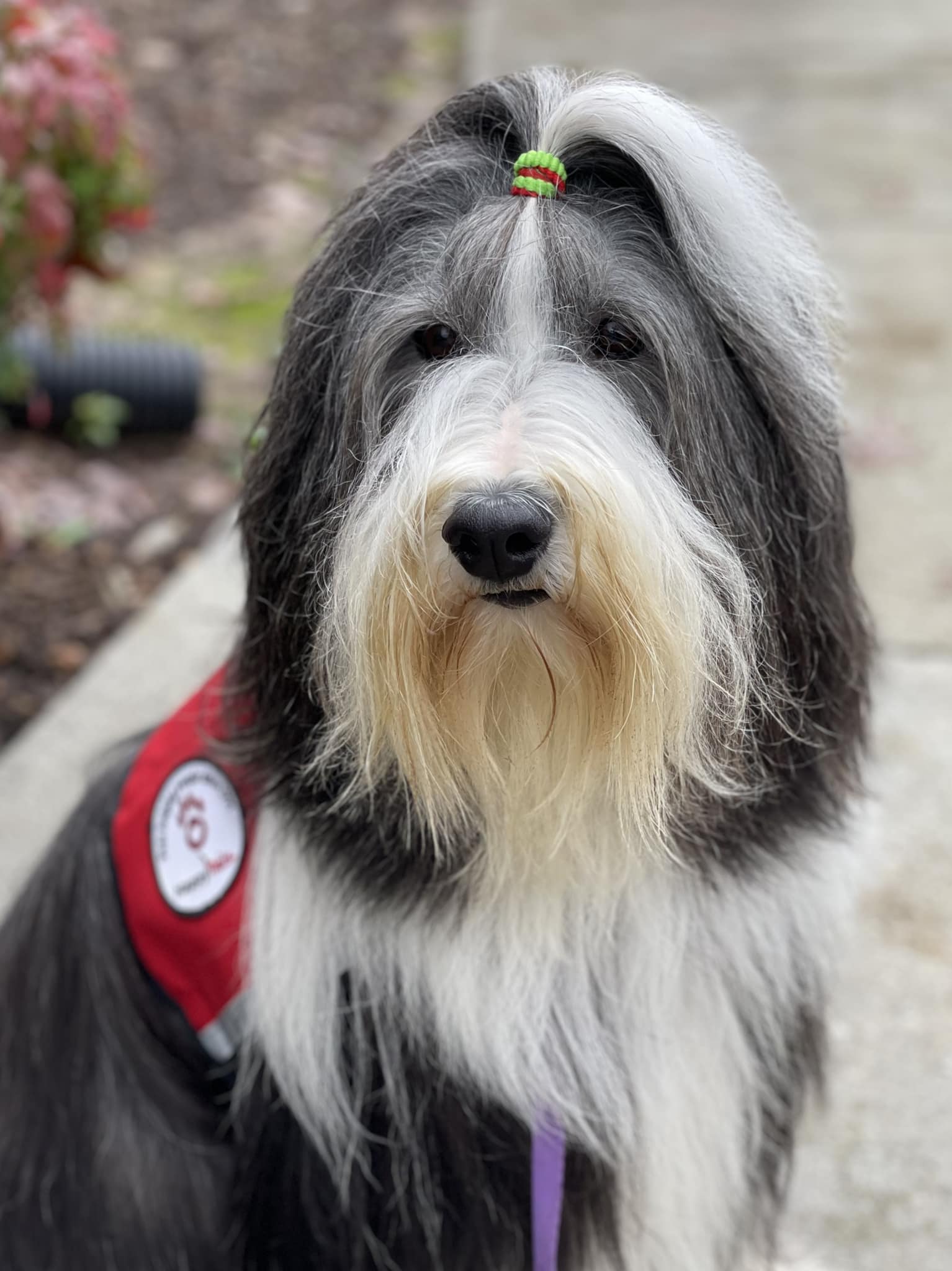 November 5, 2022: We traveled up to Knoxville to try to get our last point and we got it AND MORE! Sage won breed to finish her AKC Conformation Championship and then went on to win the OH Herding Group from a huge class! The judges were all extremely complimentary of her and we came home with some pretty ribbons, prizes, and of course her new CH title! So proud of my homegrown girl, Sage, now CH AllAround Southern Roots NAJ RA BCAT TKI CGC VA!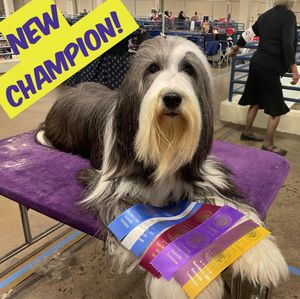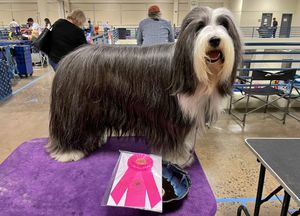 October 2, 2022: Sage earned her Novice Agility Jumpers (NAJ) title today!
August 18, 2022: How do we beat the summer heat? In the pool, of course!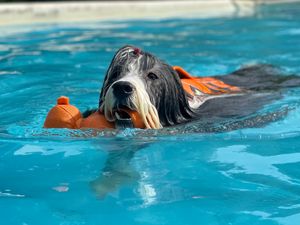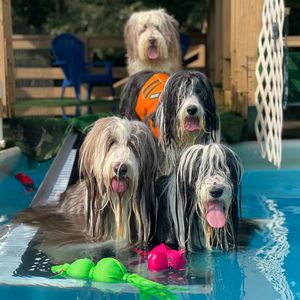 July 15, 2022: Sage ran in her first agility competition and qualified! She hasn't had much agility training, so we still have some work to do, but I'm super proud of her!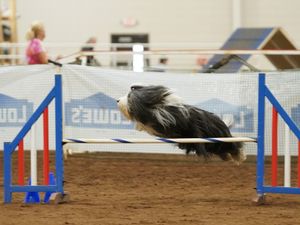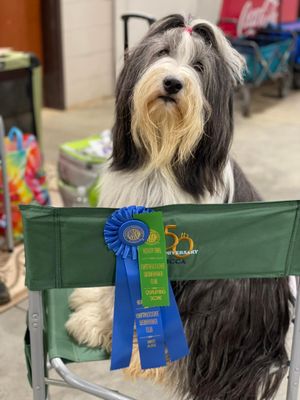 June 12, 2022: Sage and Brooke both earned their Rally Advanced (RA) titles in three runs this weekend! 
May 15, 2022: Sage won Best of Winners each day for two more points towards her Championship. Two more to go! She also got to run Fast CAT, which she loves!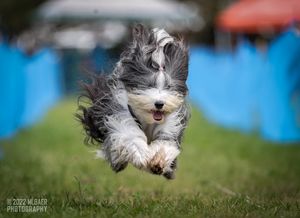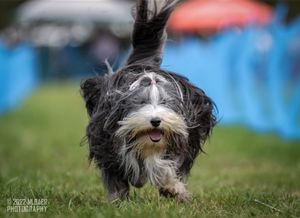 April 16, 2022: We had a busy weekend in Perry this weekend but Sage won Best of Winners in conformation and also earned her BCAT title in Fast CAT on the same day! This is the kind of thing I strive for in my breeding program and I couldn't be more proud of her.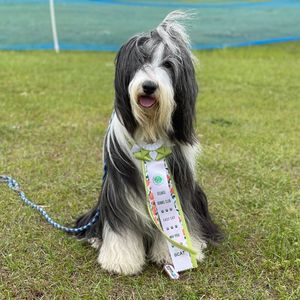 March 13, 2022: Sage has been invited to compete in the 2022 AKC Rally® National Championship! I don't think we're going to go but what an honor!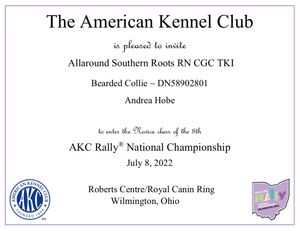 January 15, 2022: Sage wend to her second show and won another 5 point major!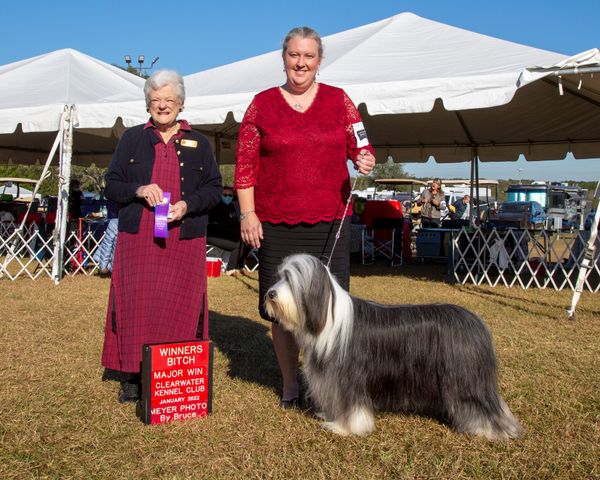 November 26, 2021: Sage earned her Rally Novice (RN) title today with two perfect scores! 
August 18, 2021: Sage's health clearances came in and she's OFA Excellent (hips), OFA Normal (elbows)!!! Yay!!!
July 7, 2021: I decided to place an ad in the upcoming BCCA Beardie Bulletin to recognize Fergus' and Sage's big wins! I love how it turned out.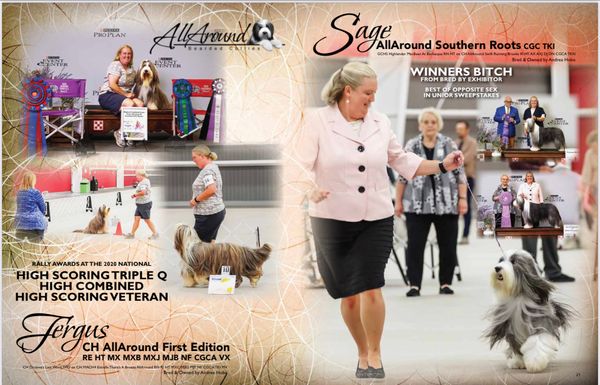 June 21, 2021: How could this National Specialty get any better? By winning the Best Bred-By-Exhibitor class and going on to win Winners Bitch!!! I still can't believe it!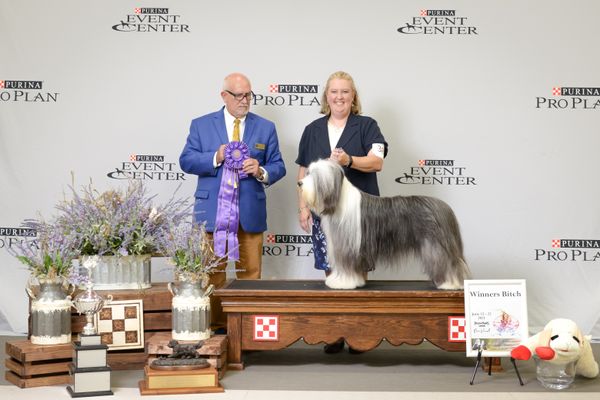 June 20, 2021: Holy cow! Sage just wone Best of Opposite Sex in Junior Sweeps at the BCCA National Specialty! I love this girl to pieces!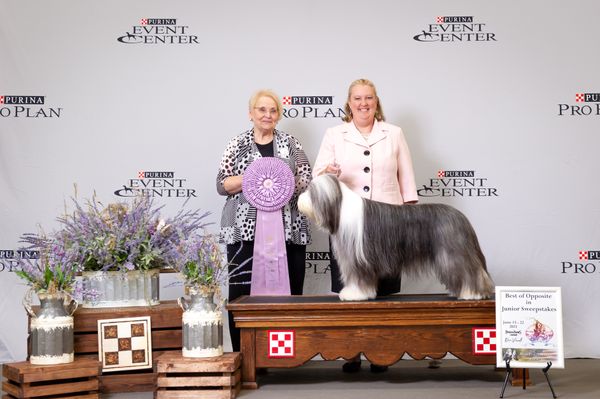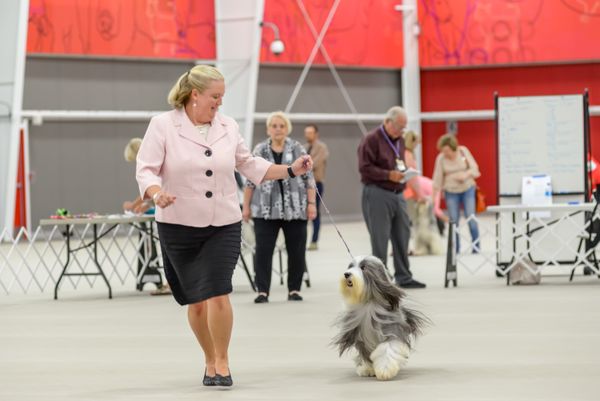 June 19, 2021: Sage had her Rally debut at the BCCA National Specialty and she was awesome! I haven't traine her much in Rally s I wasn't sure how she was going to do but she was incredible!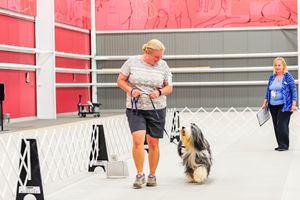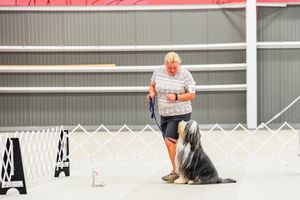 June 18, 2021: We've arrived in St. Louis for the 2020 (yes it's a year late due to COVID) BCCA National Specialty. It will be a fun week of agility, Rally and Conformation for us. Sage isn't ready to oficially compete in agility yet but she did run in the BAD Relay and her team came in 3rd place! She was fabulous!
March 23, 2021: Sage got to try Fast CAT. She LOVED it!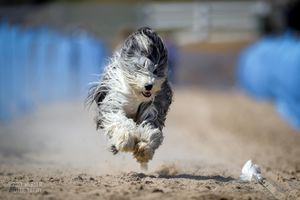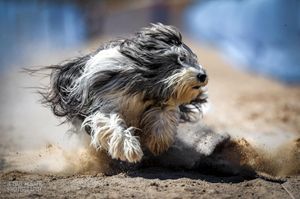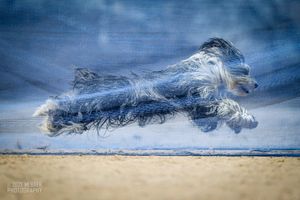 January 3, 2021: My friend, the ever-talented Maggie Fan, took these beautiful photos of Sage!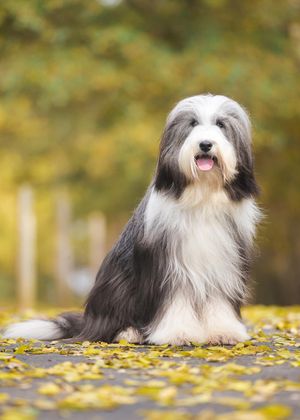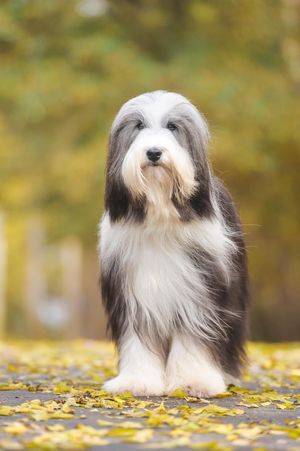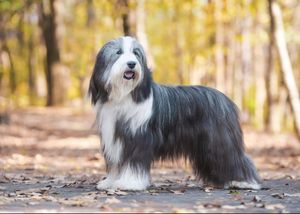 October 17, 2020: I'm so thrilled with Sage's debut in the show ring! She was awesome! We were the only Beardie, so there were no points to be had, but we did walk away with lots of compliments and great ring experience.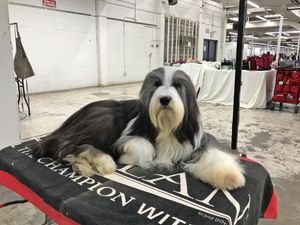 October 14, 2020: We took a group walk today after I voted.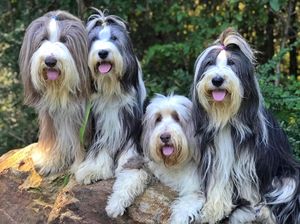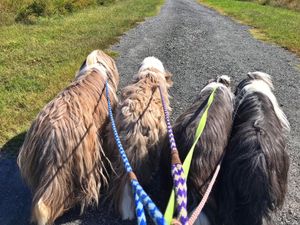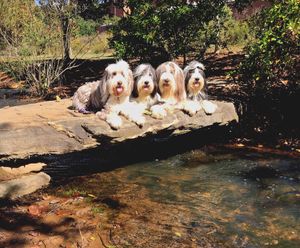 July 3, 2020: What's the best place to spend a summer day? In the pool, of course! Swimming did no come naturally to Sage, but now she's a little fish and I can't keep her out of the water!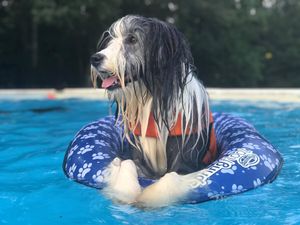 April 6, 2020: Since we're stuck at home quarantining I decided to go ahead and do some trick training with Sage. She earned both her Trick Dog Novice and Trick Dog Intermediate titles! What a smart little girl!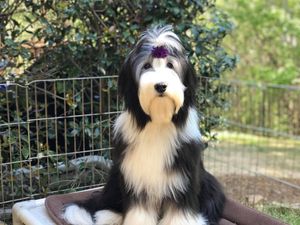 February 11, 2020: At only 5 1/2 months old, Sage earned her first title tonight! She earned her AKC Canine Good Citizen (CGC) title. I'm so proud of her!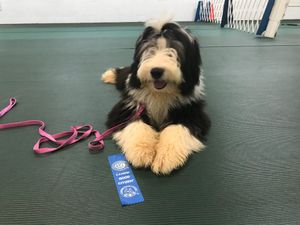 February 8, 2020: I took all of the dogs to an agility trial in South Carolina and surprise surprise IT SNOWED!!! Sage LOVED it!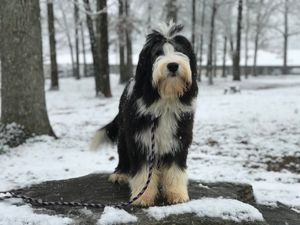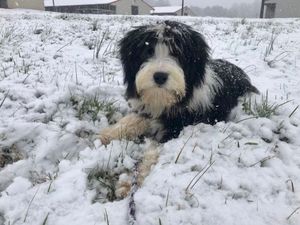 February 2, 2020: I took Sage to a dog show to get her used to the sights and sounds and she did great! I'm so proud of her.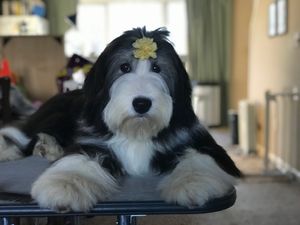 December 27, 2019: I've been taking Sage to a local park for off leash walks and she loves it!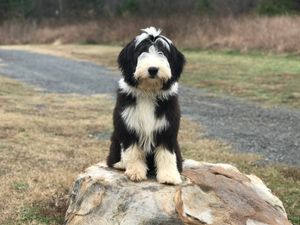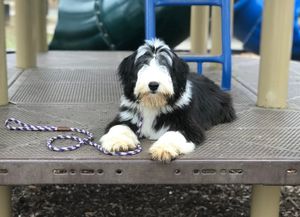 December 3, 2019: I've been taking Sage shopping to as many places as I can for socialization and she's always a big hit!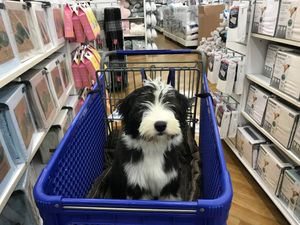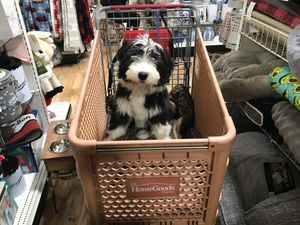 November 1, 2019: I got my puppy pictures back and I LOVE them!!!