AllAround Driving Miss Daisy HT FDC CA BCAT THDN CGCA CGCU TKN VA - "Daisy"
Daisy is a beautiful little tomboy from the Brie to Alex litter. She is full of spunk and sass! She lives in a wonderful home in Michigan with two other Beardies and is absolutely living the best life. She dabbles in a little bit of everything - herding, agility, obedience, therapy, etc. I couldn't be happier that she has such a wonderful and loving home!
May 1, 2022: Daisy earned her DCAT title at the Fast CAT trial in Lapeer, Michigan. After not running for almost a year, she did great!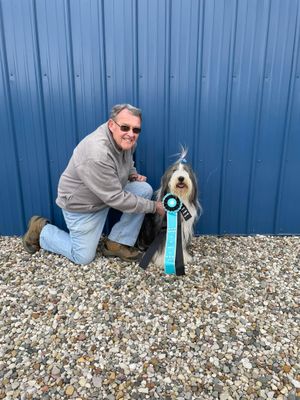 March 27, 2022: Daisy earned her open Barn Hunt (RATO) title today! I'm so proud of them!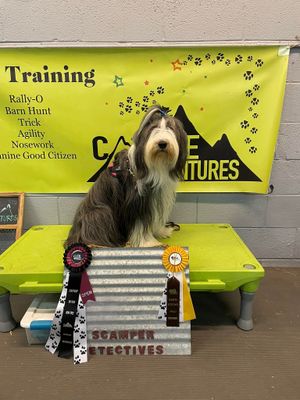 February 28, 2022: Darleen posted this adorable photo of Daisy on her birthday!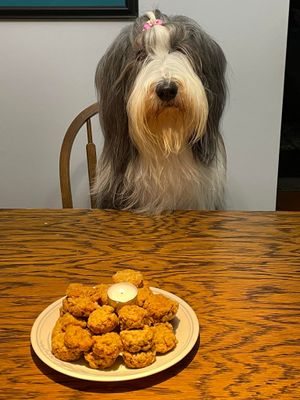 November 14, 2021: Daisy earned her novice Barn Hunt (RATN) title today! From Darleen: "We were never sure Daisy was going to be a Barn Hunt girl but this weekend she received her Novice title and one leg toward her Open title! It was good to see all our friends!"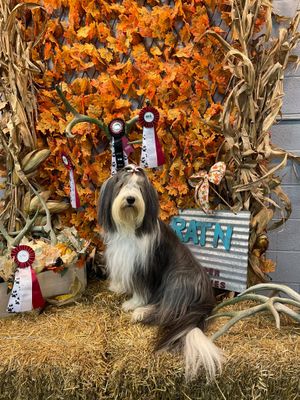 November 13, 2021: How cute is Daisy's new Barn Hunt headband???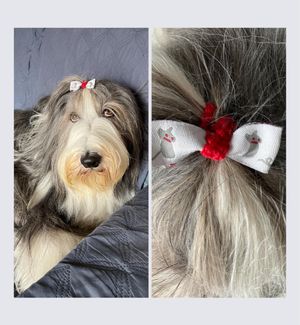 September 30, 2021: Daisy now has her own trading cards to pass out when she does therapy visits! I'm so proud of this well rounded team!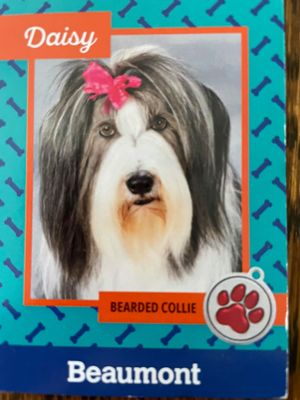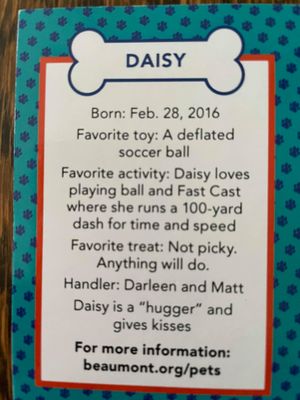 February 28, 2021: Daisy's 5th birthday photo! She's so cute!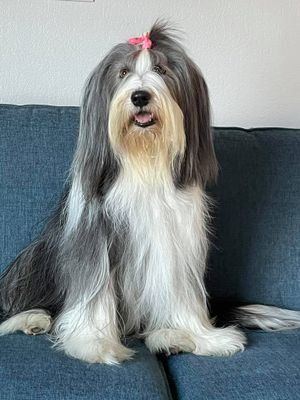 September 25, 2020: Love this group photo: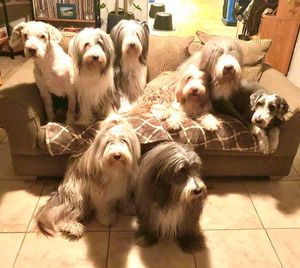 May 6, 2020: COVID sucks but Daisy's enjoying all of the quality family time she's getting.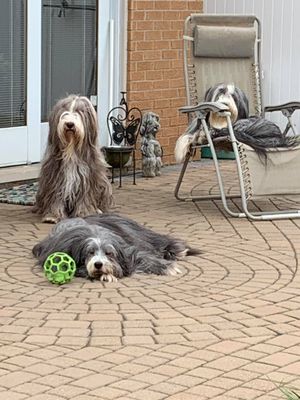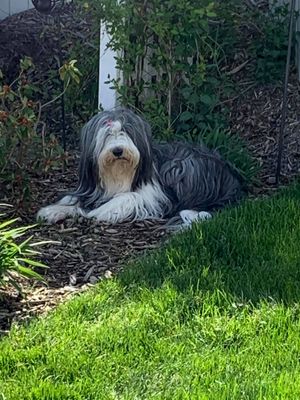 February 28, 2020: Darleen posted this cute birthday photo of Daisy with the best message - "It's our darling Daisy's 4th birthday! Thank you for this funny, stubborn little girl. She makes us laugh every day."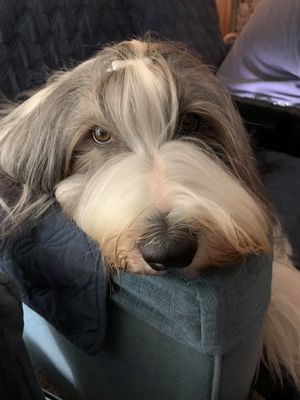 September 20, 2019: It was so good to see sweet Daisy at the 2019 BCCA National Specialty! She is such a hoot with TONS of personality! While there she was awarded the BCCA Versatility Award (VA)! I'm so proud of then and all of their accomplishments.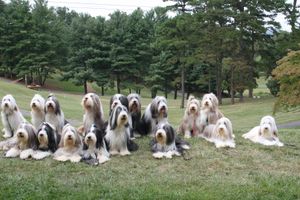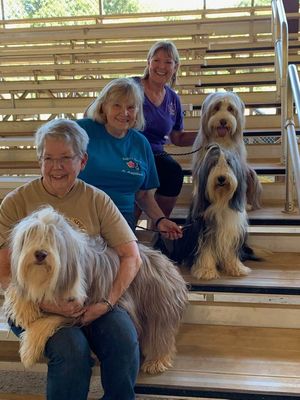 July 14, 2019: Daisy went to summer camp and had a blast!!!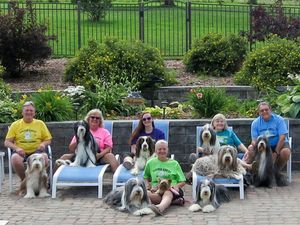 July 7, 2019: Daisy earned her Fast CAT title today!!! I'm so proud of them!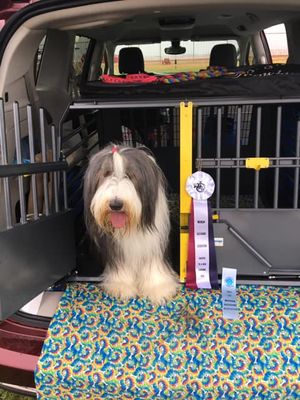 March 20, 2019: Our darling Daisy made the Page-a-Day calendar. It's hard to believe she just turned 3!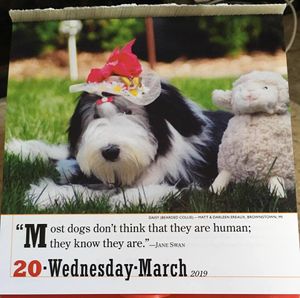 June 21, 2018: Matt and Darleen brought the dogs to Beardie Camp and they had a BLAST! Daisy had so much fun trying all of the different activities and hanging out with all of her Beardie friends!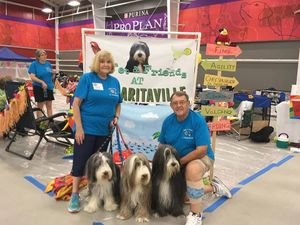 October 10, 2017: Daisy had a GREAT time at the 2017 BCCA National Specialty in St Louis! Daisy got to play in agility and even earned her Herding Tested (HT) title while she was there! So proud of her! Darleen even let me show her in conformation!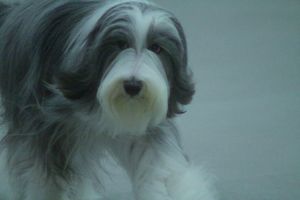 February 28, 2017: Darleen sent me these great photos of Matt & Daisy in obedience class! They've become quite the team and have even earned their Canine Good Citizen - Advanced (CGCA) and their Canine Good Citizen - Urban (CGCU) titles!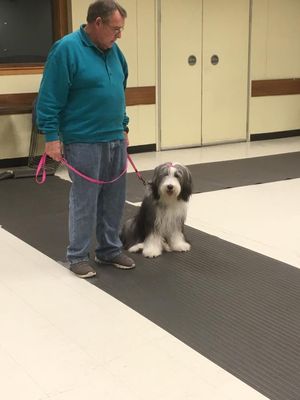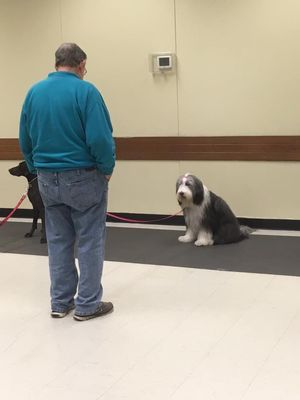 September 29, 2016: Daisy went to the 2016 BCCA National Specialty and earned her Herding Instinct (HIC) title!!!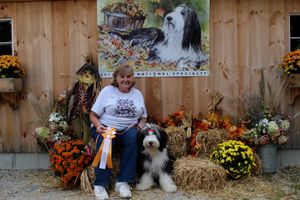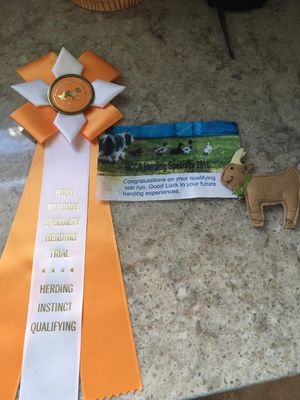 June 13, 2016: Daisy is settling in to her new home beautifully! This is a cute photo of her wanting to be next for grooming.