CH MACH AllAround Our Lucky Penny MX MXJ XF RI EN HT CA RATN CGCA TKN MV - "Penny"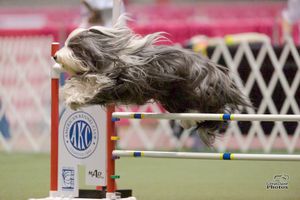 Penny has stayed in Georgia and is now living with her wonderful parents, Kevin and Suzanne, and her big Beardie sister, Maggie. Penny is a darling little girl with tons of spunk and sweetness. Suzanne is raising Penny to be a true AllAround versatile Beardie, training in agility, dock diving, obedience, herding and conformation. I'm so proud of these two!
March 29, 2021 - For the second year in a row, Suzanne and Penny have qualified for AKC's Agility Nationals! This is SUCH a huge accomplishment!!! They went to Tulsa and even came home with a lovely ribbon! They are such an amazing team and I couldn't be more proud of everything they have accomplished together!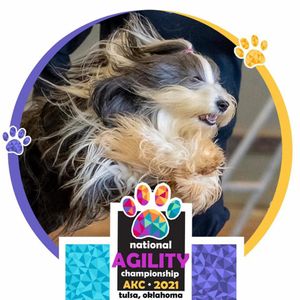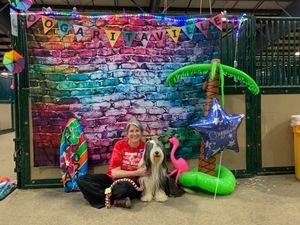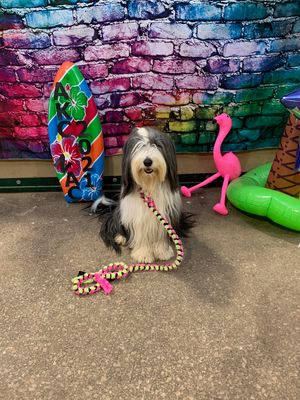 December 29, 2020 - I always look forward to Suzanne's Christmas photos every year. No Santa pics this year due to COVID but a really cute family shot.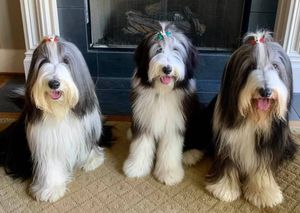 December 14, 2020 - The year of Penny continues with an invitation to AKC's Agility Invitational. Suzanne and Penny did amazing at their first big event bringing homw some lovely ribbons. I could't be more proud of them!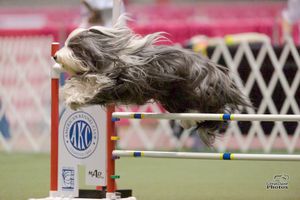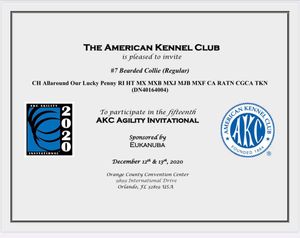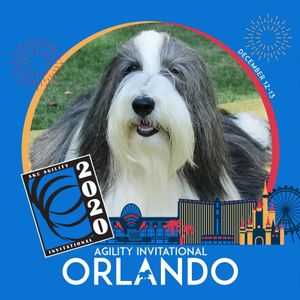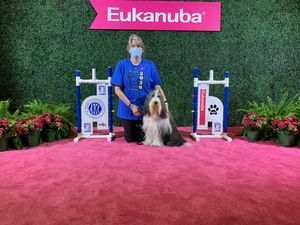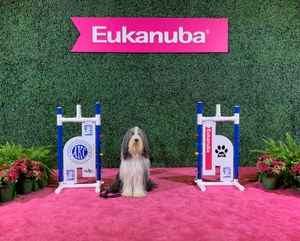 October 1, 2020: Suzanne sent me the most beautiful pics of Penny!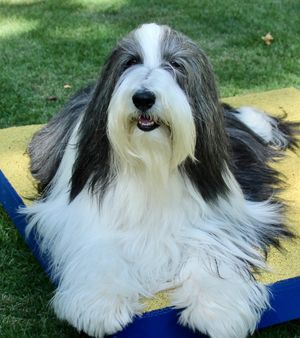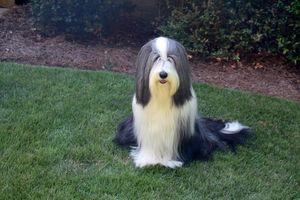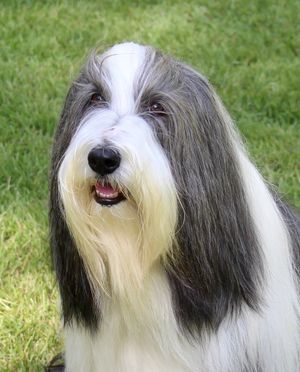 September 8, 2020 - As a breeder, I don't think I've ever been prouder! Penny has earned her Master Agility Championship (MACH)!!! This also earned Penny her BCCA MAster of Versatility title! This is such a huge accomplishment and I couldn't be more excited for Suzanne and Penny!!!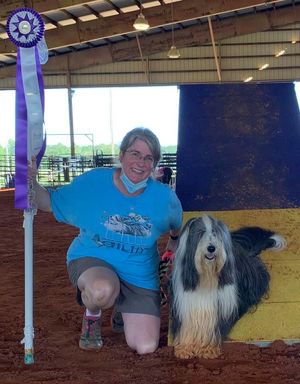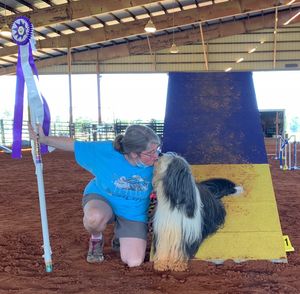 August 10, 2020 - The best big sister in the world is showing her little sister, Charm, how to swim.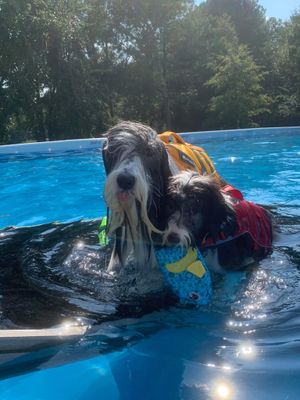 July 26, 2020 - Suzanne took the dogs to upstate New York. Penny and her sisters had a fabulous time!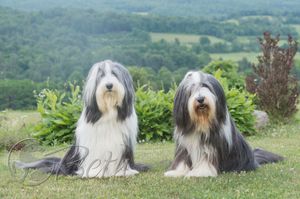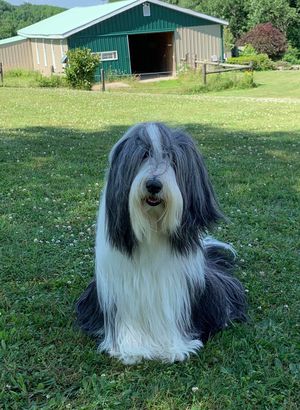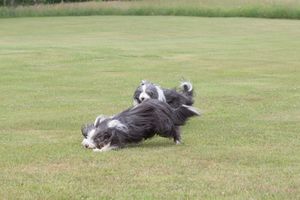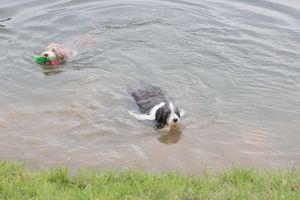 July 21, 2020 - Suzanne got a new puppy. Penny has gladly adopted her and is showing her the ropes.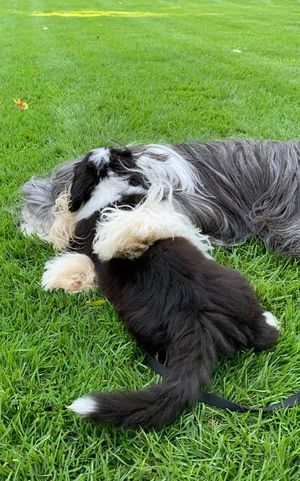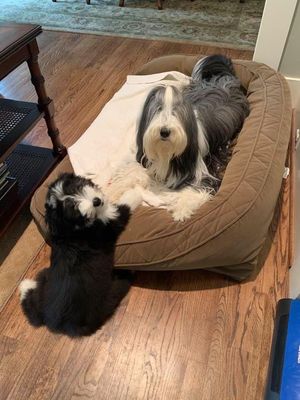 July 4, 2020 - Penny is getting into the 4th of July spirit!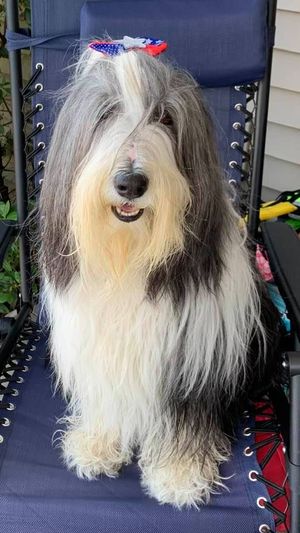 March 2, 2020 - Penny is enjoying quarantining at home.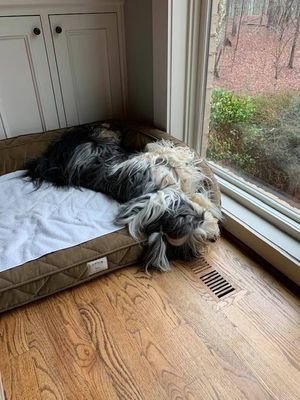 January 29, 2020 - We just found out that Suzanne and Penny have earned the 2020 BCCA Denia Award for excellence in agility! This basically means she was the 2020 Bearded Collie agility rookie of the year! I am so proud of these two and in awe of what they have accomplished!!!
January 18, 2020 - To say that I'm incredibly proud is still an understatement. Penny and Suzanne have qualified for the 2020 AKC Agility Nationals! This is SUCH a huge accomplishment!!! I'm so sad that it was cancelled due to COVID.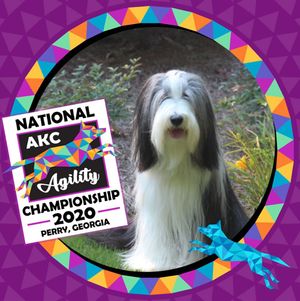 September 20, 2019 - Penny has been having an amazing year in agility! In only ten months they have picked up 12 QQs! That's insane! As a breeder and a friend, I could honestly not be prouder of them. Every time they step to the line it brings a smile to my face. What an amazing team they are!
May 5, 2019 - Only a few short months after getting into Masters, Suzanne and Penny have already earned their Masters Agility (MX) and their Masters Jumpers With Weaves (MXJ) titles! That's incredible!!!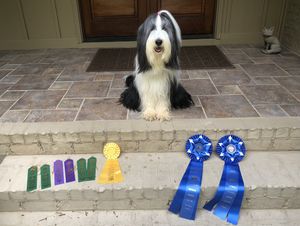 February 15, 2019 - Penny took a break from agility to go on a road trip to New Orleans to cheer on Brooke and Fergus at a herding trial!  Brooke and Fergus earned their HT titles and Penny got to go on a swamp walk!  She loves going on adventures with her Beardie family!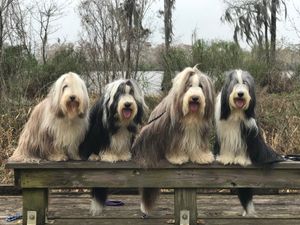 January 27, 2019 - Penny and Suzanne both earned their very first QQ!  And the best part was getting to share it with Brooke and Fergus and Brie who were at the trial too!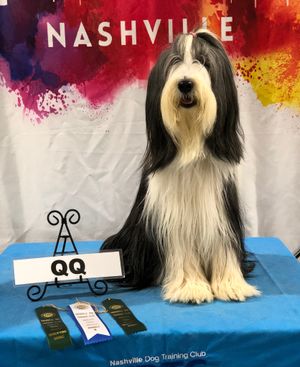 December 2018 - Penny had lots of fun playing agility in 2018 and she finished the year by earning her AX and AXJ titles in her last two trials.  Can't wait to see what she does next year!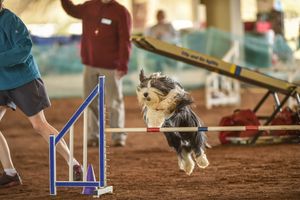 June 2018 - Penny had a blast competing at Beardie Camp.  She took a herding clinic and earned her HT.  And she had some great agility runs and came in 2nd in the 20" dogs TUMPS agility game - 18 obstacles, all tunnels and jumps, and a course designed for maximum speed. She sure can run!
June 2018 - Penny & Maggie went to Beardie Camp with their Beardie friends and some of Penny's AllAround family - Bailey and Daisy and Mowgli were there too!  They all won Best Campsite with some of their good beardie friends. And they loved the visors that Daisy's mom made for everyone! Fun times!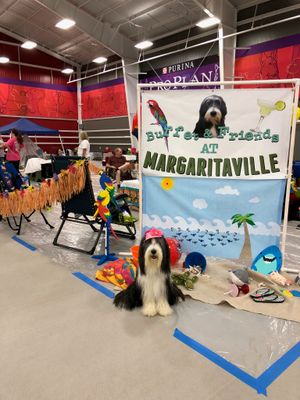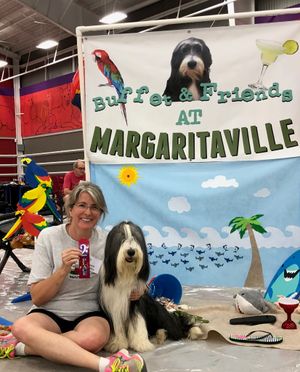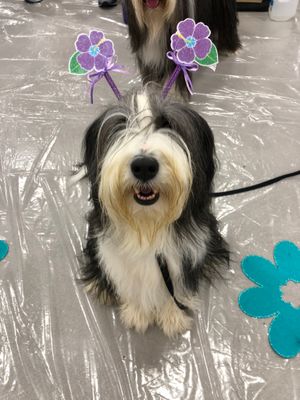 May 2018 - Penny got to spend time on the farm with a few trips to Houston this year for herding lessons with Joy Hall.  She loved being a farm dog!  She learned a lot and got to work in the big field.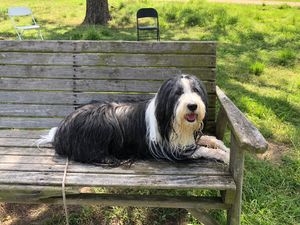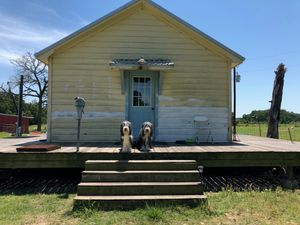 February 2018 - Penny and her sister Maggie moved to Alabama.  They were sad to leave Georgia but they are having fun because they finally have a yard!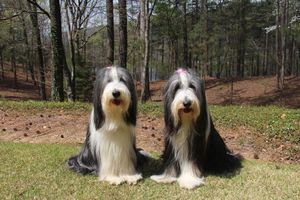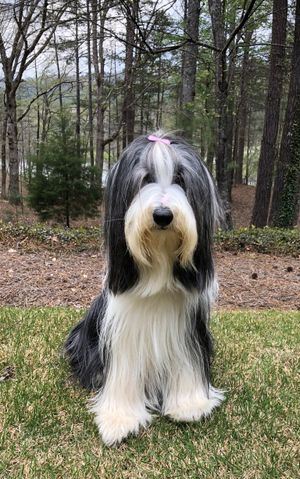 December 10, 2017: Suzanne and Penny are doing awesome in agility going 4/4 with four first places (2 in std and 2 in JWW)! She even earned her Novice JWW title!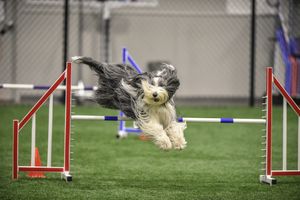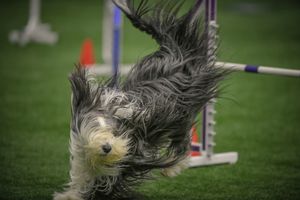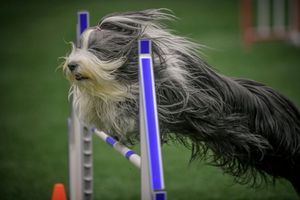 October 20, 2017: Suzanne and Penny went to Louisiana for a herding clinic with Joy Hall. They're doing great on stock. I'm so proud of them!
October 5, 2017: Penny did great at the 2017 BCCA National Specialty! She competed in the BAD agility relay and had a blast! She showed beautifully in the Best of Breed ring. She was also awarded the BCCA Versatility Award! She is the epitome of what I breed for.
March 18, 2017: Suzanne, our good friend Jenny, and I met up for a group hike today. It was awesome!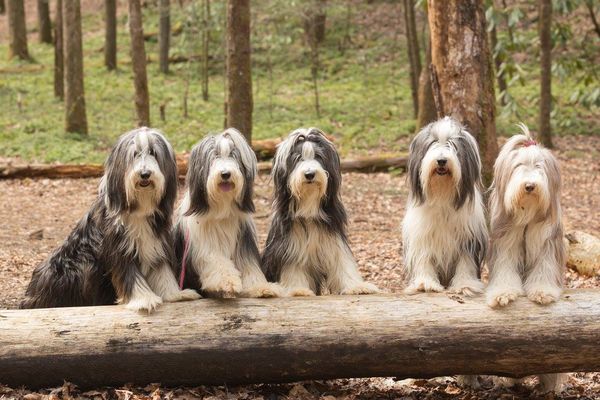 March 15, 2017: Penny is turning in to quite the little stock dog!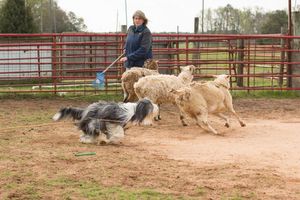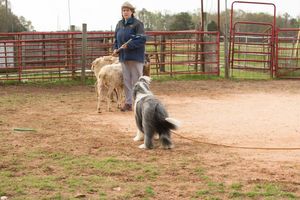 October 16, 2016: Penny secretly entered a Rally trial and went 3 for 3 earning her a Rally Novice title!!!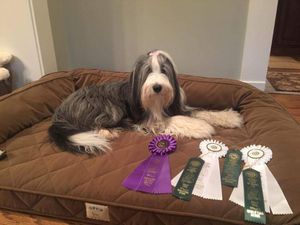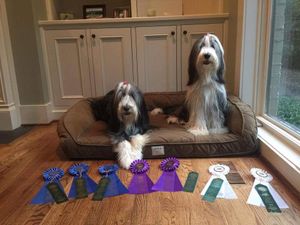 July 30, 2016: Penny went WB and BOW for a 4 point major and is now officially CH AllAround Our Lucky Penny! I'm so proud of her!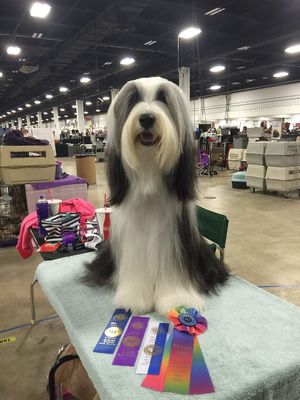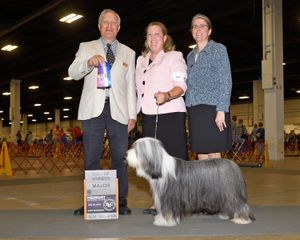 May 8, 2016: Penny was 3 for 3 this weekend and earned her CA title in lure coursing! She had so much fun!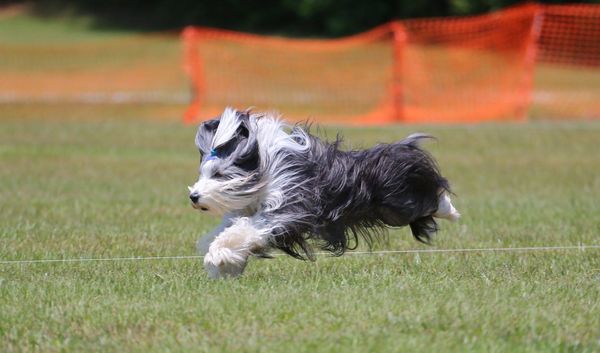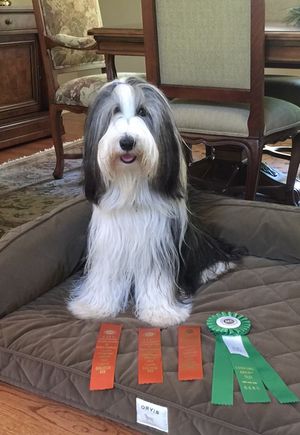 February 7, 2016: Another 4 points for Penny after going Winners Bitch and Best of Winners both days!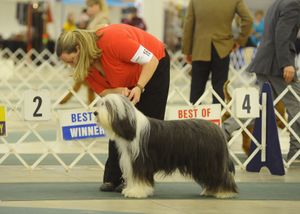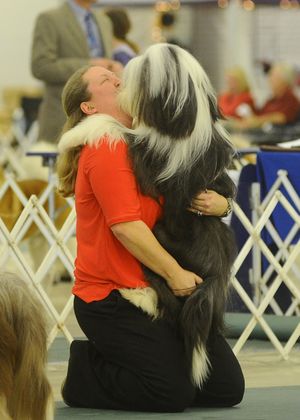 December 12, 2015: What an amazing weekend! Suzanne and I took Brie, Brooke and Penny down to Orlando for the Eukanuba National Championship, the NADD Dock Diving National Championship and AKC Agility Invitationals. Suzanne entered Penny in three days and she showed beautifully getting reserve to Brooke the first two days and then winning Winners Bitch and Best of Winners at Eukanuba (the biggest dog show in the country)! I'm so proud of her!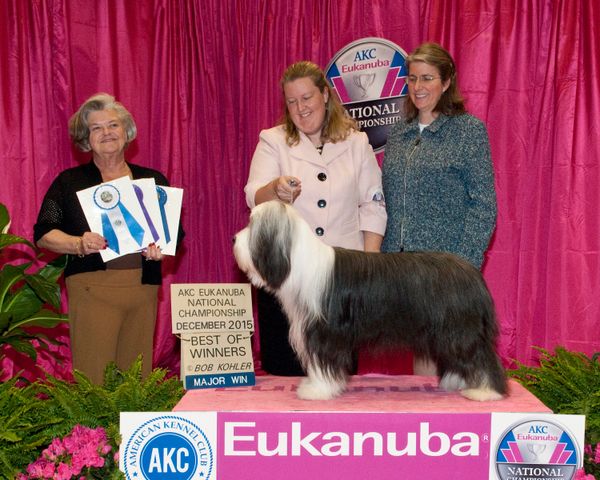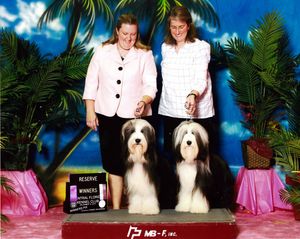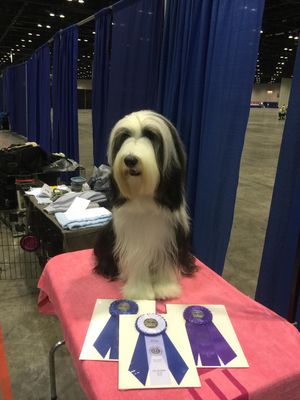 October 3, 2015: Penny got her novice Barn Hunt title!!! 

October 3, 2015: Penny and Suzanne picked up two more points this weekend!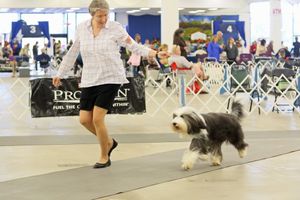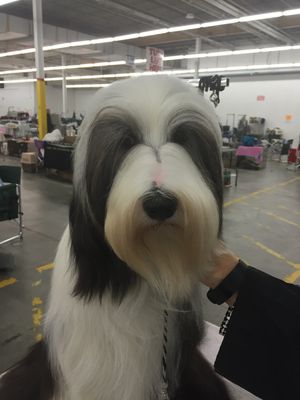 October 3, 2015: Penny went to Chicago and got to try lure coursing and she LOVED it! Hopefully there will be a lure coursing title in her future!
[img align="center" caption="Photo by Sheree Girty" size="orig" alt=""]//s3.amazonaws.com/content.sitezoogle.com/u/45312/abeb0eecb5b7a390b840c0383a1710b685903660/original/penny.jpg?1444832814[/img]

September 12, 2015: Penny got her first point AND got Owner Handler Best of Breed today! I'm so proud of them!!!

July 26, 2015: Penny and Suzanne went a big all-breed show and did GREAT! I couldn't be more proud of them! As a totally novice handler, they went Reserve to a 3 point major on one day and Reserve to a 4 point major the other day (against almost all handlers)! She may not have walked away with the points, but she sure walked away a winner in my eyes!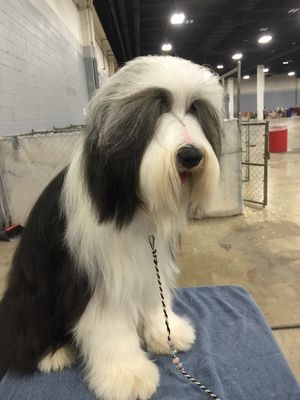 June 21, 2015: Kevin and Suzanne took the girls on a week-long Beardie dream vacation! Penny got to try Barn Hunt as well as hone some of her other skills in agility, herding, obedience! I'm a little jealous!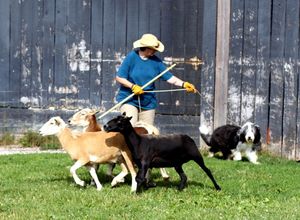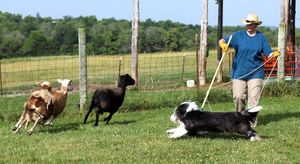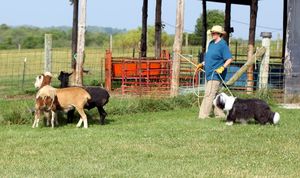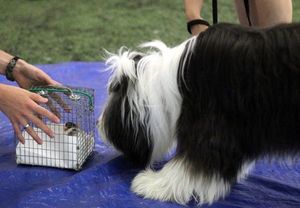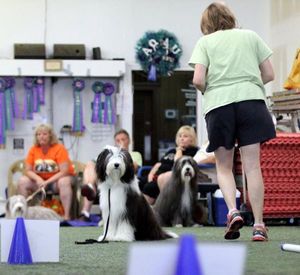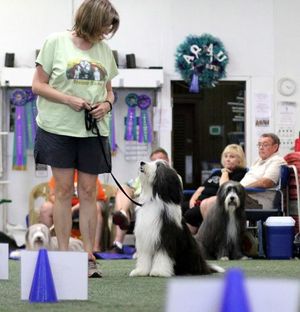 May 10, 2015: Penny was able to join us for the Perry dog show and we had a blast! While she didn't get any points (she was showing against adults), she showed beautifully and I couldn't be more proud of her. She had a wonderful time playing with all of her brothers and sisters. I'm so thrilled that we were able to get everyone together again. She's a sweet beautiful girl with so much love to give!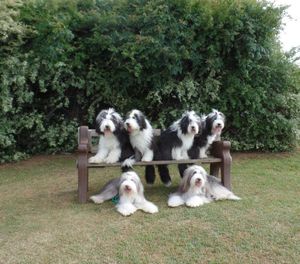 April 26, 2015: Brooke and Penny went to an all-breed B match (like a practice conformation show) where Suzanne and Penny got some great ring experience. I probably should have taken a photo *before* letting them play in the dirt!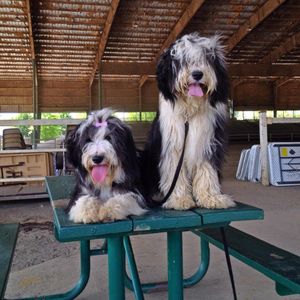 February 1, 2015: Suzanne and Penny passed the AKC Canine Good Citizen test giving Penny her first title - CGC! Really impressive for only six months old! Great job, ladies.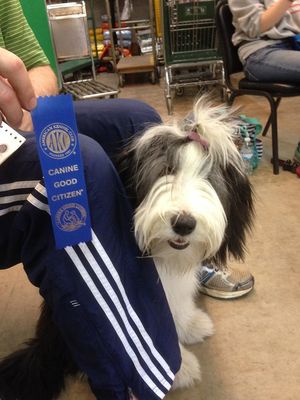 February 1, 2015: Penny competed in her first show and she was awesome! She showed herself beautifully and I couldn't have asked for a better first performance! I'm so proud of her and her owner, Suzanne, for doing such a great job!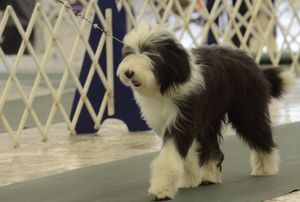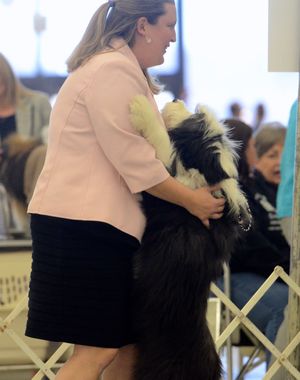 December 1, 2014: Penny is a busy little girl. She's already in training in both agility and herding! She doesn't have a shy bone in her body. When she met Santa, she jumped right in his lap and posed for the camera!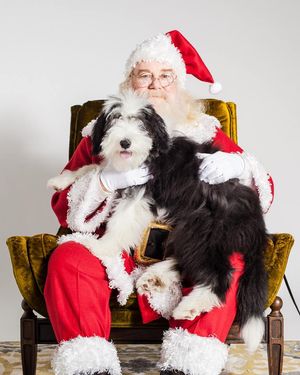 October 1, 2014: Like her sister, Brooke, Penny had a blast at the 2014 BCCA National Specialty. She was too you to compete in anything but had a wonderful time meeting people, getting exposed to sights, sounds and smells, as well as getting used to show life.
Health Clearances & Pedigree