AllAround Mockingjay: Girl On Fire RN HT AX AXJ OF ACT1 TKN VA - "Mallory"
Mallory is a beautiful brown and white girl from our Brie x Alex litter. She lives in Texas with my friends, Gretchen and Darren. In addition to conformation and agility, Mallory spends a lot of her time spreading joy as a therapy dog.
October 31, 2022: I'm so proud of Mallory for earning the Bearded Collie Club of America Versatility Award (VA) title for their outstanding accomplishments in multiple performance venues!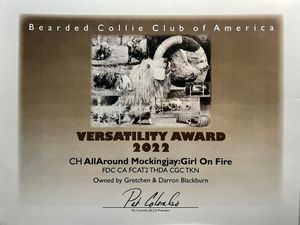 February 28, 2021: Mallory earned her FCAT today with over 1,000 FAST CAT points! That's increiblde! She, and her brother Elliott, are also now the fastest two Beardies of 2021. Yay!
February 14, 2021: The amazing photographer took this amazing shot of Mallory. I LOVE IT!!!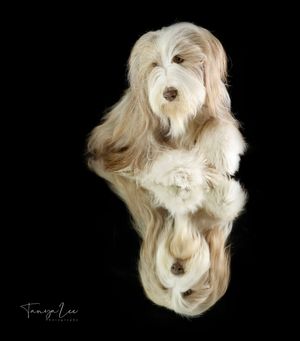 November 15, 2020: Mallory earned her DCAT title and celebrated with a little pool time to cool off.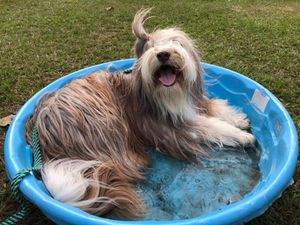 October 26, 2020: Mallory has absolutely fallen in love with the sport of Lure Coursing and FAST CAT!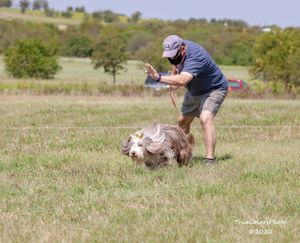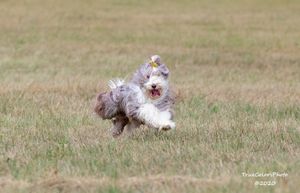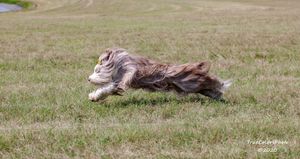 June 20, 2020: Mallory earded her AKC Canine Good Citizen title today!
June 15, 2020: Mallory is doing really well in her Nosework classes. This girl sure does love a job.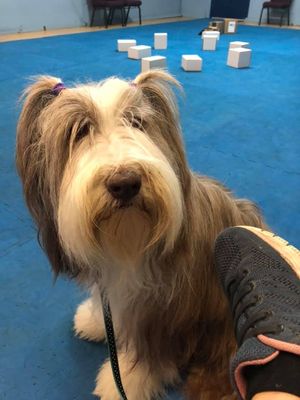 May 24, 2020: I love this photo of Mallory and her family with one of her many FAST CAT ribbons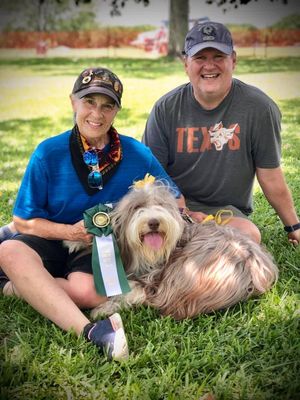 November 14,2019: Mallory has the best temperament. She's such a sweet girl who takes everything in stride. This is her falling asleep on the job at the therapy dog table.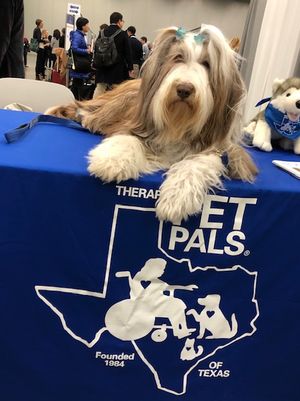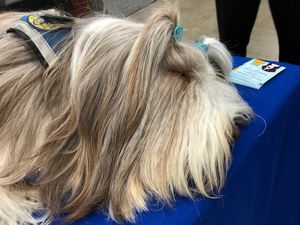 October 31,2019: How cute is this?!? Mallory wore her Halloween costume to her Austin Emergency Dispatch Center visit today.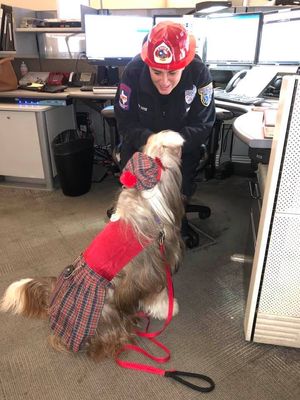 October 26, 2019: Gretchen brought the dogs to the annual Texas Beardie Bounce and it looks like Mallory had a blast!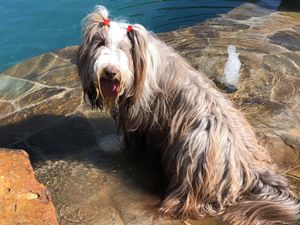 March 14, 2019: It's a rough job being such a hard working therapy dog.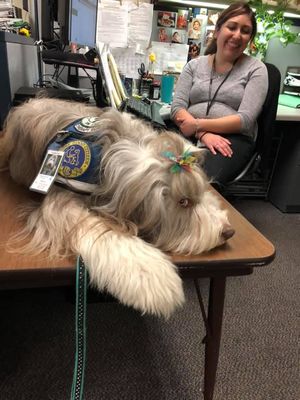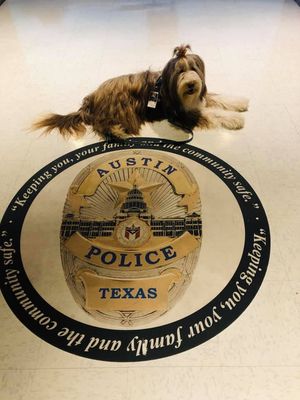 February 7, 2019: Mallory got new therapy dog cards. The children love them and I think they're adorable (as is she)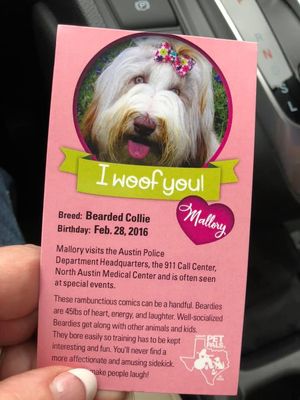 January 27, 2019: Mallory keeps picking up breed points pretty much any time they show and now has 12 points and one of her majors towards her AKC Conformation Championship! I'm so proud of them and all that they have accomplished!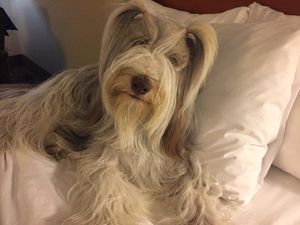 September 19, 2018: Mallory continues to be an incredible breed ambassador all over Austin as a Therapy Dog. In addition to their regular visits with the Austen police department, they also visit schools, hospitals, rehab centers, etc., bringing joy and comfort wherever they go!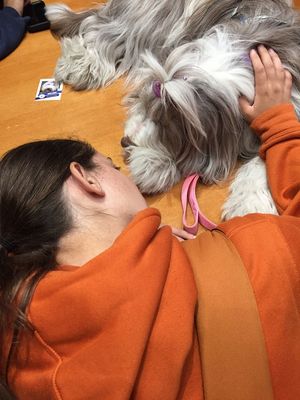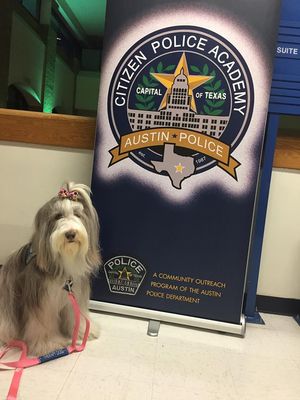 March 8, 2018: Mallory is the first dog to be recognized as the official Therapy Dog for the Austin, TX, Emergency Management Services. Together with Gretchen, they will be visiting the 9-1-1 emergency call center in Austin where greeted call takers for EMS, Fire and Police. They seemed really happy to see her. She'll be getting her badge soon and making regular visits to help these folks decompress from their stressful jobs directing units to accidents and other emergency incidents. I love this so much!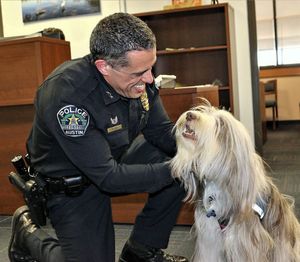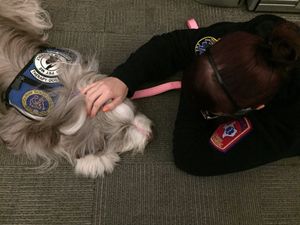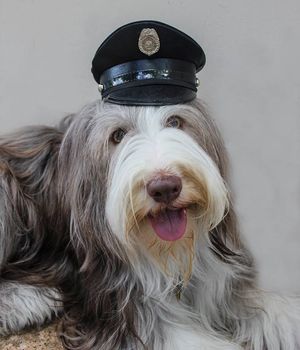 January 7, 2018: Mallory went Winners Bitch and Best of Opposite Sex for a Major today! I'm so excited!!!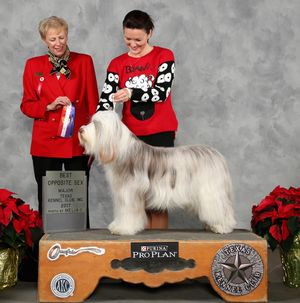 November 10, 2017: Mallory got to try lure coursing this weekend and LOVED it! She even earned her CA title!!!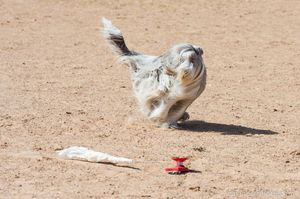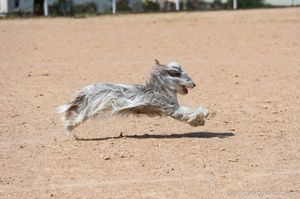 October 4, 2017: Mallory won her Sweepstakes class at the 2017 BCCA National Specialty!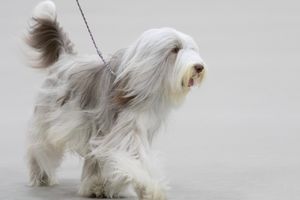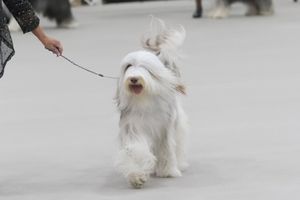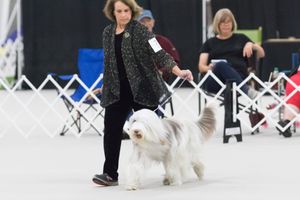 October 2, 2017: Gretchen and Mallory got their first introduction to the agility ring at the 2017 BCCA National Specialty! They entered the relay race and had a blast!!!
September 11, 2017: It makes me so happy to see another generation of water dogs!!! Mallory had a blast playing in the city pool on closing day!!!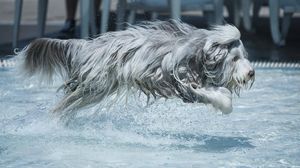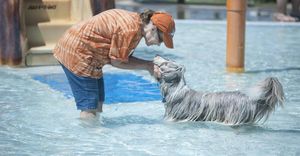 April 24, 2017: Mallory graduated from obedience class!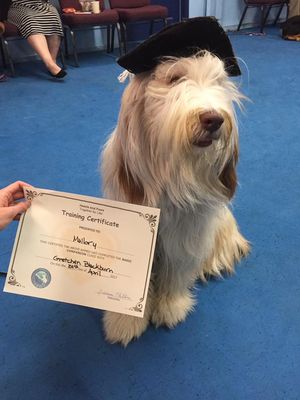 April 23, 2017: Mallory got to go to a baseball game! How cute is that???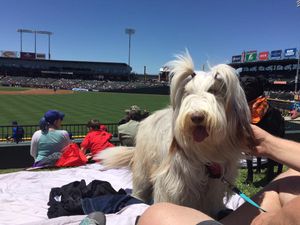 July 18, 2016: Mallory graduated from puppy obedience class!