CH AllAround Swift Running Brooke AX, AXJ, RE, HT, DN, DJ, TKN, CGCA, VX - "Brooke"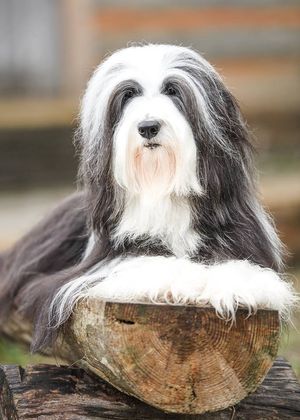 Brooke is my pick puppy from the Brie to Jack litter born on July 2, 2014. Brooke is quite the character. Keeping her four feet on the ground is nearly impossible. She's extremely friendly and is NOT afraid to show it! She is the epitome of what I strive to breed – a friendly, intelligent high-drive dog with the correct structure to back it up. Brooke earned her championship in only four shows. She finished in style winning Winners Bitch at the Eukanuba National Dog Show for 5-point majors two days in a row! Her true passion, however, is work! Brooke is extremely driven and talented in agility, dock diving and herding. She is one of the most natural Beardies on stock I've ever seen. I'm just crazy about Brooke. She enhances our lives so much with her enthusiasm and drive. Never a dull day when Brooke is around!
Health Clearances & Pedigree
Hips: OFA Good
Elbows: OFA Normal
Eyes: OFA Normal
Thyroid: OFA Normal
CEA: DNA Clear

Brooke's Pedigree
February 5, 2023: Brooke earned her Rally Excellent title today!
August 18, 2022: How do we beat the summer heat? In the pool, of course!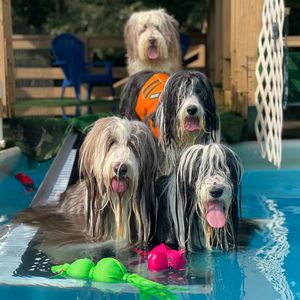 July 15, 2022: Brooke is loving getting back in the agility ring after her shoulder injury! She's doing great!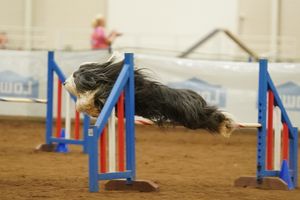 June 12, 2022: Brooke and Sage both earned their Rally Advanced (RA) titles in three runs this weekend. I'm do proud of them! It turns out Brooke loves Rally!
June 25, 2021: I'm still on cloud nine! Brooke's daughter, Sage, won Winners Bitch and Best of Opposite Sweeps at the BCCA National Specialty!!! Brooke is o proud of her beautiful daughter!
June 18, 2021: We've arrived in St. Louis for the 2020 (yes it's a year late due to COVID) BCCA National Specialty. It will be a fun week of agility, Rally and Conformation for us. Sadly Brooke won't be participating of it due to her shoulder injury, but she'll certainly be cheering on her family members from the cheap seats.
March 2, 2021: Bad Dog Agility came out with their Breed Power 10 list for 2020 and Brooke is officially the fastest Beardie with some smoking fast 6.5 YPS jumpers runs. I couldn't be more proud of her. She loves agility so much! I hate that her career had to be put on hold so many times for puppies, injuries, etc. 
October 14, 2020: We took a group walk after I voted.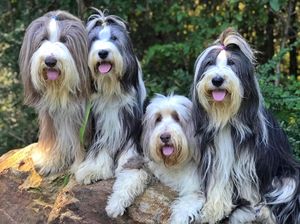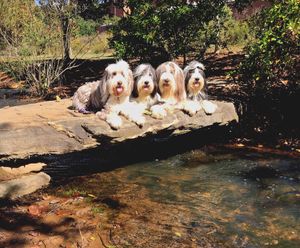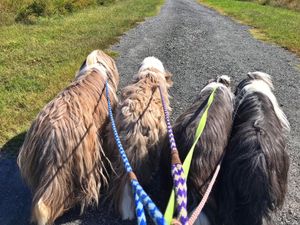 September 8, 2020: Brooke is SO EXTREMELY proud of her sister, Penny, on her Master Agility Championship (MACH). This also earned Penny her BCCA MAster of Versatility title. This is such a huge accomplishment and I couldn't be more excited for Suzanne and Penny!!! 
March 19, 2020: My father and I have been taking every opportunity to go for walks and hikes during this COIVD outbreak. It's so nice being able to spend time together.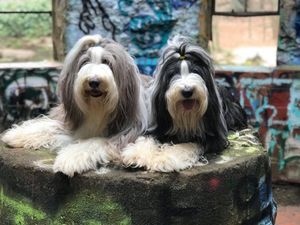 September 4, 2020: Due to having puppies, my injured leg and COVID, Brooke hasn't done agility in over a year and a half. Today, on her first run back, she won 20" Master Standard! So very proud of her!!!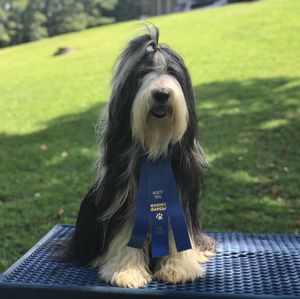 September 20, 2019: Brooke came to the 2019 BCCA National Specialty, but didn't have much fun as she had the puppies with her and was stuck baby sitting most of the time. She did get in on the group walks and some of the fun family photo ops!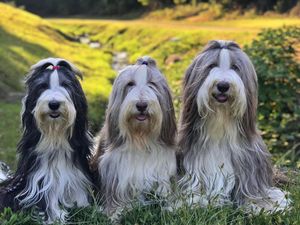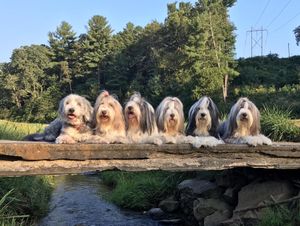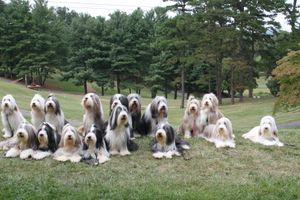 August 9, 2019: Brooke had a small but beautiful litter of two black and white girls - Thelma & Louise (see their litter page for more details).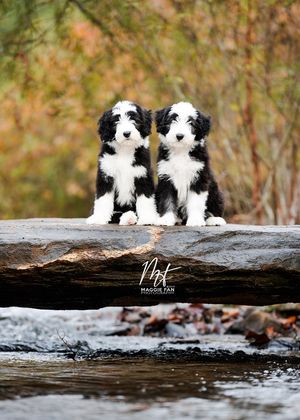 March 5, 2019: We had such a great few weeks. We drove down to New Orleans for a herding competition where she earned her Herding Tested (HT) title with RAVE reviews from the judges! She also earned both her Excellent Standard (AX) title and her Excellent Jumpers (AXJ) titles with fast and beautiful runs! I'm so very proud of this girl!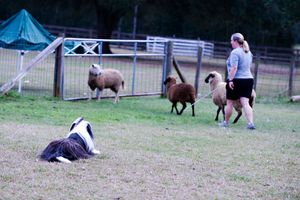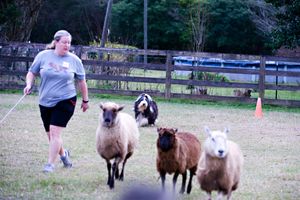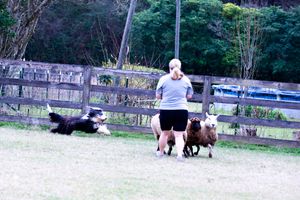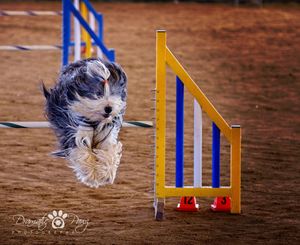 January 27, 2019: We had a great agility weekend. We only had one clean run but we had so many amazing moments! I am so excited for this girl's future!!!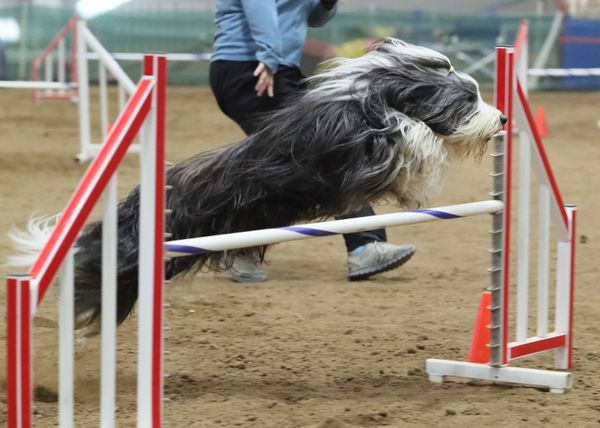 December 15, 2018: Versatility Excellent Title! We entered a one-day two-trial Rally competition and Brooke was fabulous! She earned her Rally Intermediate (RI) title and then went on to qualify in Advanced. This RI title actually completes her BCCA Versatility Excellent title, which is very impressive for such a young dog. I couldn't be more proud of my little tom boy.
September 15, 2018: Brooke has had a fabulous few weeks in agility. She breezed through Novice and Open and is having a blast in Excellent!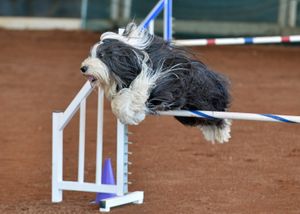 June 25, 2018: I took all of the dogs to a Rally & Obedience competition and they all did great! Brooke was competing in Rally Advanced for the first time and she even managed to beat her brother - winning the class with a score of 99/100.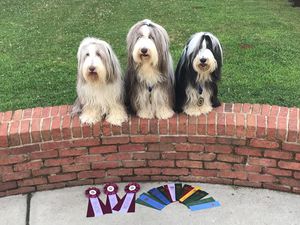 April 8, 2018: Brooke managed to earn FOUR titles in a single day! We went to an agility competition in Tennessee where she ran beautifully and earned her Novice Agility title (NA). While we were there, she earned her Canine Good Citizen (CGC) title, Canine Good Citizen Advanced (CGCA) title, and her Trick Dog Novice (TKN) titles!
March 19, 2018: Brooke was in her second agility trial and went 4/5 with some smoking fast runs. She earned her NAJ title and earned two legs towards her NA title. I'm so very proud of her! This title also earned her a Versatility Award from the Bearded Collie Club of America!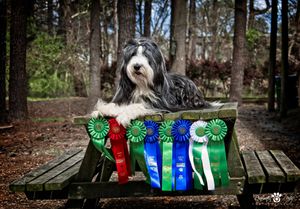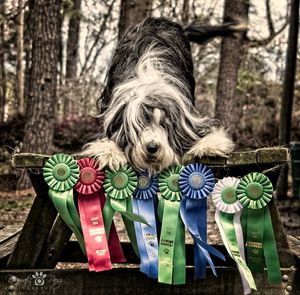 January 28, 2018: The AllAround crew had an awesome weekend in Nashville! Brooke earned her Rally Novice title with a first place (even beating her mother!). She then finally had her agility debut and won her class with a beautiful run! So proud of her!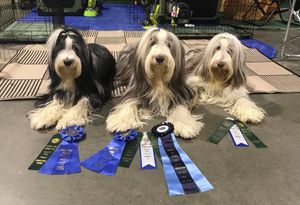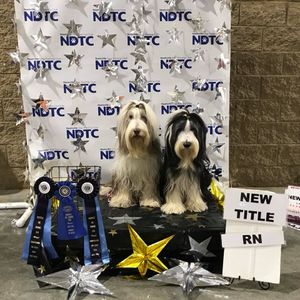 November 3, 2017: Brooke had a beautiful litter of puppies!!! More details on the litter page.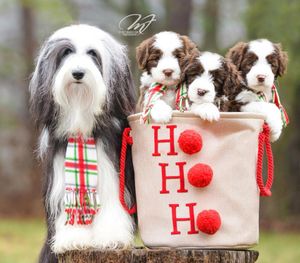 October 6, 2017: Due to Brooke's pregnancy, we were only able to compete in conformation at the 2017 BCCA National Specialty. This was her first time back in the ring as a special after finishing her championship at a young age and she showed beautifully! We didn't win, but I couldn't be more proud of how well she showed. I love this girl!!!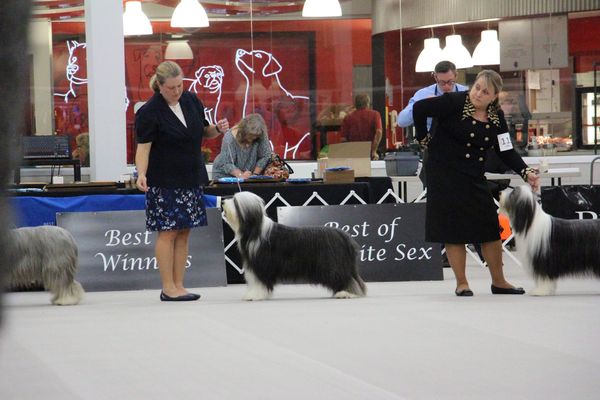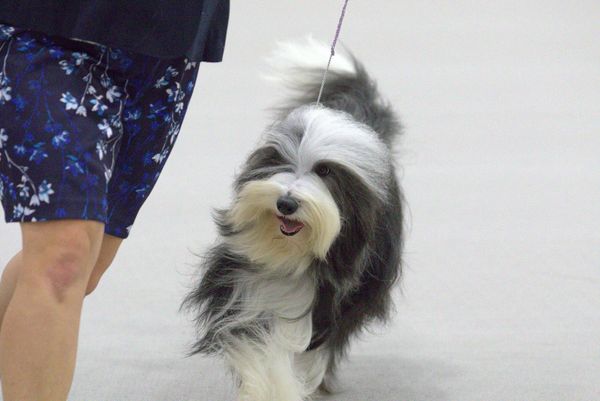 September 5, 2017: After getting Brooke ready to compete in agility, Rally and ehrding at the national specialty, she came in season early. So on to plan B - we're expecting puppies in November!!! More details to follow!
July 5, 2017: Brooke spent the holiday weekend at a NADD dock diving competition. She had her personal best jump and is logging jumps towards her advanced title! We had to pose for a silly picture at the photo booth. She wasn't impressed :)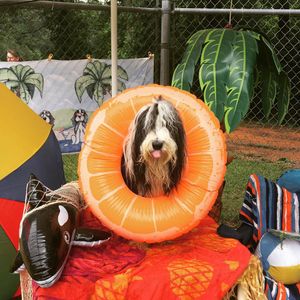 May 14, 2017: Brook is doing so well in her agility training. She's gonna be amazing!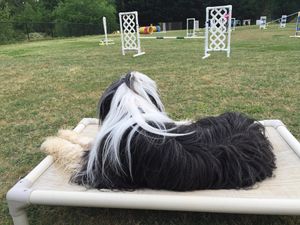 April 29, 2017: Brooke and I spent the winter focusing on herding and agility. Brooke has a lot of natural talent on stock and now we just need to work on focusing her enthusiasm a little more. I hope to have her competing by the end of the year.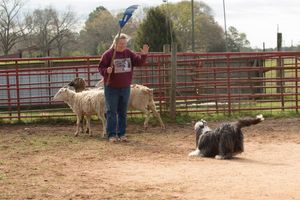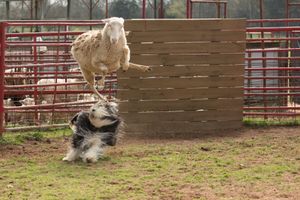 March 18, 2017: Suzanne, our good friend Jenny, and I met up for a group hike today. It was awesome!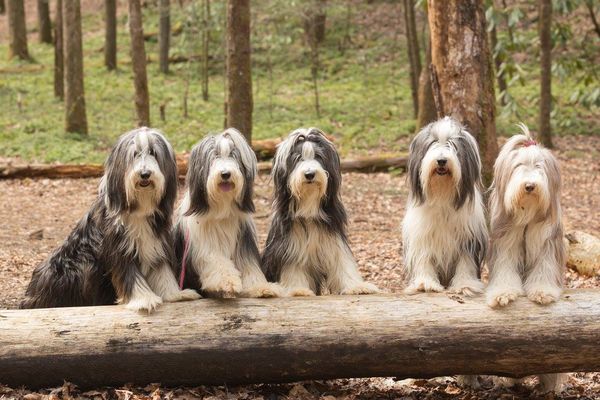 September 9, 2016: We did quite a few dock diving competitions this summer and Brooke is now ranked as the #1 Bearded Collie! She has also qualified for the 2016 AKC/NADD Nationals!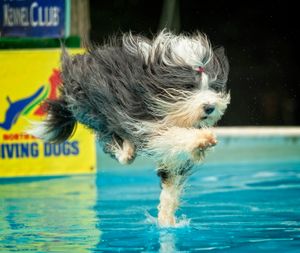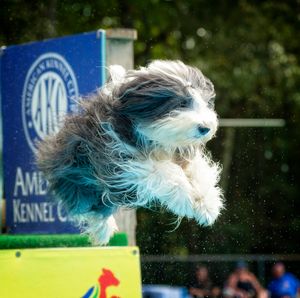 June 28, 2016: Brooke and I entered a Rally Obedience competition (for which we were very unprepared) and she did awesome picking up two qualifying legs witha  high score of 96!

May 4, 2016: Brooke is absolutely loving dock diving and got a few more legs towards her next title!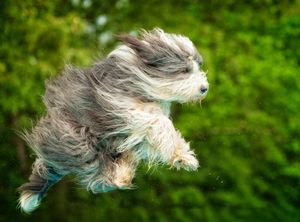 December 12, 2015: What an amazing weekend! Suzanne and I took Brie, Brooke and Penny down to Orlando for the Eukanuba National Championship, the NADD Dock Diving National Championship and AKC Agility Invitationals. I entere Brooke in two days at Eukanuba (this biggest dog show in the country) and she won Winners Bitch and Best of Winners both days!! That gave her two five-point majors earning her an AKC Champion title! Not bad for only her fourth show!! In addition, she jumped well of the dock earning her a fourth place in the novice division! I love this girl and I'm so proud of her.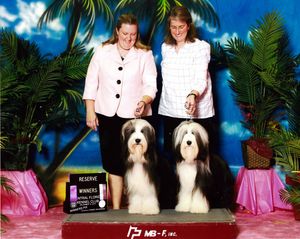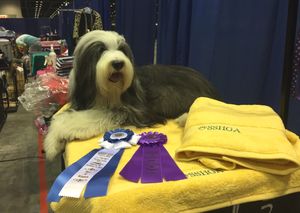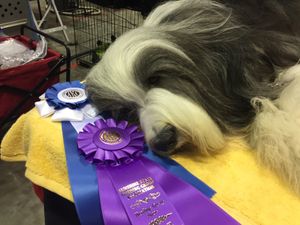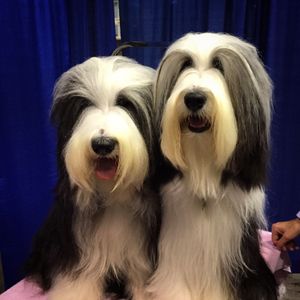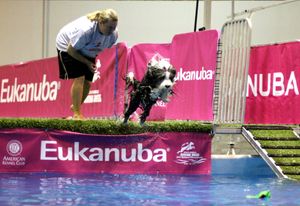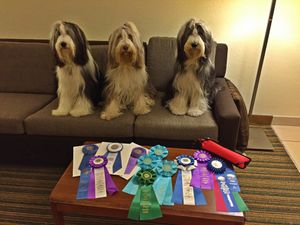 October 4, 2015: Brooke won her division at NADD Regionals AND qualified for NADD/AKC Nationals in Orlando in December!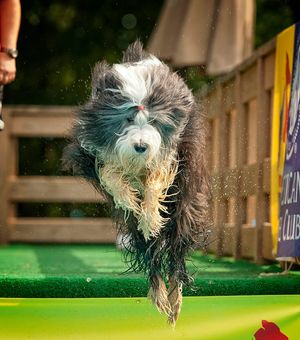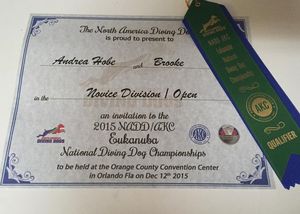 September 12, 2015: Brooke, Penny and Leonard all went to a conformation show this weekend and everyone walked away with a point! Talk about great weekend! Brooke and I even got a Bred-By Herding Group 1 under Pat Hastings!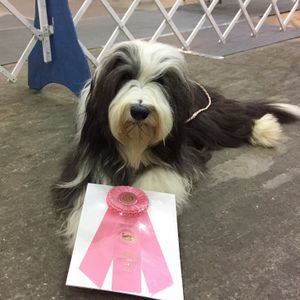 August 23, 2015: Brooke had a very successful weekend at the Atlanta conformation shows. She picked up 5 points and a major! Even better, she qualified for the Owner-Handler group ring and got 3rd out of a huge competitive class. It was a fabulous weekend!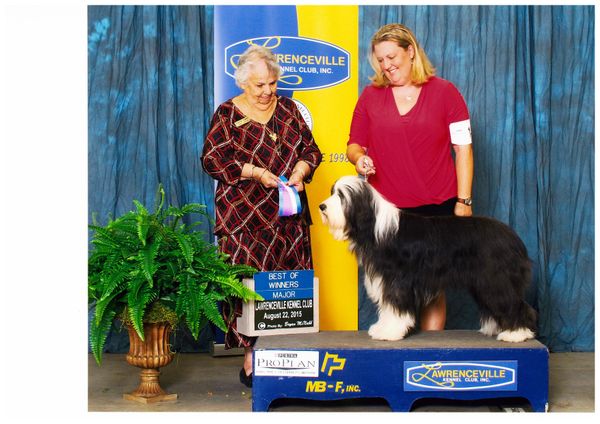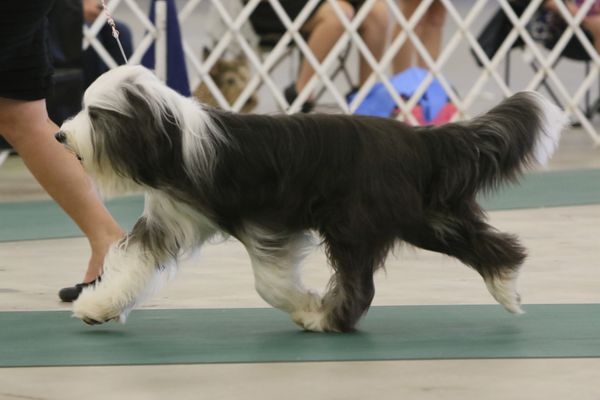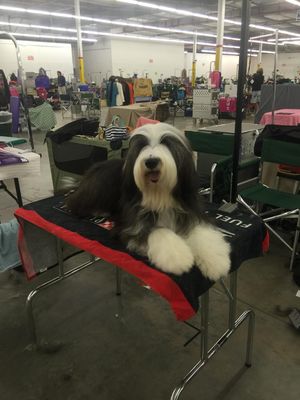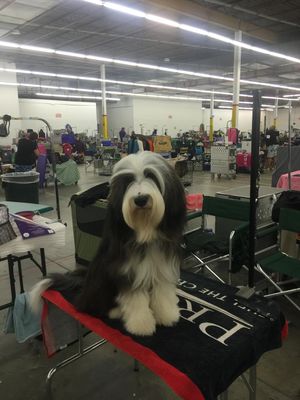 July 26, 2015: Brooke got her first title - Dock Novice (a dock diving title)! She had a blast at her first dock diving competition and got five qualifying jumps and a title.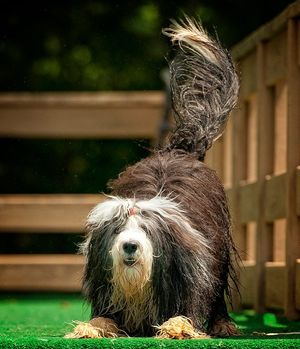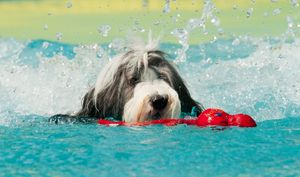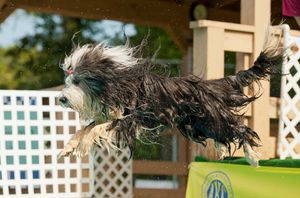 Above Photos by T&C Photography

July 5, 2015: My best friend and co-breeder, Jenny (Estrella Bearded Collies), came down with Brooke's cousin and aunt for the week. We had a blast hiking, kayaking, playing in the river, etc. The girls were raised together for the first six months and acted like long-lost sisters. It was so much fun.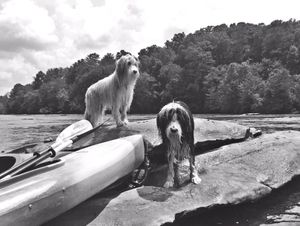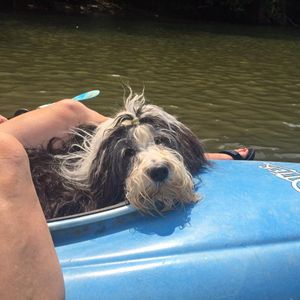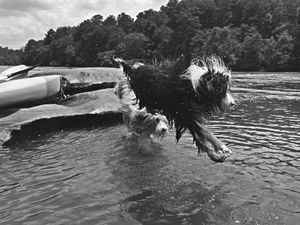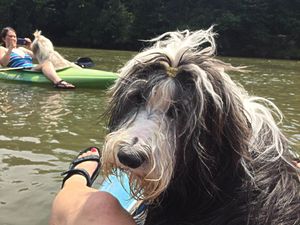 May 10, 2015: Brooke went to her second show and did very well! She got multiple Reserve to majors from the competitive Bred-By-Exhibitor class. I was very proud of her! She had a blast playing with her brothers and sisters!

April 26, 2015: Brooke and Penny went to an all-breed B match (like a practice conformation show). Brooke picked up a Herding Group 1 and Penny got some great ring experience. I probably should have taken a photo *before* letting them play in the dirt!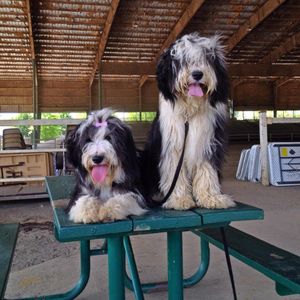 February 1, 2015: Brooke competed in her first show and she was awesome! She showed herself beautifully and I couldn't have asked for a better first performance!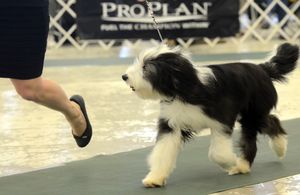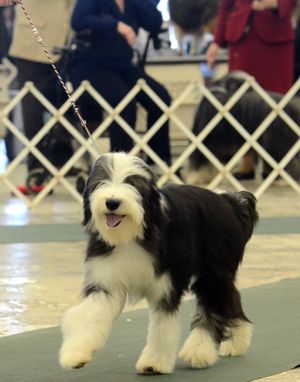 December 10, 2014: Brooke has spent the fall playing and growing up. She LOVES the agility foundation work we've started. She's still a sweet playful little girl that is showing a lot of promise! I'll start taking her to conformation class pretty soon to get her ready for the show ring, too!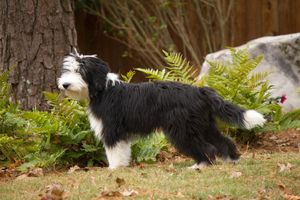 October 1, 2014: Brooke had a blast at the 2014 BCCA National Specialty. She was too you to compete in anything but had a wonderful time meeting people, getting exposed to sights, sounds and smells, as well as getting used to show life.