CH AllAround Chantilly Lace NA NAJ NF BCAT THDN RATN CGC TKN - "Tilly"
Tilly is an absolutely beautiful girl from my Brooke to Nick litter. She has a killer amount of drive and an excellent work ethic, so I expect she'll do great things in any and all performance venues she plays in. She is living in Texas with a fabulous owner who has put multiple championship titles in different venues. I truly couldn't be more excited about this team.
March 1, 2021: Tilly got to run some Fast CAT and it looks like she had a blast!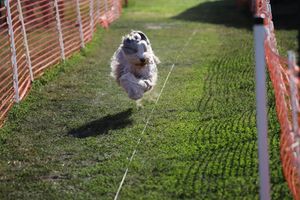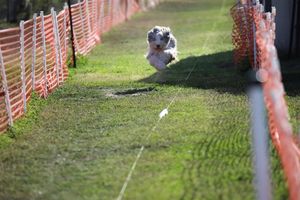 February 7, 2021: Tilly got her first Barn Hunt Open leg with a High In Class (fastest time)!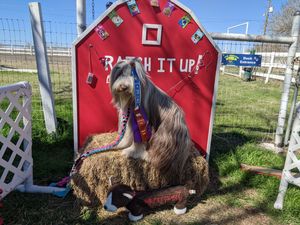 October 31, 2020: How cute is giraffe Tilly?!?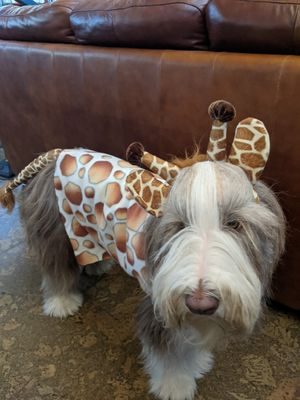 October 29, 2020: Jenifer and Tilly earned their Barn Hun Novice title in three straight runs! What a team!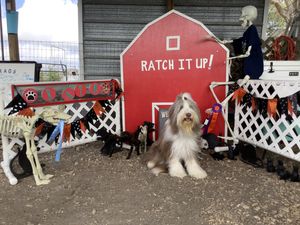 October 10, 2019: NEW CHAMPION! Tilly was awarded Winners Bitch two days in a row and is now CHAMPION AllAround Chantilly Lace. I'm so proud of them!
September 11, 2020:Tilly got her fist agility qualigying run! Go Tilly!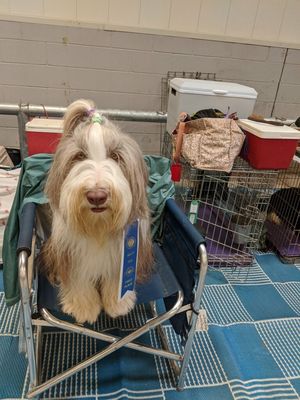 July 31, 2020: Such a cute photo of Tilly and her kitty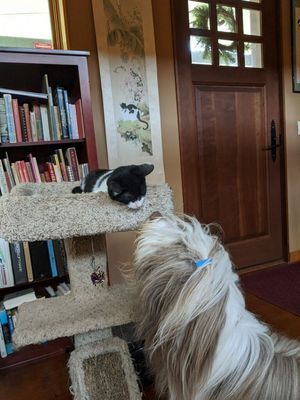 September 29, 2019: Tilly got new therapy dog cards. I love them!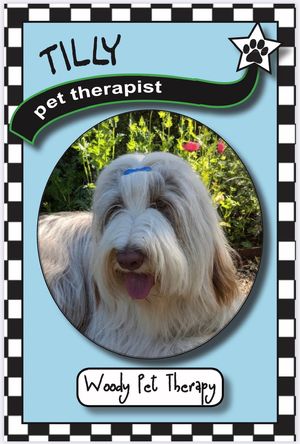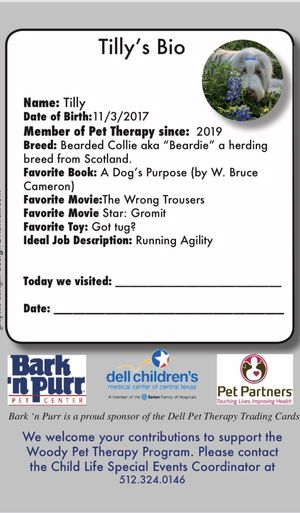 September 20, 2019: It was so great to see Jennifer and Tilly at the 2019 BCCA National Specialty! They showed in a large and extremely competitive Open Bitch class and placed 4th. I couldn't be more proud of her. She's young so her coat is still coming in, but she is a beautiful girl.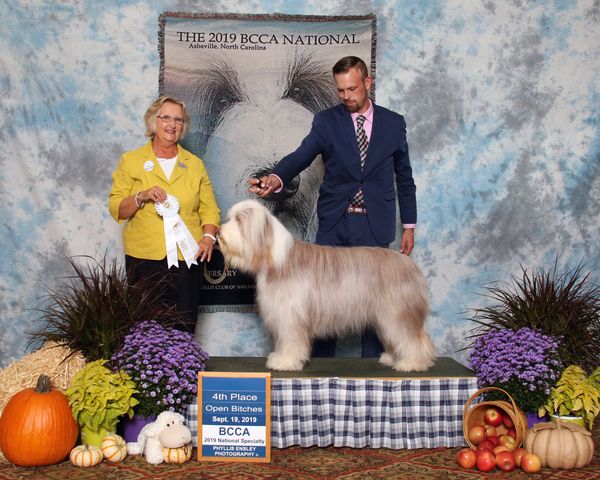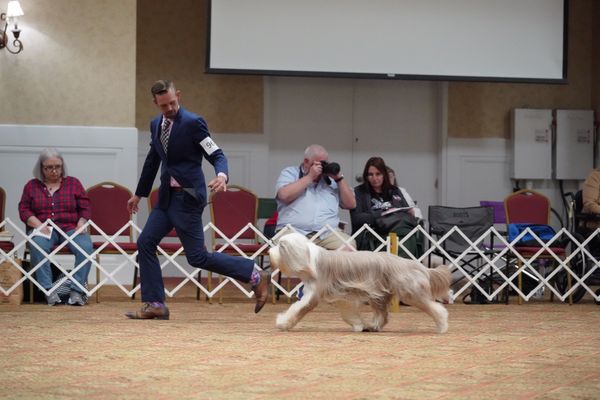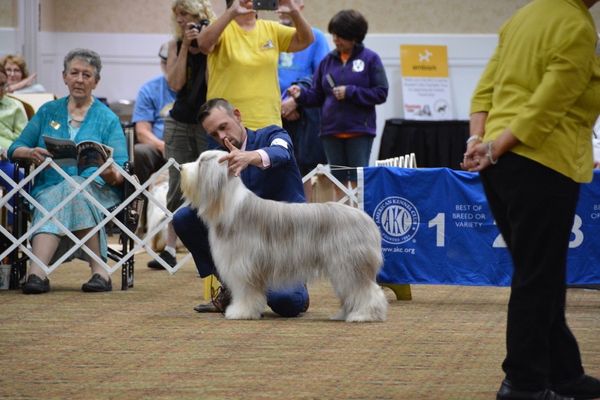 July 7, 2019: Tilly picked up a couple more points this weekend! They're so close to finishing!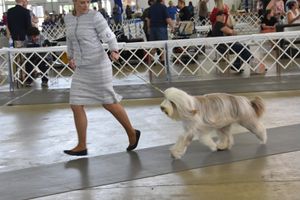 June 22, 2019: Tilly went on her first therapy visit at the children's hospital and did great! I'm so proud of her!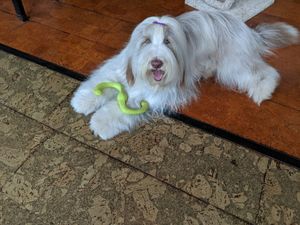 March 26, 2019: Well, to say Tilly had a god weekend at the dog show would be an understatement! She got two 4 point majors!!! Mallory was there also and got both reserves! Amazing!!!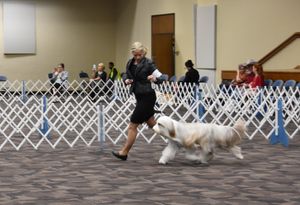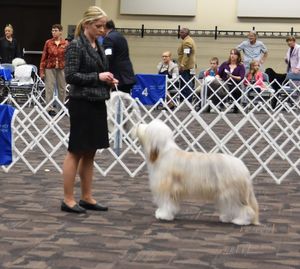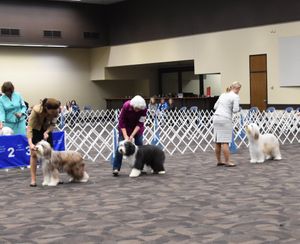 October 28, 2018: Tilly has been doing great in the show ring! She has already picked up a few points in the very competitive Texas region as an owner-handler! I'm so proud of them! Now that she has a few points, she'll be taking some time off to concentrate on agility for a little while.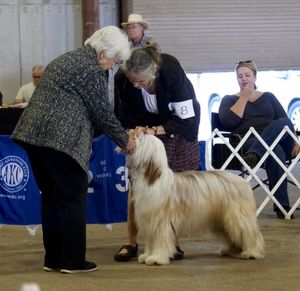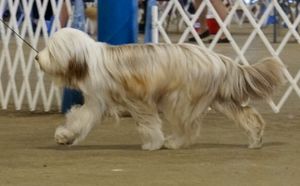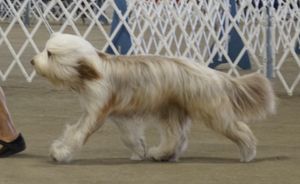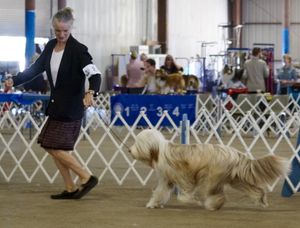 August 1, 2018: Tilly and her mom have been focusing on agility and having a blast! She's putting ana amazing foundation on her and I can't wait to watch them progress!
April 9, 2018: Jennifer just me this beautiful photo of Tilly in the beautiful Texas Blue Bonnets: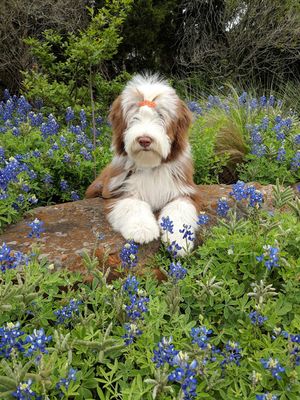 April 3, 2018: Tilly has graduated from puppy obedience class and earned her Canine Good Citizen (CGC) title! I'm so proud of them!