CH AllAround Chantilly Lace OA OAJ NF DCAT THDN RATS CGC TKN - "Tilly"
Tilly is an absolutely beautiful girl from my Brooke to Nick litter. She has a killer amount of drive and an excellent work ethic, so I expect she'll do great things in any and all performance venues she plays in. She is living in Texas with a fabulous owner who has put multiple championship titles in different venues. I truly couldn't be more excited about this team.
July 24, 2022: Tilly had a fantastic agility weekend! From Jennifer - "This weekend was probably the best we'll ever have! Tilly placed first in every Open Standard and Jumpers class. She now moves up to Excellent. She did have one run in Excellent Standard and almost got a Q." I'm so proud of them!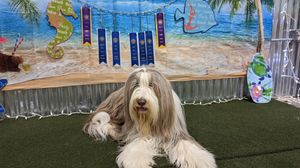 May 5, 2022: Jennifer sent me this hilarious picture of Tilly resting in her crate at an agility show. She clearly doesn't mind all of the craziness going on around her!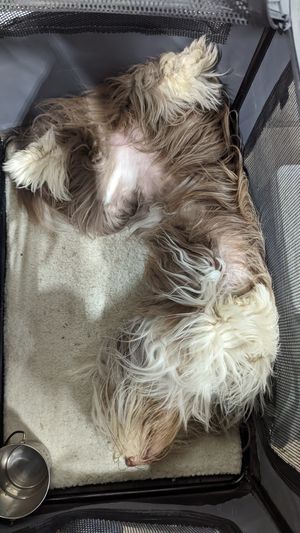 March 13, 2022: Tilly earned her Senior Barn Hunt (RATS) title this weekend! I'm so proud of them!
February 20, 2022: Jennifer sent me this fabulous message which warmed my heart. "Tilly's so silly! She loves FAST CAT! Took her to a trick class this Saturday. Maybe someday she'll ride a skateboard! She went to the children's hospital the other day. I've taught her to giver me her foot when I say "paw". There was a little girl in rehab watching Tilly do some tricks. When Tilly went over to the girl's wheelchair, the girl said, "paw", and Tilly gave it to her. So sweet!"
February 20, 2022: Tilly earned her DCAT title in Fast CAT today! What a good girl!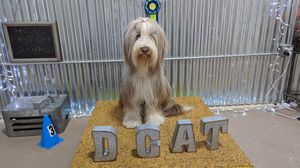 January 2, 2022: Tilly LOVES Fast CAT! She's so cute looking so intensely at the lure!!!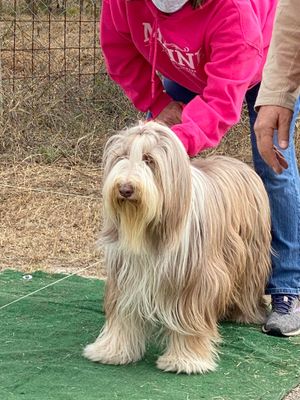 March 1, 2021: Tilly got to run some Fast CAT and it looks like she had a blast!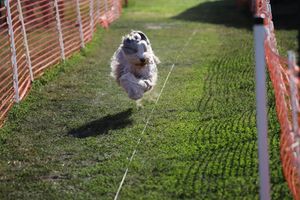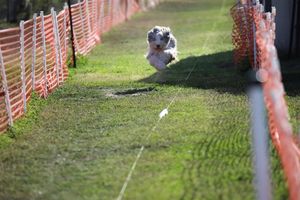 February 7, 2021: Tilly got her first Barn Hunt Open leg with a High In Class (fastest time)!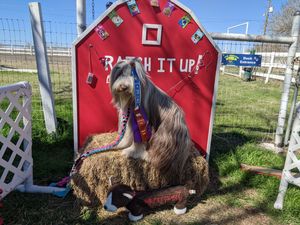 October 31, 2020: How cute is giraffe Tilly?!?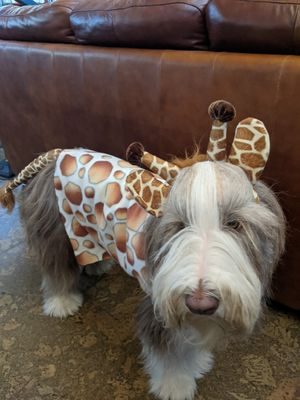 October 29, 2020: Jenifer and Tilly earned their Barn Hun Novice title in three straight runs! What a team!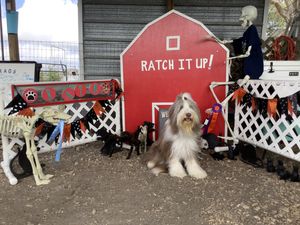 October 10, 2019: NEW CHAMPION! Tilly was awarded Winners Bitch two days in a row and is now CHAMPION AllAround Chantilly Lace. I'm so proud of them!
September 11, 2020:Tilly got her fist agility qualigying run! Go Tilly!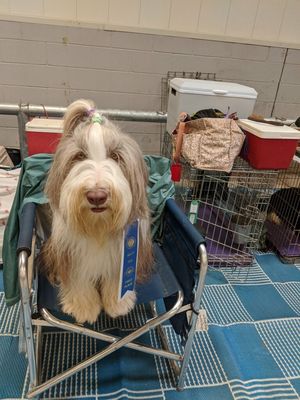 July 31, 2020: Such a cute photo of Tilly and her kitty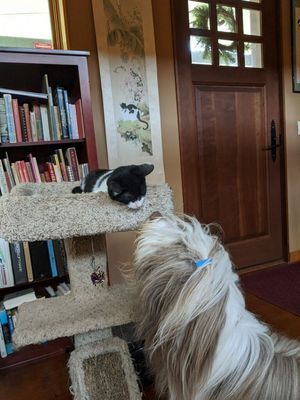 September 29, 2019: Tilly got new therapy dog cards. I love them!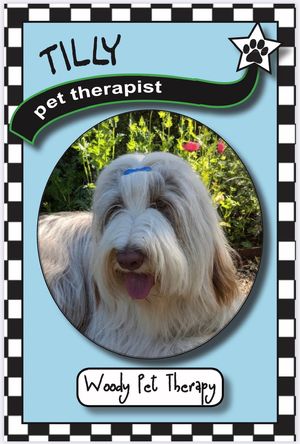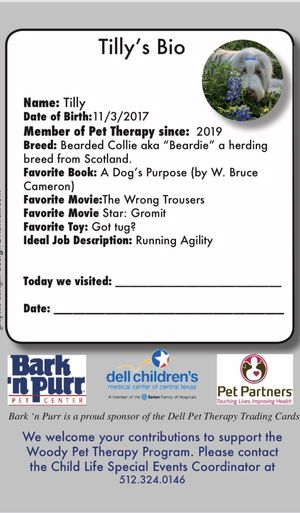 September 20, 2019: It was so great to see Jennifer and Tilly at the 2019 BCCA National Specialty! They showed in a large and extremely competitive Open Bitch class and placed 4th. I couldn't be more proud of her. She's young so her coat is still coming in, but she is a beautiful girl.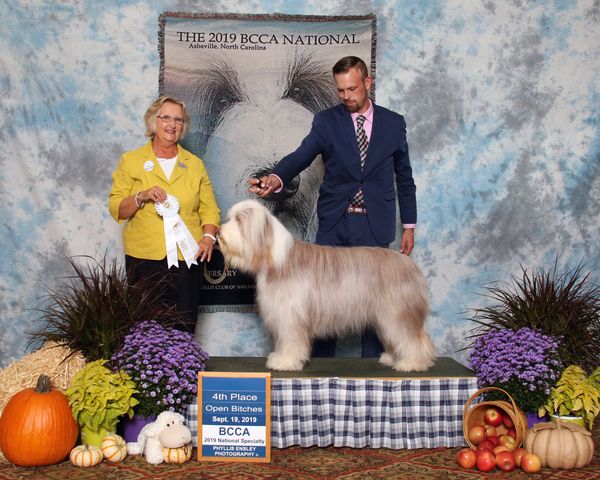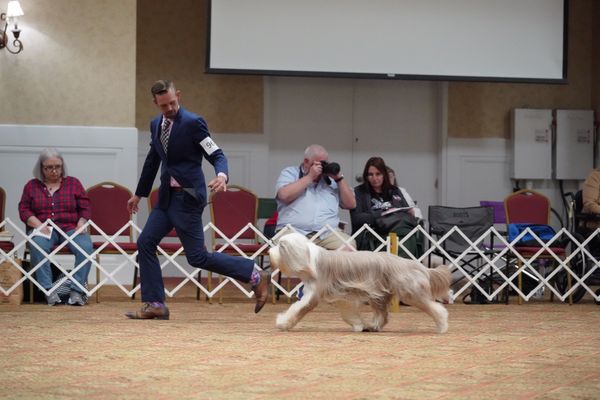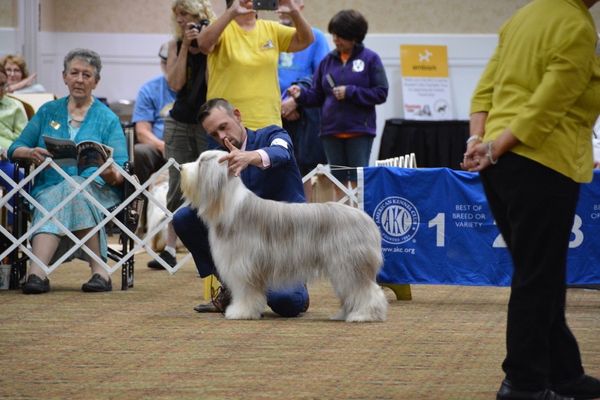 July 7, 2019: Tilly picked up a couple more points this weekend! They're so close to finishing!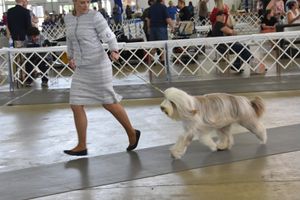 June 22, 2019: Tilly went on her first therapy visit at the children's hospital and did great! I'm so proud of her!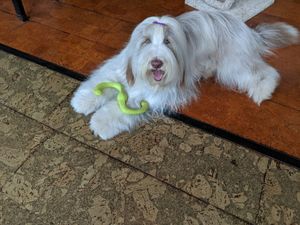 March 26, 2019: Well, to say Tilly had a god weekend at the dog show would be an understatement! She got two 4 point majors!!! Mallory was there also and got both reserves! Amazing!!!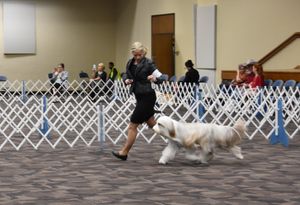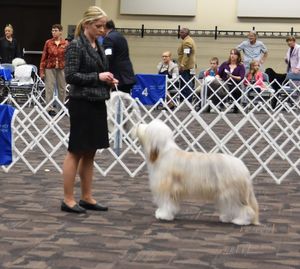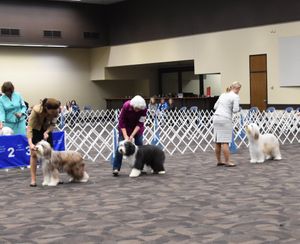 October 28, 2018: Tilly has been doing great in the show ring! She has already picked up a few points in the very competitive Texas region as an owner-handler! I'm so proud of them! Now that she has a few points, she'll be taking some time off to concentrate on agility for a little while.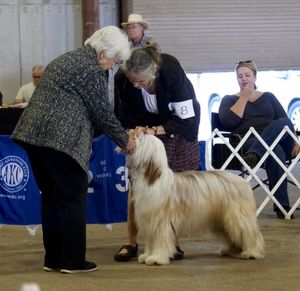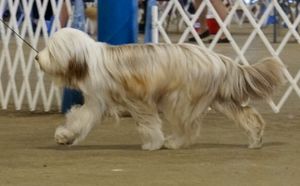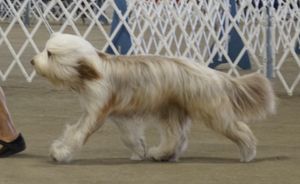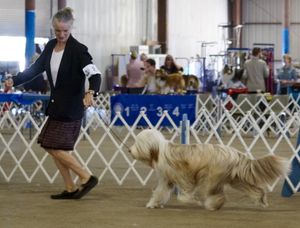 August 1, 2018: Tilly and her mom have been focusing on agility and having a blast! She's putting ana amazing foundation on her and I can't wait to watch them progress!
April 9, 2018: Jennifer just me this beautiful photo of Tilly in the beautiful Texas Blue Bonnets: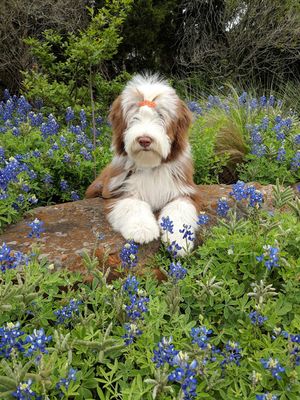 April 3, 2018: Tilly has graduated from puppy obedience class and earned her Canine Good Citizen (CGC) title! I'm so proud of them!