CH AllAround Born To Be Wild At Magnolia CD BN RAE NF DN DJ CAA RATO BCAT CGCA TKN VA - "Mowgli"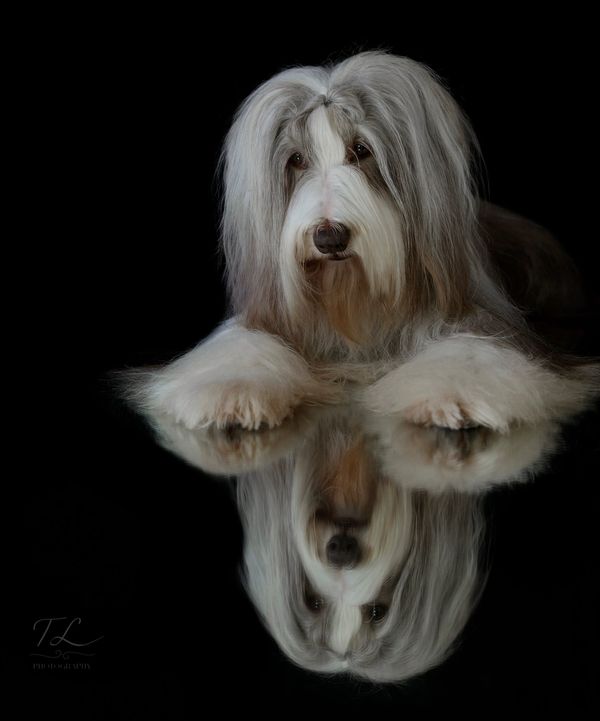 Mowgli lives in Louisiana with Miranda and his big Beardie sister, Shayla. Mowlgi is a wonderfully talented boy, competing in agility, conformation, obedience, lure coursing, herding and Rally. He is a great worker and loves all of it!
October 28, 2020: The wonderful photographer, Tanya Lee, took some fabulous shots of Encore and Mowgli.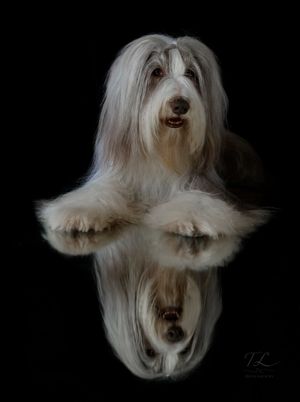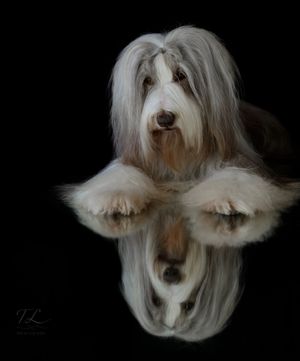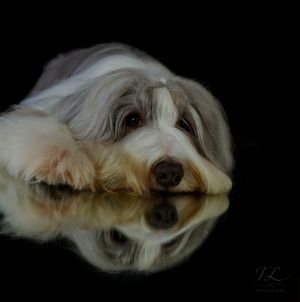 October 17, 2020: Cute photo of Mowgli & Encore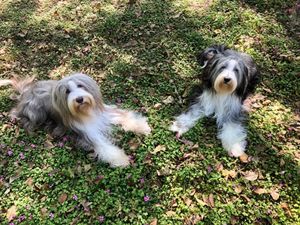 October 6, 2020: The "Beardie stinkeye" runs strong in ththe AllAround family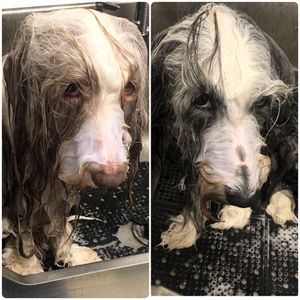 October 2, 2020: Mpwgli eared his BCAT title today! Such a good boy!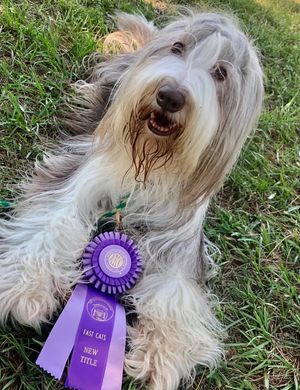 June 20, 2020: This boy just LOVES dock diving!!!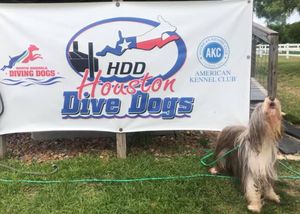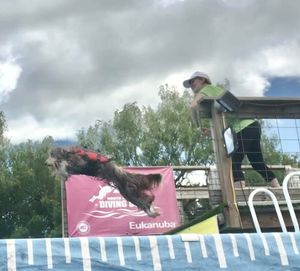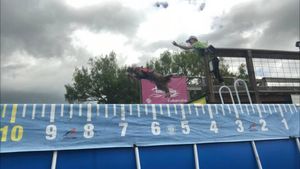 May 23, 2020: Miranda took the dogs to a dock to introduce Encore to dock diving! She's not sure yet, but she really enjoys watching Mowgli do it so hopefully she'll catch on with a little more experience. He, of course, had a blast!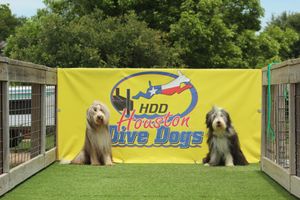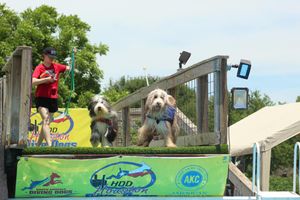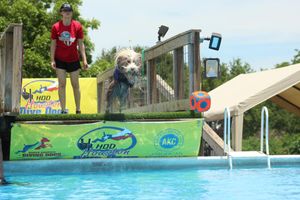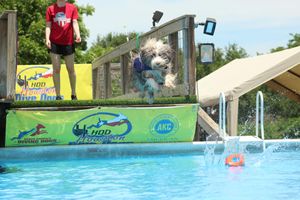 April 29, 2020: Miranda took the dogs to a lake tso Mowgli could show his little sister Encore how to swim. He's so patient with her.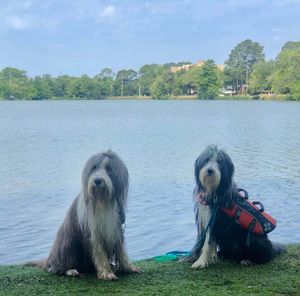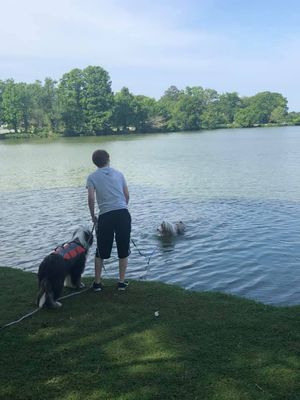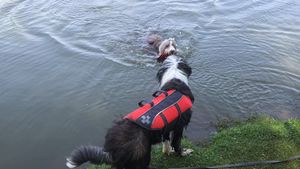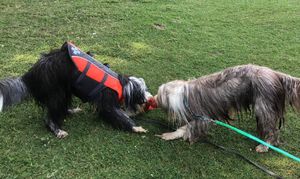 April 25, 2020: Mowgli patiently waiting while Miranda participates in a Zoom meeting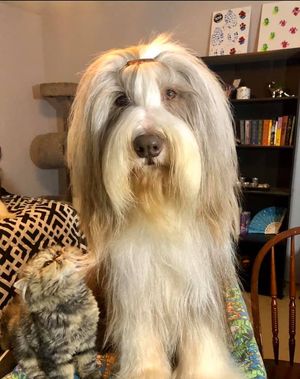 March 29, 2020: Miranda has been working out a lot and has started incorporating Mowgli into her workouts. How cute is he?!?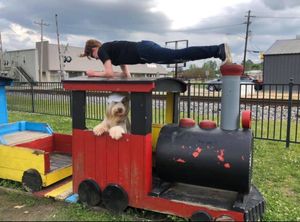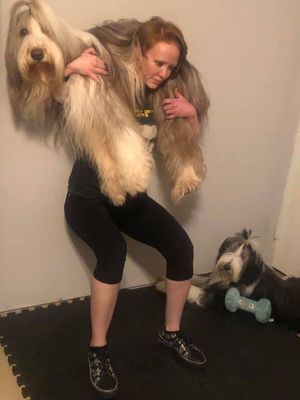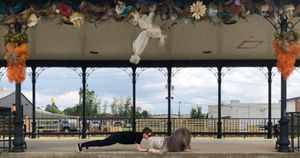 December 25, 2019: Miranda posted these adorable Christmas photos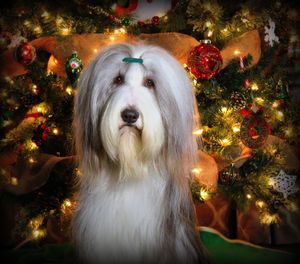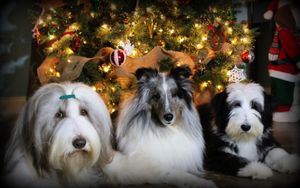 December 17, 2019: Mowgli got groomed today and he looms amazing!!!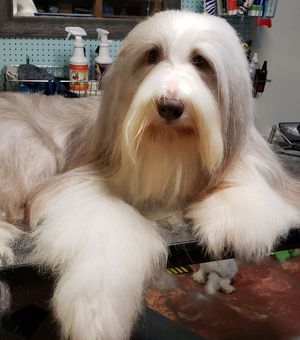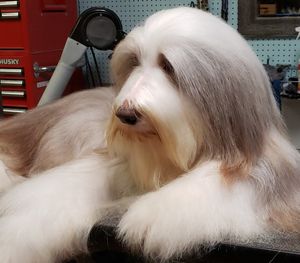 November 26, 2019: I am so thrilled that Miranda took the puppy from my most recent litter. She and Mowgli love each other!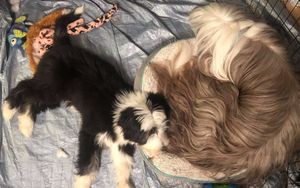 November 22,2019: Mowgli is loving Fast CAT!!!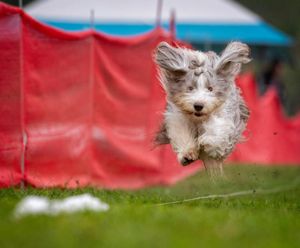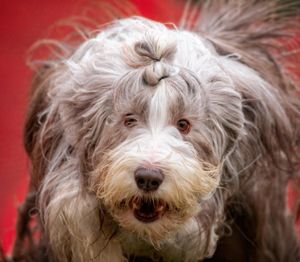 November 3, 2019: This year they offered a second biathlon - The U.S. Canine Biathlon Rewind. It's the same course, but in reverse. Miranda and mowgli had a blast! They picked up their new puppy, Encore, that weekend, too!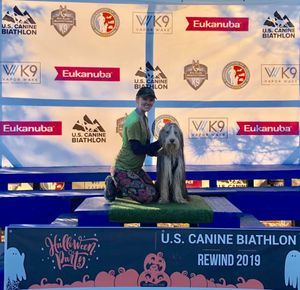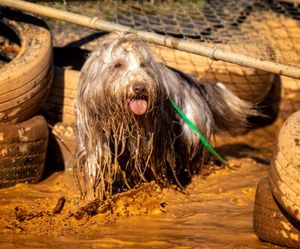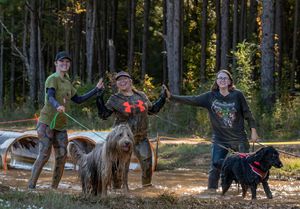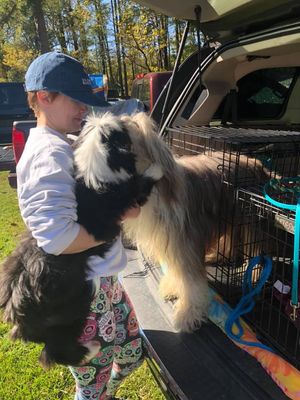 October 31, 2019: Mowgli was a cat for Halloween. So cute!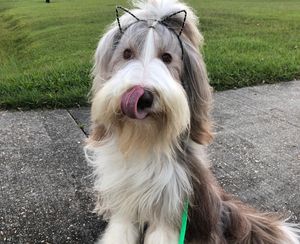 October 19, 2019: Wild child had fun during Fast CAT today and took a nice long nap on the way home. He was slower than his first trial (last April) with speeds of 25.4 mph and 24.8 mph, but still fast nonetheless. He had a great time. Just a couple of more runs and he should get his BCAT title.
August 21, 2019: Miranda had Tanya Lee, a fabulous photographer, take some photos of her dogs. They turned out great!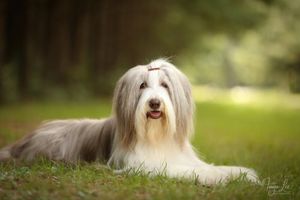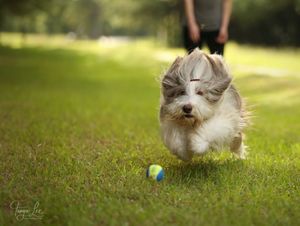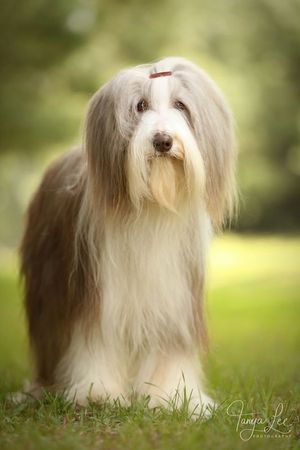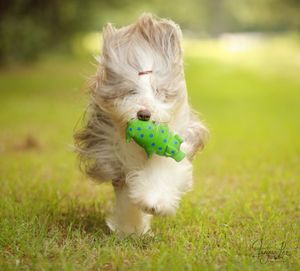 May 21, 2019: Miranda and Mowgli had another great time at the U.S. Canine Biathlon. From Miranda: "Team BRKC at the 2019 US Canine Biathlon. The course was 4.2 miles long with over 80 obstacles. Mowgli was the best teammate I could ask for and gave me 110% this weekend."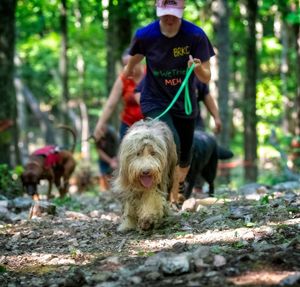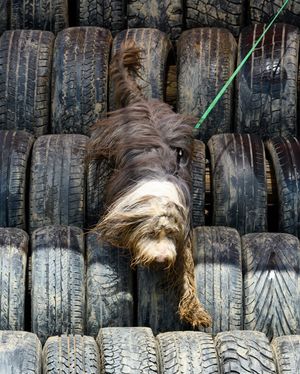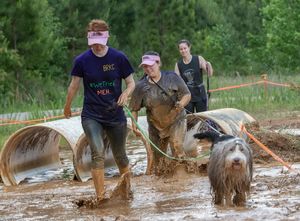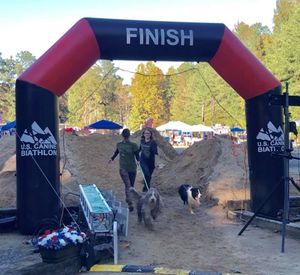 April 18, 2019: Miranda and Mowgli have learned tracking and Mowgli loves it! So col!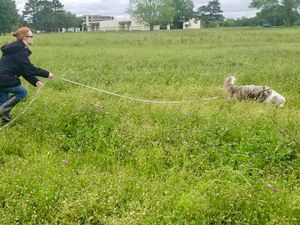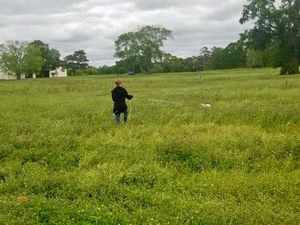 December 31, 2017: Well I'd say Miranda and Mowgli had a pretty awesome year!!!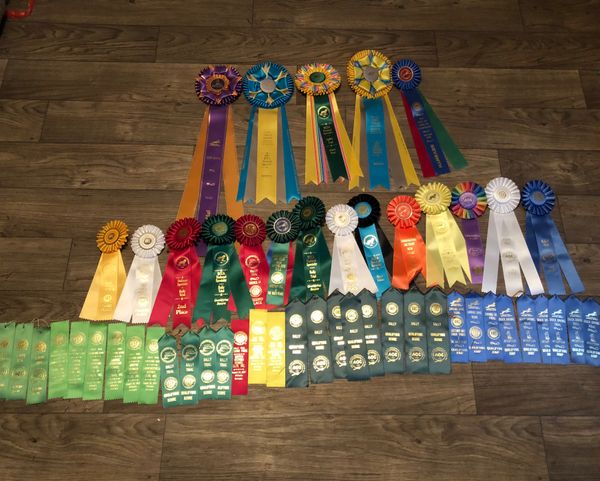 December 11, 2017: Apparently Mowgli LOVES snow!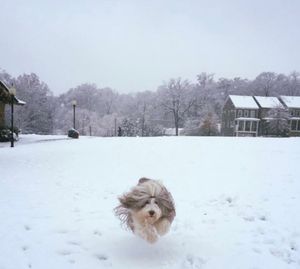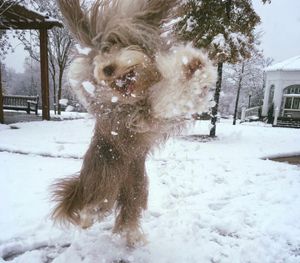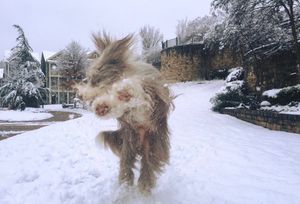 October 4, 2017: Miranda and Mowgli had a great week at the 2017 BCCA National Specialty! They had some beautiful agility runs followed by a super fast BAD Relay run. He finished his Rally Advanced Excellent (RAE) title in style with scores of 99/100 and a perfect score of 100/100 (and a 2nd place)! He also participated in the parade of titleholders to recognize his achievements and versatility! To top it off, the adorable photo of him and his kitty Wyatt won 3rd place in the photo contest!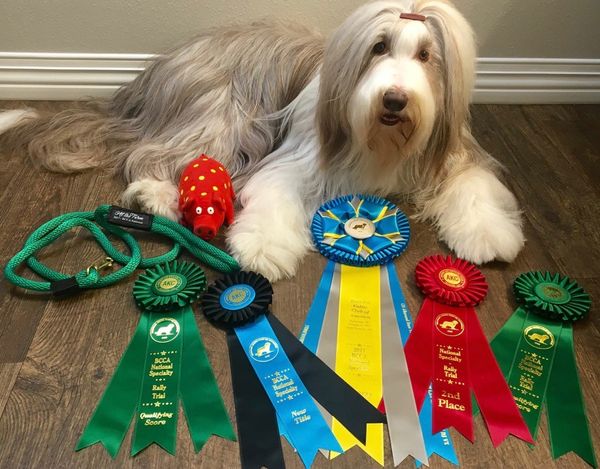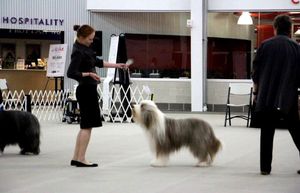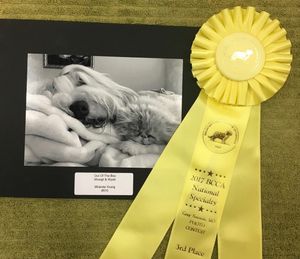 August 22, 2017: They were awesome again this weekend and earned QQs 7, 8 and 9 towards their RAE!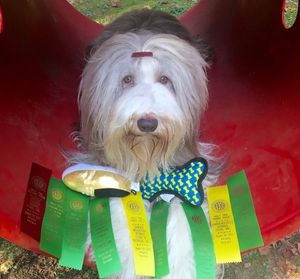 August 4, 2017: Mowgli rocked the dock again and earned his Dock Junior (DJ) title with a personal best of 11'6"!!!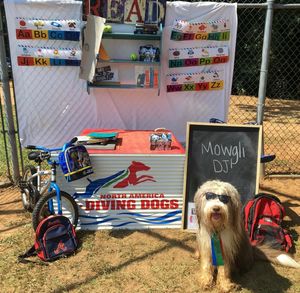 May 25, 2017: Once again, Miranda and Mowgli competed in the US Canine Biathalon - a 4-mile (muddy) obstacle course for both humans and canines. They had a great time until he had to endure 3 baths to get all of the mud out of his hair!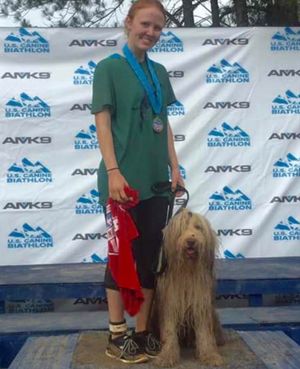 May 19, 2017: Mowgli earned his 5th & 6th QQ towards his RAE title. They're flying through it! They were recently ranked in the top 10 Bearded Collies in Rally!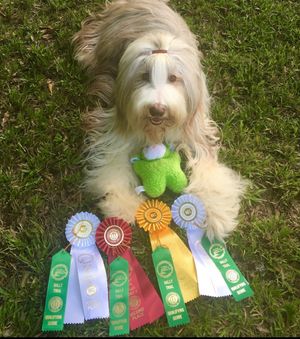 April 3, 2017: Mowgli earned his last two FAST legs for his Novice Fast (NF) title!
March 24, 2017: Miranda and Mowgli qualified for and did very well at the 2017 AKC Rally National Championship!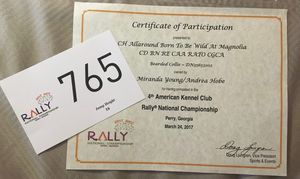 February 17, 2017: Miranda and Mowgli had an awesome weekend earning 4 QQs towards his RAE title!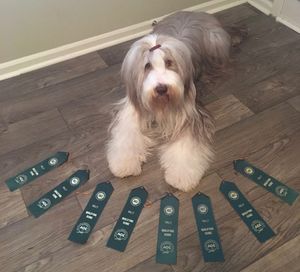 December 2016: Mowgli was invited to compete in the AKC Obedience Classic. He competed very well and was awarded the breed medallion for the top scoring Bearded Collie! He also qualified for the AKC/NADD National Championship in dock diving and finished in the top 10!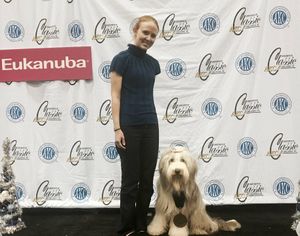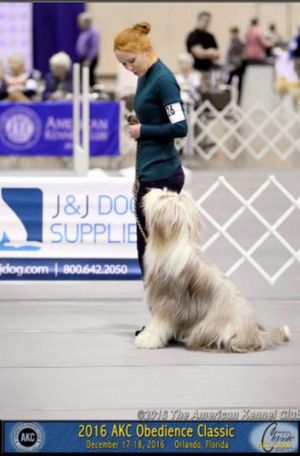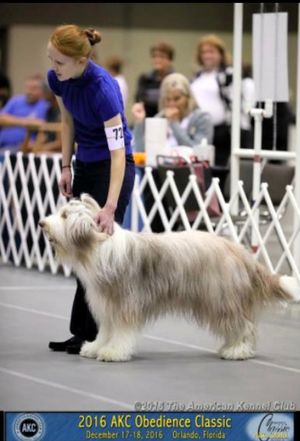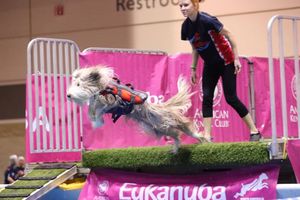 October 2016: After he discovered his love for dock diving, Mowgli entered his first competition where he was 5/5 and even earned his Dock Novice (DN) title! He then went on and got another qualifying leg towards his Dock Junior (DJ) title! He even on first place in the finals!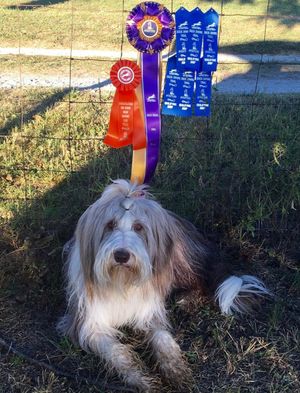 September 8, 2016: Here's a copy of Mowgli's lovely ad in the performance edition of the Beardie Bulletin. I'm so proud of Miranda and all that she and Mowgli have accomplished already!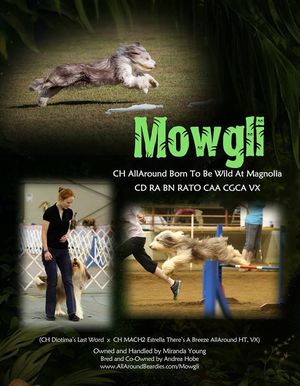 July 15, 2016: Mowgli was just awarded the BCCA's Rally Medallion for Novice A! Pretty incredible!!!
June 13-16, 2016: Mowgli attended Beardie Camp 2016 along with 3 other AllAround Beardies (Penny, Bailey, and Daisy). He had a blast with his Beardie friends and family the whole week. He tried an introductory class for Nosework and got a lot of positive feedback from the instructor as he was a natural. He also took an agility class to help work on impulse control and I'm happy to say that he nailed his stays and contacts.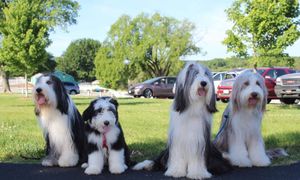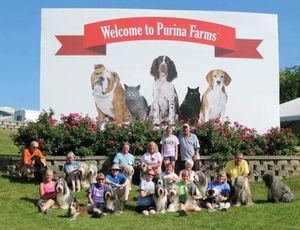 May 28-29, 2016: MOWGLI QUALIFIED FOR THE AKC RALLY NATIONAL CHAMPIONSHIPS! Miranda entered this trial in hopes of meeting the requirements for RNC 2017. The first trial he finished his RA title with a score of 99 (which was their "in" for RNC). They went ahead and bumped him up to excellent and he was 3 for 3, including another score of 99 for his RE title. To top of the weekend, they won some worker raffles which included a basket of toys and a new jump.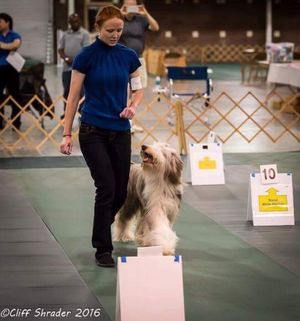 May 21, 2016: Mowgli and Miranda went to Alabama for the 2016 US Canine Biathlon and they had a blast. They completed a 3.66 mile course with over 20 obstacles. Some obstacles included hiking steep hills, a-frames, jumps, 15-30 feet tunnels, a tire covered hill, etc. He approached every obstacle in stride and they ended up finishing in the top 50% out of approximately 200 competitors.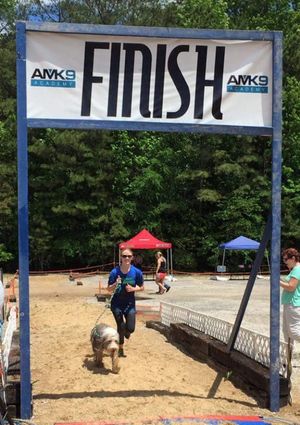 April 15, 2016: So EXTREMELY proud of Miranda and Mowgli for their amazing weekend in Perry. In obedience they went 3/3 this weekend for his CD (all with 1st places)!!! In Rally they got multiple placements and legs towards Rally Advanced. In lure coursing they got four more lure coursing legs earning their Coursing Advanced (CAA) title. I couldn't be happier.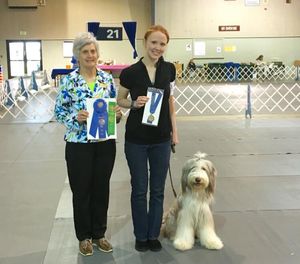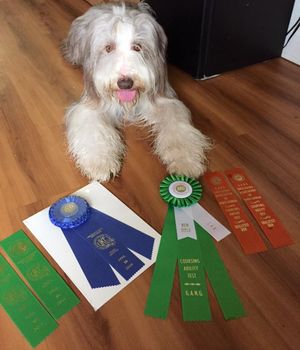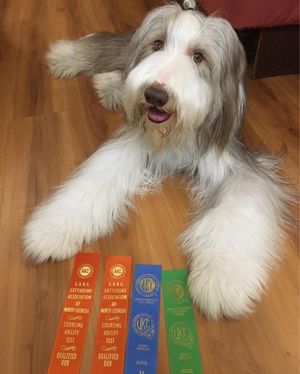 April 9, 2016: Miranda sent this great photo of the two of them getting ready for a formal dog event. Love it!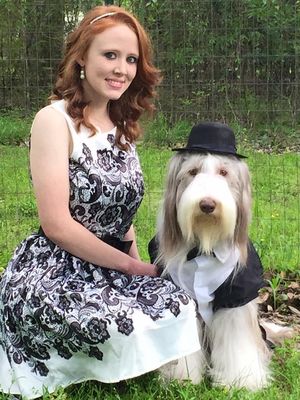 October 28, 2015: Oh no, it's another costume contest for poor Mowgli...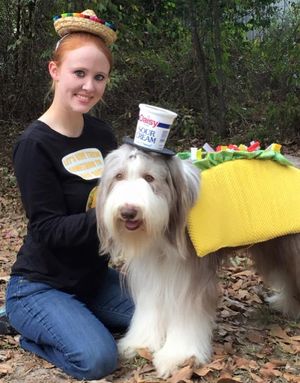 October 6, 2015: The amazing Mowgli got another title this weekend (talk about over-achiever)! He got his first lure coursing title - CA. He then went on to get a leg towards his next title, too!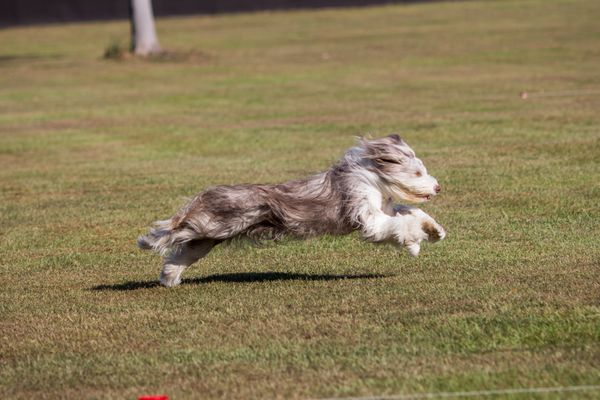 Photo by Modern Tails Pet Photography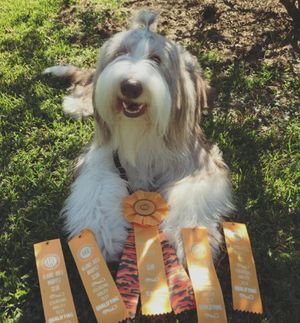 October 6, 2015: I am extremely proud to announce that Mowgli has achieved the Bearded Collie Club of America's Versatility Award! He is AllAround's first Beardie to achieve it! I'm so proud!!!

September 25, 2015: Mowgli got his first standard leg AND got a 2nd place!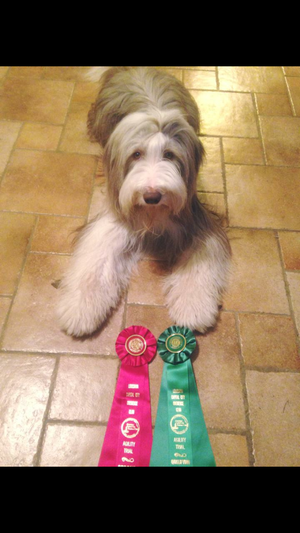 July 11, 2015: Mowgli got his first agility leg!!! He had a beautiful JWW run and I'm so very glad I was there to see it! Go Mo!!!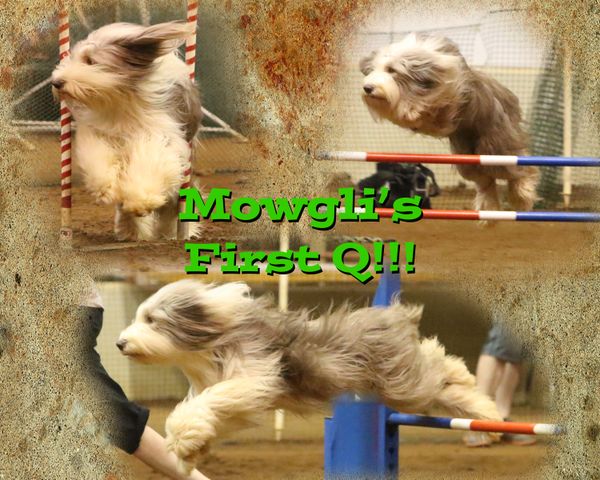 June 14, 2015: From Miranda - "Mowgli was a very good boy this weekend. He Q'd 3 out of the 4 times and earned his RATO title (this is his 6th title so far for 2015)! He was certainly not lacking in the enthusiasm department and both judges loved him and had nothing but nice things to say about him. So proud of Sir BarksALot."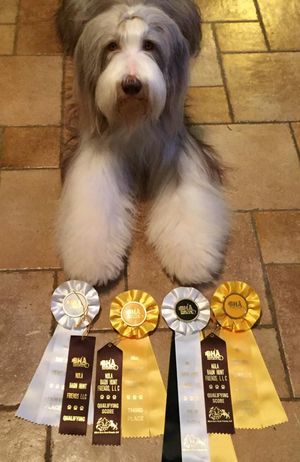 May 24, 2015: Mowgli earned his 5th title of 2015, his RN title, with a score of 94/100! What a good boy and a GREAT team!!!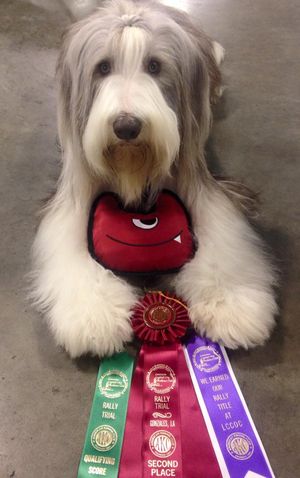 May 10, 2015: Mowgli is a Champion!!! Mowgli went in to the weekend needing 9 more points and finished in style going Best of Winners each day for three majors! Talk about over-achiever! I couldn't be more proud of these two. This is Miranda's first "show dog" and she owner-handled him all the way to his championship. Such an amazing accomplishment! Now they can focus on more fun activities like agility, obedience, barn hunt, dock diving, etc.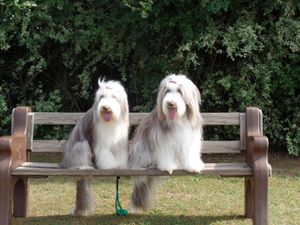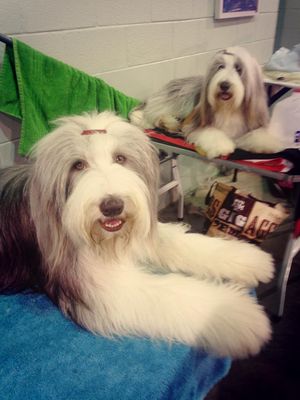 April 26, 2015: At the Yelp! block party, Mowgli did a couple of obedience demos and met a lot of new people and dogs despite it being rather hot. My favorite part is when we finished doing a rally demo, a 9ish year old girl asked if she could "train him". I warned her that he probably wouldn't do very much. She got a couple of treats and lead him around the course while luring him with the treats and he followed her around. It was so cute. His favorite part was doing the jump several times. What a good boy!

March 29, 2015: Miranda and Mowgli had a GREAT weekend! They earned both their CGCA (Canine Good Citizen Advanced title) AND their RATN (novice Barn Hunt title)!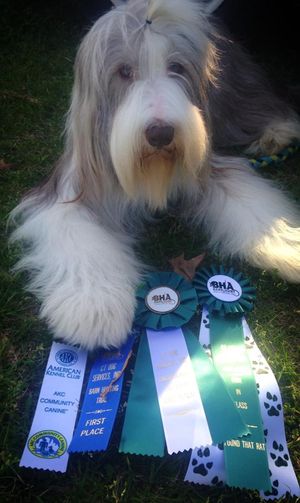 March 1, 2015: Miranda and Mowgli have taken up the new sport Barn Hunt. Mowgli is a natural! I'm so proud of these two - they're exactly what I strive for in breeding versatile Beardies!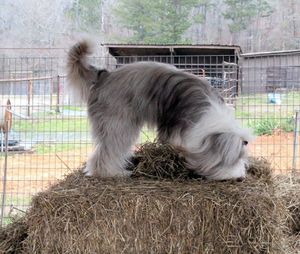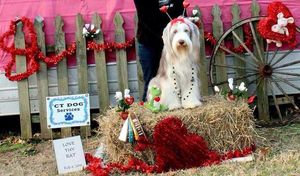 December 1, 2014: Miranda and Mowgli have been busy as usual! Mowgli has already competed in two agility trials.  Although they haven't qualified yet, they're getting very close!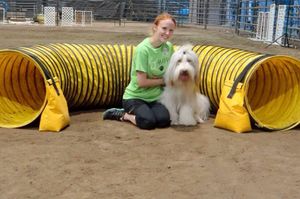 October 31, 2014: Yep, it's dress-up time for Mowgli & Shayla again: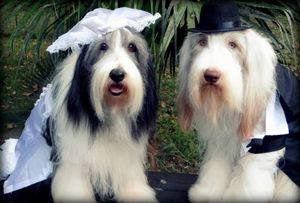 September 27-28, 2014: Miranda and Mowgli went to a huge agility show in Texas where they ended up having an impromptu Beardie Bounce with lots of Mowgli's aunts, uncles, grandfather, etc!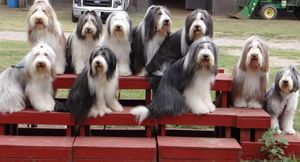 July 18-19, 2014: Mowgli went Winners Dog for 2 more points towards his CH title.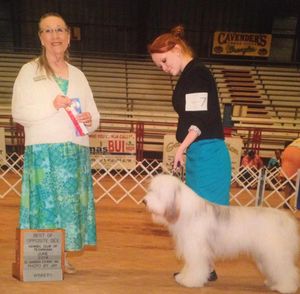 June 14-15, 2014: Mowgli went Winners Dog & Best of Opposite Sex both days for his first two points towards his CH!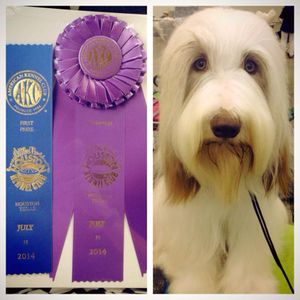 May 25, 2014: Mowgli got his first performance title - Beginner Novice (BN)!!! He also got two legs towards his Rally Novice title with scores of 95/100 and 99/100!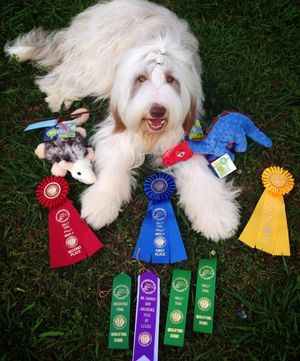 March 23, 2014: Miranda & Mowgli had their first herding lesson. He was a natural! Video on Miranda's YouTube site: Mowgli's First Herding Lesson


January 18, 2014: Miranda & Mowgli entered their first obedience trial and did great! They got two legs towards their Beginner Novice (BN) title!


November 1, 2013: Poor Mowgli. Once again, Miranda tortured her poor dogs for Halloween. The result...



October 14, 2013: From Miranda "Mowgli and I visited the Natchez Children's Home in Natchez, MS (my hometown). There he met sixteen 3 and 4 year olds. At first they were hesistant to approach him until one little girl decided to pet him... Then another... And another. Before we knew it there were kids surrounding us. He had a lot of fun getting attention and the kids gave him ice chips as treats. He also had fun handing out goodie bags and I'm really looking forward to having him visit different facilities."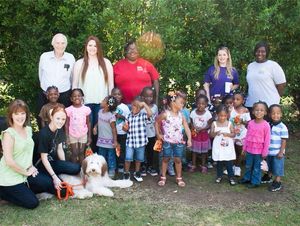 October 5, 2013: Miranda and Mowgli did great at the BCCA National Specialty. They showed in a huge competitive puppy class. While they didn't get any placements, they showed beautifully together. While they were there, they also earned their CGC (Canine Good Citizen) and their HIC (Herding Instinct Certificate). The herding evaluator offered to buy him on the spot. I see another sport in their future!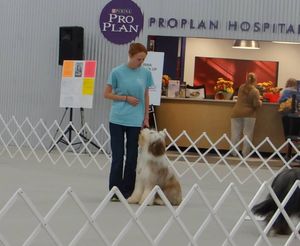 August 4, 2013: Mowgli and Miranda went to their first show this weekend and did great! They got reserve both days and showed beautifully. I'm so proud of them!

May 1, 2013: Mowgli is doing very well in his new home. He loves wrestling and playing with his new brothers and sisters. Miranda really enjoys working with him and has already started his agility foundation training.
Health Clearances & Pedigree
Hips: OFA Good
Elbows: OFA Normal
Thyroid: OFA Normal
Eyes: OFA Normal w/ Breeder Options E1


Mowgli's Pedigree