CH MACH4 Estrella Theres A Breeze AllAround HT, NF, BN, RI, CGCA, TKI, MV - "Brie"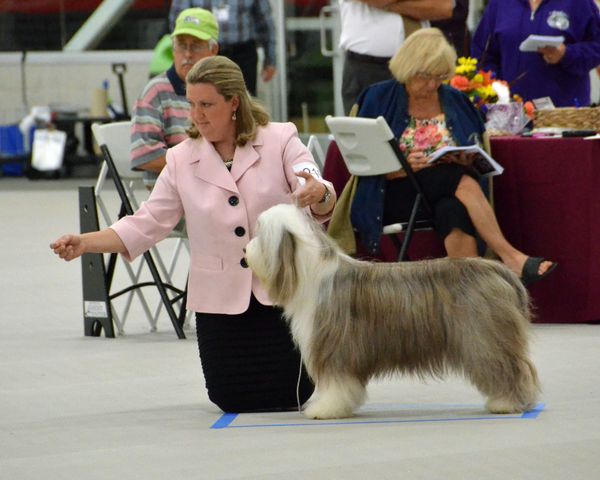 Having been involved in dog sports for the last fifteen years, I have seen what can happen when a breed splits into "show" lines and "working" lines. When I decided I was ready for another dog, I knew I wanted a dog that could excel both in the show ring AND at various performance events. Jenny Scheytt (Estrella Bearded Collies) was the answer. She had bred her sweet girl, Zoe, to a handsome agility dog, Miller, and I knew I had to get one of those puppies. I've always loved brown Beardies, and there was a sweet spunky brown girl that stole my heart.

Brie is one of the happiest, frendliest and most talented dogs I've ever met. She is my first "show" dog and together we quickly finished her conformation championship. But she's not just a pretty face. Before she retired she earned four Master of Agility Championship (MACH4) titles as well as titles in herding, Rally, Obedience, and more, culminating in the highest level of versatility awarded by the Bearded Collie Club of America - the Master of Versatility title! Now that she is retired, she is a therapy dog spreading joy to everyone she meets in the various hospitals, schools, nursing homes, rehab facilities, etc. that we visit when we have free time. She is such a sweet loving girl and I love her to pieces.
 
Health Clearances & Pedigree
CHIC #77885
Hips - OFA Excellent
Hips - PennHIP 80th%
Thyroid - OFA Normal
Eyes - CERF Normal
CEA - Clear by parentage
Brie's Peidgree
October 23, 2022: Brie is loving these cooler fall temperatures and her new old girl hair cut!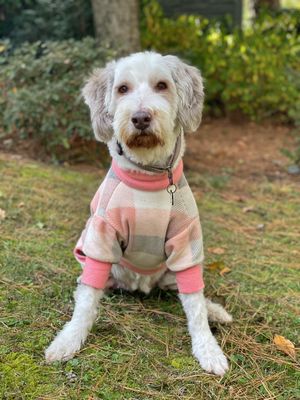 August 18, 2022: How do we beat the summer heat? In the pool, of course!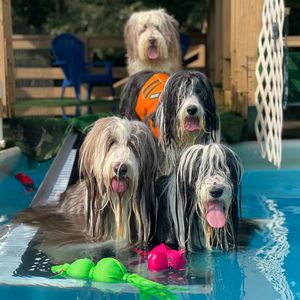 June 19, 2021: We've arrived in St. Louis for the 2020 (yes it's a year late due to COVID) BCCA National Specialty. It will be a fun week of agility, Rally and Conformation for us. Brie is oficially retired from agility but she did get to participate in the BAD Glory Run and she had a blast!!! She also participated in the Titleholders Parade and was more than a little proud of herself.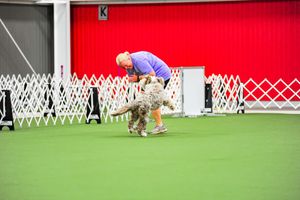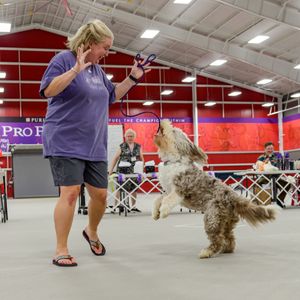 March 2, 2021: Brie is proud of her daughter, Brooke, who is officially the fastest Beardie in agility for 2020 with some smoking fast 6.5 YPS jumpers runs.
October 17, 2020: We took a group walk after I voted.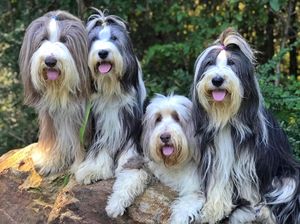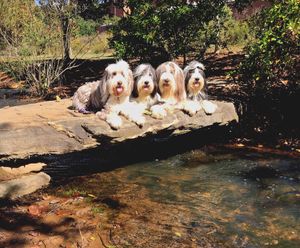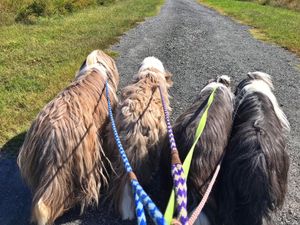 September 8, 2020: Brie is SO EXTREMELY proud of her daughter, Penny, on her Master Agility Championship (MACH). This also earned Penny her BCCA MAster of Versatility title. This is such a huge accomplishment and I couldn't be more excited for Suzanne and Penny!!!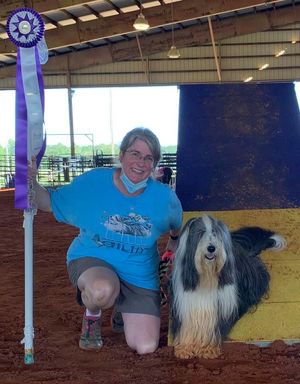 February 3, 2020: Brie is loving being a therapy dog! This is a cute picture of her and her son, Fergus, at Emory University Law School therapy visit.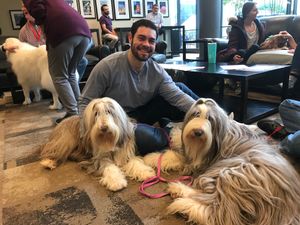 September 20, 2019: Brie came out of retirement for the 2019 BCCA National Specialty, and she was amazing!!! She competed in every class both days of agility and qualified in EVERY SINGLE RUN!  What an amazing girl she is!!! We were able to get a family photo of most of the AllAround and Estrella Beardies that were at the show. We also took a great photo of her and her littermates. I can't believe they're 10 years old already. The rest of the week, Brie was on vacation!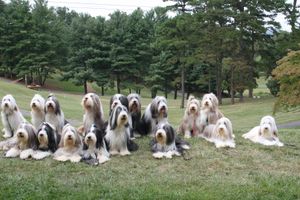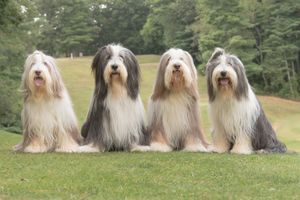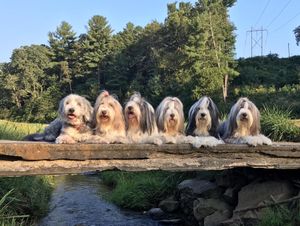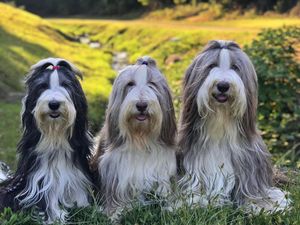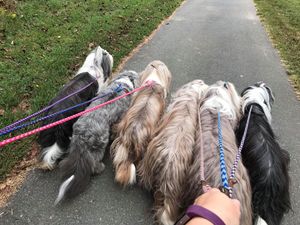 June 24, 2018: MASTER OF VERSATILITY!!! I took all of the dogs to a Rally & Obedience competition and they all did great! Brie earned two titles - Beginner Novice Obedience (BN) and Rally Intermediate (RI). With these two titles she has earned the Master of Versatility title - the highest award for versatility offered by the Bearded Collie Club of America. Less than 20 Bearded Collies have earned this title and I am so thrilled that Brie can be counted amongst that elite group. This is my second dog that has earned this title and it means the world to me. This is what my breeding program strives for. I am so thrilled that I was able to earn this prestigious award with my foundation bitch. I love this girl so much!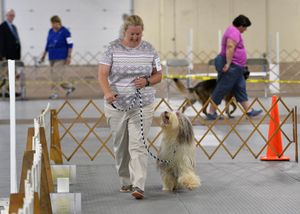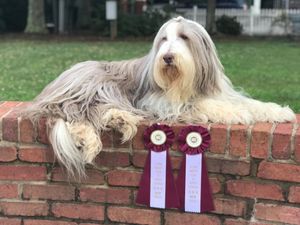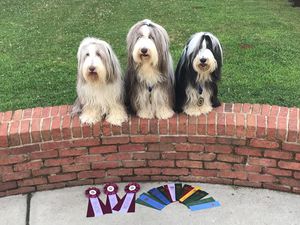 June 16, 2018: Brie is now a registered Therapy Dog! She passed the test with flying colors and we will now get to visit hospitals, rehab centers, schools, etc together. Her son, Fergus, has been doing this for years and she's going to live it!
April 8, 2018: Brie had a wonderful weekend! In agility, she went 5/6 earning her MACH 4 title! Pretty amazing! The next day she earned her Canine Good Citizen (CGC) title, Canine Good Citizen Advanced (CGCA) title, Trick Dog Novice (TKN) title and even her Trick Dog Intermediate (TKI) title! Yep, she earned 5 titles in one 24-hour period! Not too shabby!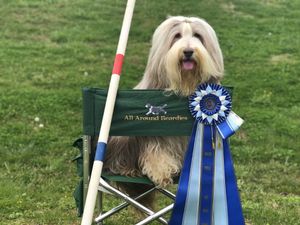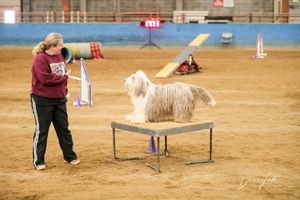 January 28, 2018: The AllAround crew had an awesome weekend in Nashville! Brie earner her Rally Novice title (even though she was bested by her own daughter for the win!) She then followed it up with another QQ towards her next MACH.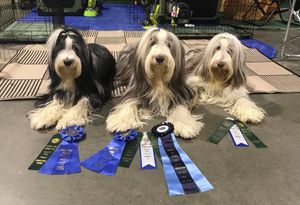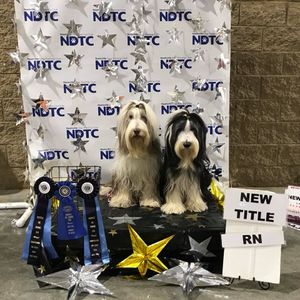 October 5, 2017: Brie did great at the 2017 BCCA National Specialty! She QQ'd and placed in most of her runs.
July 15, 2017: Sadly Brie has been on the injured list for the last several months due to a torn thigh muscle. 
October 28, 2016: In less than three months Brie got 13 QQs, 3 Premier QQs, and 554 points, which qualified her for the AKC National Agility Championship!!! Along the way she even eared her MACH3! This girl is truly an amazing athlete.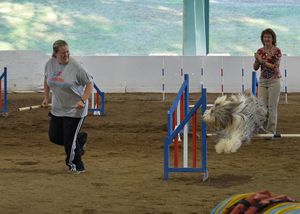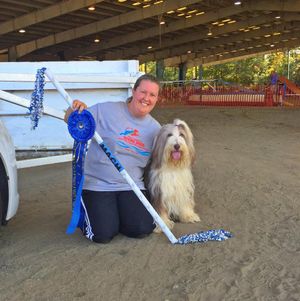 February 29, 2016: Brie had a beautiful litter of six puppies to Alex. Many have gone on to show and/or performance homes and I'm super excited to follow their journey.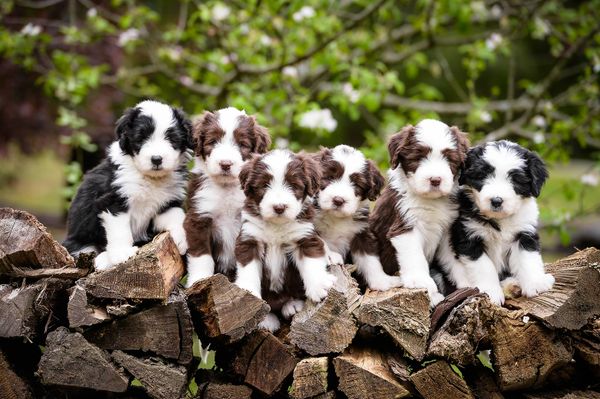 January 7, 2016: I made this collage with some of the great photos I got of Brie competing at AKC Invitationals this year.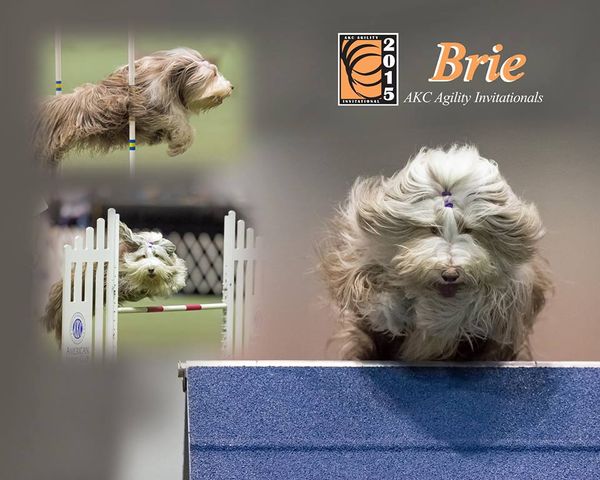 December 12, 2015: What an amazing weekend! Suzanne and I took Brie, Brooke and Penny down to Orlando for the Eukanuba National Championship, the NADD Dock Diving National Championship and AKC Agility Invitationals. While her daughters rocked in conformation (winning Winners Bitch every day they were entered), Brie competed in the AKC Agility Invitationals. She ran beautifully in her first big national competition, running clean in four of her five runs with only one fault the whole weekend. I'm so proud of her!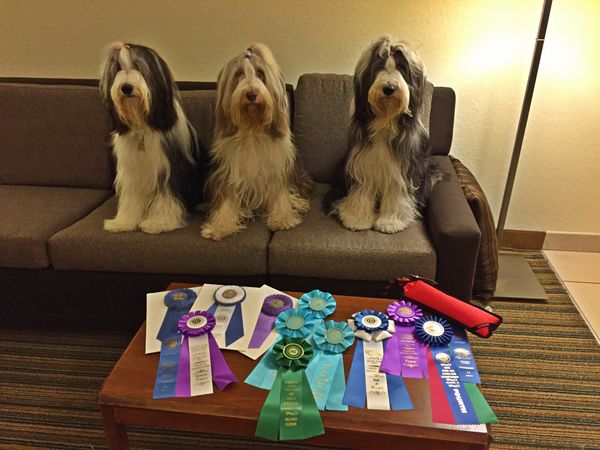 October 28, 2015: Brie has spent the fall getting ready for AKC Invitationals! This will be her first invitationals and I'm really excited for her. She has been pretty busy, even earning 7 QQs towards MACH3.

August 23, 2015: Brie got to compete in her first dock diving competition. She may not have won any awards for distance but she certainly got style points!
[img align="center" caption="Photo by T&C Photography" size="orig" alt=""]//s3.amazonaws.com/content.sitezoogle.com/u/45312/80331fbd3825f16f062eefe201d34212b5c51915/original/img-7834.jpg?1446042494[/img]

July 15, 2015: Brie had a great time at the unofficial Beardie Specialty we hosted in Perry, even winning High in Trial Jumpers!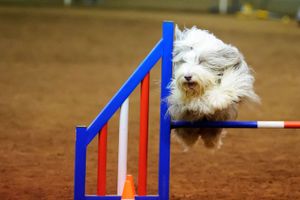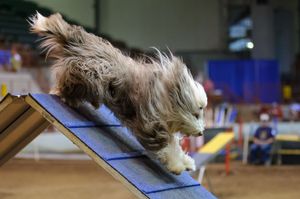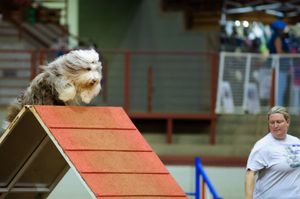 March 15, 2015: Brie had a perfect agility weekend, culminating in her earning MACH2! I'm so proud of her!
[img align="center" caption="Photo by Maggie Fan Photography" size="orig" alt=""]//s3.amazonaws.com/content.sitezoogle.com/u/45312/fe7c8608476cf15b8b02e61836eed1d5ed16babe/original/mach-brie.jpg?1426701781[/img]

December 10, 2014: We just finished a very successful fall agility season. Brie came back from her recent litter stronger and faster than ever. She has been nearly flawless in agility, earning 13 QQs in 3.5 short months (with multiple placements)! She has even qualified for the 2015 National Agility Championships with over 6 months off. Not an easy feat! 

October 1, 2014: Brie did great at the 2014 BCCA National Specialty agility trial. She came in 1st in FAST, 2nd in Masters Standard and 3rd in Masters JWW. Most importantly she was awarded the Highest Scoring Champion of Record - something I'm very proud of. I truly believe Beardies can excel in both the show and performance rings, and this award confirmed that. I'm very proud of her.

July 2, 2014: Brie had a second litter with seven beautiful puppies. Brie was bred to a handsome boy named Jack who is an extremely versatile Beardie, exceling in conformation, agility and especially herding. These puppies should be wonderful working Beardies. For more information on this litter you can visit their page.

April 12, 2014: Brie got her 20th QQ earning her Master Agility Champion (MACH) title.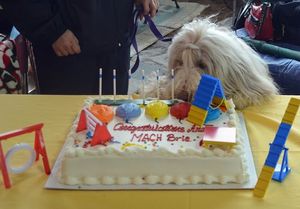 February 1, 2013: Brie welcomed her first litter of four beautiful brown babies. She was an excellent mother and I'm really excited to see what the future holds for these future conformation and performance pups! For more information on these puppies, you can visit their page.