AllAround Last Call Woodford On The Rocks - "Bourbon"
Bourbon (previously Graham) is now living in Florida with Sandi, Dennis and his new big Beardie brother, Oliver. Bourbon will be making his debut in the conformation ring this fall and hopes to try agility, obedince and therapy work as well. I can't wait to watch him grow up!
May 26, 2014: Sandi sent this great photo of Bourbon waiting for the sprinklers to turn on. Apparently
when Dennis takes Bourbon for his daily walk, Bourbon has to hit every sprinkler for a little bit of fun!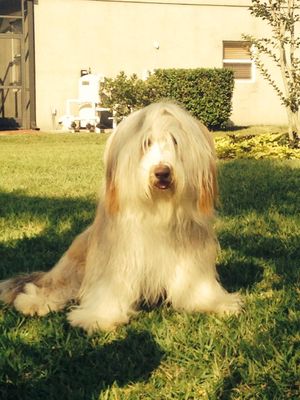 December 7, 2013
: Bourbon got to try herding - "Can you say Bearded Collie Florida Fun Day EXHAUSTED? Came home and played in the hose to wash off the farm fun sand..he crashed we did find out he prefers herding border collies more than boring sheep..ha ha! Will try again in 6 months..he does have the eye but needs the sheep to move and challenge him and not just stand there! Too boring..now border collies have the brains to challenge him! He is smarter than we thought!"