AllAround Home Grown at Sweetmeadow HIC - "Sprout"
Sprout (previously Crisp) is now living in Kentucky with Jane, Rich, her daddy, Scrum, and her new big Beardie sisters, Izzy and Sneetches. Crisp will be following in her dad's footsetps with therapy work. I can't wait to watch her grow up!
April 7, 2014: Sprout is following in her daddy's footsteps by becoming an excellent therapy dog!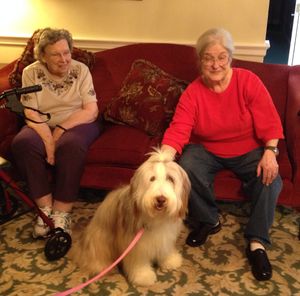 October 5, 2013: I was so thrilled to see Jane and Rich at the BCCA National Specialty. Sprout is turning into a beautiful little lady. We had a great family reunion! While they were there, they earned their HIC (Herding Instinct Certificate).